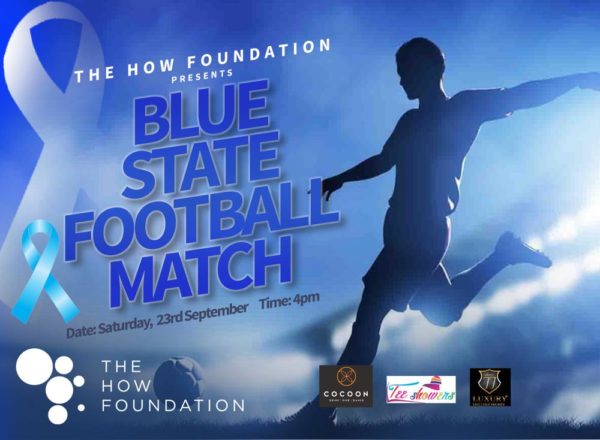 The HOW Foundation's first 'Blue-State' charity match for Prostate Cancer awareness holds this month. The HOW Foundation would be hosting 4 teams and their supporters.
Date: Saturday, September 23rd, 2017.
Time: 4pm
Venue: Road 14 Football Pitch, Lekki, Lagos.
One of the causes The HOW Foundation is passionate about is Prostate Cancer in Nigeria; more specifically we are passionate about raising awareness. Statistics around the world vary as to the ages and how many men contact the disease in a year, it is however clear that this disease is more common amongst black men; 1 in every 3 men are likely to contact the disease if they have a family history of Prostate Cancer.
Statistics in Nigeria are very hard to find so we have done our own surveys, we have found that with a population as high as Nigeria, there is little or no public funding for the disease. The HOW Foundation has visited villages and local communities and we have found that men above the age of 50 do not even know what prostate is. Doctors who treat prostate cancer in Nigeria often complain that the patients come to the hospital when the cancer is already showing symptoms which is at the final stages. Some men would slowly die a painful death from the disease while some can manage it but would still be a painful existence. It is clear that early detection is key while awareness and education is first.
September is Prostate Cancer awareness month all over the world, so we have decided to raise awareness and educate the public on prostate cancer.
A football match is a perfect way to raise awareness amongst the men, it would be a fun, friendly match between 4 teams, the winning team gets a trophy. We want the friendly and social environment of the match to set the tone for a more serious background. Prostate Cancer is a disease that only affects men and it would be great to have them come out and show support to their fellow men, we do not intend to raise funds on the day but rather raise awareness to develop a culture of early detection which is cheaper to manage that trying to cure the disease.
At The HOW Foundation, we partner with national and global organisations that share the same passion and drive around malaria, prostate cancer and youth empowerment.

'Prostate Cancer is a disease that only affects men and it would be great to have them come out and show support to their fellow men'
Follow us on our social media platforms for more information,
Facebook:  thehowfoundation
Instagram: thehowfoundationng
Anthonia Ally
C.E.O The How Foundation
————————————————————————————————————————Sponsored Content