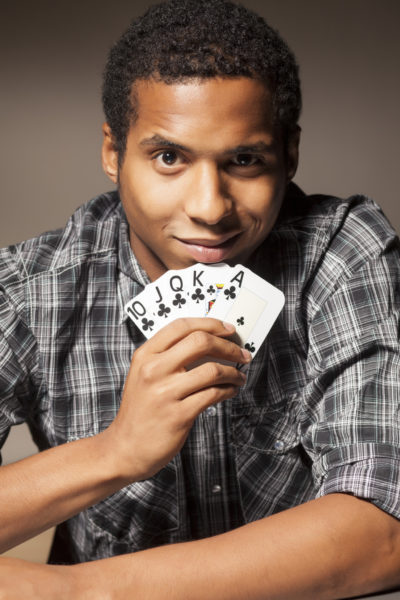 Gambling might be strange to many, especially those who have not had any reason to visit any gambling platforms, kiosk, shops or casinos. Although viewed with contempt by some individuals, it is sometimes seen as an investment that requires all the rudiments of business. The seriousness with which people go about their quest to win big is comparable to that of a student preparing for JAMB.
In recent times, gambling for most Nigerians is that buffer needed to circumvent the harsh economic terrain of the country. Gambling (and the hope it tends to breed) is one of the reasons many Nigerians smile – despite the numerous problems faced by the country.
The gambling industry is so huge and enticing that reports have it that Nigerians expend about N 1.4 billion on betting everyday (that just one aspect of the country's gambling industry).
Apart from the horrible experience I had, which made me never to contemplate gambling, I have always disdained people who spend their day in a betting shop forecasting and anticipating results every day. They stake all that they have, without giving the concern for their families who might be in need of the monies they are about to give away.  However, I have come to realise that all our efforts in life is tantamount to us taking risk, which amounts to gambling.
Though most responsible Nigerians would advise their children not to get involved in these habit,  we cannot deny that we all gamble in one way or the other – maybe not by staking our money and time at BetNaija shop, or Baba Ijebu's kiosk or on the online platforms of any of these lotto companies, but in many other ways.
Some Nigerians don't gamble because gambling addiction is real; but when we take any of those chances life affords us, when we give any opportunity a try with the hope of having the odds in our favour, we are also involved gambling.
Gambling basically means picking out of different odds, one which you hope will benefit you.
If you apply for a job vacancy, attend a job interview, take part in an audition, or choose a job offer over another, you are a gambler. Interview panelists, at one time of their dealings with job seekers, would hedge a bet on which candidate should fill the position.
If you decide to vie for a political position, if you are taking the risk of getting married, with the thought that you know what the person is capable of doing, or the hope that your marriage will not hit the rocks like some other marriages have, you are more or less taking your chances.
If you decide to get a degree, rather than learn a trade or craft, you just gambled. If you decide to venture and stake all you have, even though you are not 100 percent sure that the move will pay off, you are also guilty of gambling.
If you believe that Jesus Christ is lord, rather than upholding the Pillars of Islam or clinging to the tenets and ideals of the African Traditional religion, you are merely taking your chances. You do not know which of these religions would guarantee your salvation.
If you, like me, vehemently supported the APC government over the PDP government during the last general election, by giving Muhammad Buhari a benefit of the doubt, after all the prophesies of doom that accompanied his candidature, you will agree with me that we merely gambled, hoping that the decisions and performance of the government would justify the faith we have in them.
If you were once on Who Wants to Be a Millionaire, or you played their online game, maybe you tried out for Project Fame (even if you didn't get into the house), you gave The Next Titans a shot, or featured on any other reality Television shows with the hope of winning big, you are like me, a gambler.
If you enter into a competition, you are just trying you luck. Even if you really prepared hard to ensure you came top in the competition, you not totally sure you will win. You are a gambler.
The truth is that, we stake our time, commitment, resources and efforts on different projects, hoping to get rewards for our efforts. Sometimes we succeed in getting positive results; other times, in fact, most times we fail. Yes. Thomas Edison gambled for about a thousand times before he could invent the light bulb.
We presume that the decisions and actions we take are merely reasonable efforts for the betterment of our lives, however, fate, either positively or negatively, takes its course. The precision of our decision is not discernible until we see its outcome.
Gambling might not be a healthy hobby or habit, but there are some lessons we should all learn from gamblers.
1. They have faith
I remember meeting a gambler who was so certain that he'd win. He cursed himself if he didn't. Unfortunately for him, he didn't win, but he had faith anyway. To a reasonable extent, gamblers are odd optimists.
2. They are persistent
Most gamblers, especially those who are sure of the odds of winning or perhaps addicted to gambling, don't back down. Even when they lose, they don't let go of any opportunity. They always keep trying until they win.
3. They are passionate
Passion is very important in the business of gambling. Gambling is now enjoyable; it is now coupled with other passions, such as sporting activities, television shows or virtual sports. The passion of gambling usually cushions the effort of the loss accrued.
4. They are strategic
You will agree with me that people who succeed in the business of gambling understand what strategy really means. Gambling requires a lot of thinking and forecasting, and for you to do that successfully, you must be meticulous and instinctive. This is what some seasoned gamblers are good at.
Though, the desire of any gambler is to make quick and immediate returns on little investment, our quest as individuals, is to make sense of life through the various opportunities that we vie for. We take hard decisions that can either make or mar us. All these moves place us in the same classroom with gamblers. The fact that gambling could be very addictive and counterproductive has made the habit undesirable.
As life gamblers, we need to weigh our decisions like reasonable gamblers before we take actions.
Photo Credit: © Vladimirfloyd | Dreamstime