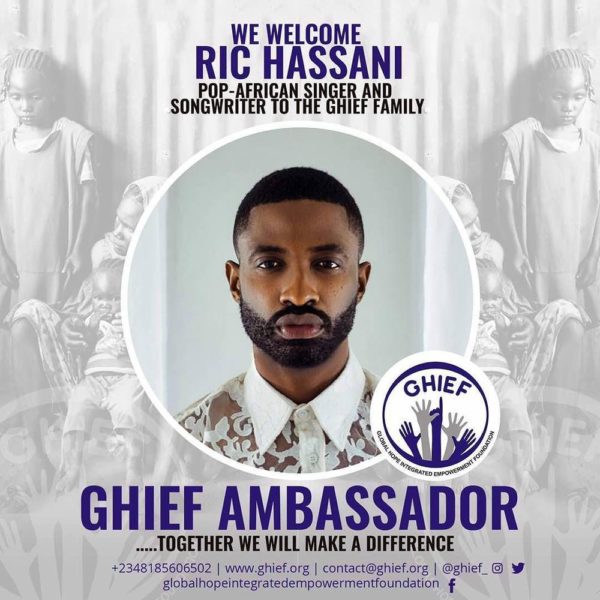 Singer and songwriter Ric Hassani has announced that he is joining the GHIEF family.
GHIEF, short for Global Hope Integrated Empowerment Foundation, is a non-profit that caters to women and children in the country.
The singer made the announcement on his Instagram with the caption:
I am blessed to come on board the @ghief_ family as an ambassador. I have learnt of all the great things the organization is doing for women and children in my country, and I am glad to be joining forces with them to help reach more people and impact more lives. This October, I and the GHIEF Team will be visiting some of the communities and kids the organization has reached and has over the years lent support.
Their major project is the "sponsor a child" campaign where they give financial support to young kids who can't afford primary and secondary education. I always say on Twitter all the time and I do mean this, that; 'A position of celebrity or of success is not one of superiority, but of service. For we are lifted to lift, not to be above'. I would love for you to follow this great organization, see and learn about what their doing, and see how you can contribute in however little way. Follow thier page: @ghief_ Also remain following my page, as I will Be posting activities they and I do together to help these women and children who are in conditions unimaginable and that need our help. Anyone can be of help, any one can add to another, anyone can make a difference. God bless.
GHIEF also made the announcement on Instagram, writing:
One of Nigeria's finest and most talented is joining the GHIEF family and we can't even describe how excited we feel. We welcome you ric hassani to this family and we can't wait to change lives with you.
Thank you for accepting to make a difference with us.
#GHIEF#NonProfit#GHIEFAmbassador#Women#Children#Change#Charity#NGO#MakeADifference
See the posts below: