An improvised explosive device (IED) that went off in a London underground train has left 18 people injured.
The blast, which occurred around 8:20 AM, left no one seriously injured, as most of them were flash burns, or grazes and scrapes from running from the bomb.
Neil Basu, the senior national coordinator for counterterrorism policing, has said it was a terrorist attack.
"We now assess that this was a detonation of an improvised explosive device," Metropolitan Police Assistant Commissioner Mark Rowley said.
Rory Rigney, an eyewitness, said the bomb's explosion sounded someone smashing something. He said:
I thought 'did someone smash something'. It sounded like a smash then I heard a scream and thought 'it's someone having a fight'. Then I saw the fireball coming towards me – yellow or orange. My face still feels warm. I wasn't hanging around to get a better look at it.
He added that people were panicking, trying to get away and falling on top of each other.
"The situation is completely under control," Stephen Cowan, leader of the London Borough of Hammersmith and Fulham, has said.
According to Guardian, a massive manhunt is underway to find whoever planted the device.
CCTV is being checked to find who exactly carried the device, which was in a bucket, into the train.
See videos and photos of the IED below:
#parsonsgreen pic.twitter.com/0OUV819EtE

— Sylvain Pennec (@sylvainpennec) September 15, 2017
Explosion on Tube train at Parsons Green District Line #London #ParsonsGreen #DistrictLine #LondonLive pic.twitter.com/PeT8KQBT3o

— Faizz (@fzc77) September 15, 2017
Explosion on Parsons Green district line train. Fireball flew down carriage and we just jumped out open door. pic.twitter.com/pGbfotbfsJ

— Rigs (@RRigs) September 15, 2017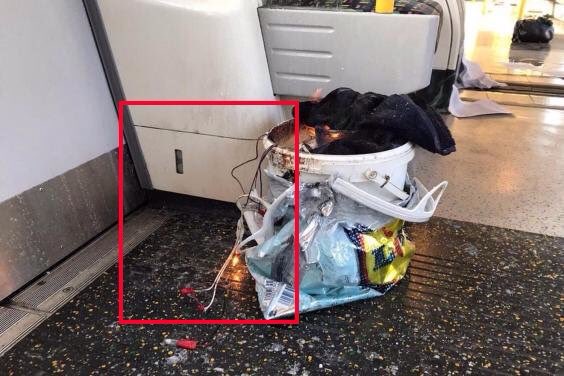 Photo Credit: padraig_reilly