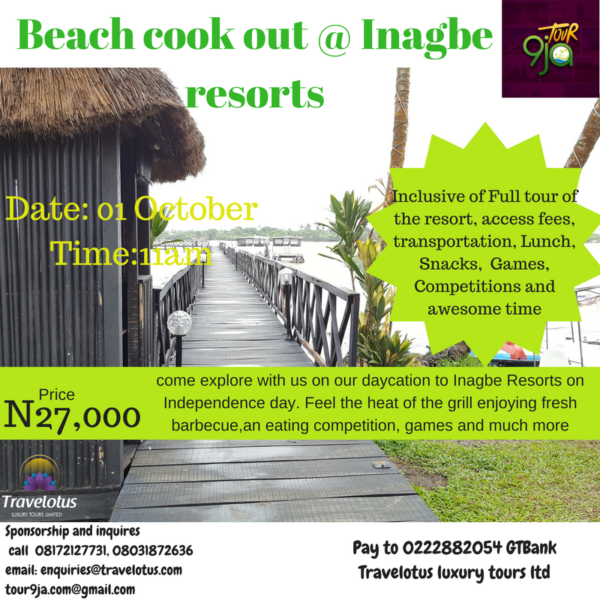 Have you been to a beach cookout before? Then you're in for an amazing time if you join us on our Oct 1st 'Independence Daycation' trip (day trips or full day tours) to Inagbe resorts Lagos. Like all our group tours, this promises to be even more fun! Check our website travelotus.com to see our previous tours.
Date: Sunday, October 1st, 2017.
Time: 11 am.
Venue: Inagbe resorts Lagos.
In the spirit of Naija, add a white or green touch to your dressing.
Fee is N27,000 and its all inclusive as it covers return boat cruise ride, access fees to the resort, resort tour, games; like beach volley ball, tug of war, limbo, food and drinks and an amazing helluva time. As with all of our tours, all participants will receive a goody bag. Do you like Shisha? we'll have it for free too.
Participate in our eating contest to win various prizes and a discount on our December trip to Gambia. You've never been on this kind of tour before.
For sponsorship and inquires call, 08172127731, WhatsApp, 08031872636 or send an email to [email protected]
Follow us on Instagram @tour9ja  or @travelotus_ltd.
We can't wait to have you!
—————————————————————————————————————————————————————–Sponsored Content