Project PINK BLUE hosted Pink October Walk in support of International Breast Cancer Awareness Month with 5 Cancer Survivors, Kiki Omeili & Yvonne Jegede in Attendance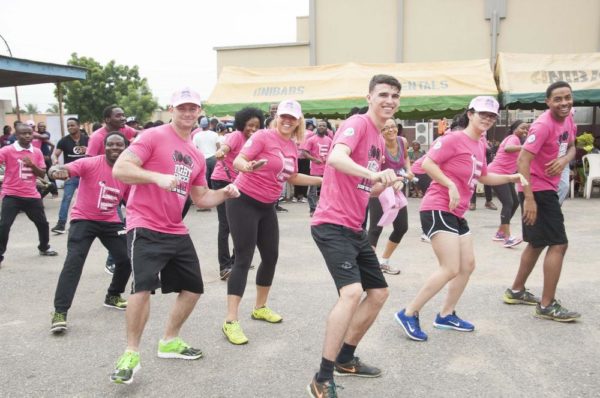 Project PINK BLUE, a cancer-fighting organization in collaboration with Dana Air, BellaNaija, and U.S. Embassy in Nigeria hosted Pink October Walk against Cancer yesterday, October 7th, 2017 at LTv / Radio Lagos Arena, Ikeja, Lagos in commemoration of International Breast Cancer Awareness Month.
The 5km cancer awareness walk kicked off at LTv / Radio Lagos Arena through Allen Roundabout, Ikeja underbridge and back to LTv. It was led by breast cancer survivors- Comfort Oyayi Daniel, Swatkasa Gimba, Khadijat Banwo-Fatai, Nurat Salmon, and Ada Oliver, they were also honored and celebrated with Champions Medals.
Over 563 people joined the 5km walk, 123 women received free breast cancer screening, 121 women received free cervical cancer screenings and 4 men received free prostate-specific antigen test. All the people whose screening results showed abnormality will be navigated to care for additional diagnosis, treatment, and support.
Kiki Omeili said: "as a doctor and also as an actress, I am so delighted to be part of this cancer awareness, our people are presenting late cancer across the country because they are aware of the signs, symptoms, and risks of cancer. We have collaboratively spoken out and lend our voices to save our women, men, and children from preventable cancer deaths in Nigeria"
Darcy Zotter, Public Affairs Officer, U.S. Consulate Lagos said: "cancer is a global burden, it affects everyone and the U.S. Embassy in Nigeria is delighted about this partnership with Project PINK BLUE to create awareness of cancer in Nigeria".
The Executive Director of Project PINK BLUE, Runcie C.W. Chidebe, has called on Nigerians to be cancer aware and always go for cancer screenings. In his words, "most Nigerians don't go to the hospital except they are carried to the hospital, this is a serious issue because some cancers do not show or have any symptoms. For instance, cervical cancer does not show any symptom till it's at later stages III or IV. We must all take cancer screenings serious, cancer is gradually becoming a serious health challenge in Nigeria".
"This is a commendable initiative channeled towards cancer prevention and early detection and Lagos State Government is committed to healthcare of Lagosians and we are always ready and open to partnerships to better the lives of our people" said Dr. Abosede Evelyn Wellington, State Cancer Control Coordinator, Lagos State Ministry of Health who represented H.E. Akinwumi Ambode, the Executive Governor of Lagos State, and Dr. Jide Idris, Honourable Commissioner of Lagos State.
Nigeria Nollywood award-winning actor, Blossom Chukwujekwu said: "I am honored to be part of this noble cause, let's continue to work to better our society". Yvonne Jegede, Nollywood star said, "I support the fight against cancer, I will continue to support and lend my voice to worthy causes like this, early detection save lives". While Rachael Okonkwo, the popular "Nkoli Nwa Nsukka" said: "Everyone has a role to play in the fight against cancer, thank you Project PINK BLUE for this wonderful initiative, we need more of this".
Wife of Executive Governor of Lagos State, H.E. Bolanle Ambode, was represented by Olufunlola Olaitan Adediran FCA; while other dignitaries are Uriel Oputa, Kemen, Peace Emezue, Shedams, and TL FunkyFitness.
Tochukwu E. Ogugua, Head of Project PINK BLUE Lagos office, said: "at Project PINK BLUE, every day is a day for cancer awareness, we are doing this awareness in Lagos, Kaduna, Abuja, Ibadan, and Port-Harcourt. We will continue to do our best to reduce the incidence of cancer and phase out the late diagnosis of cancer".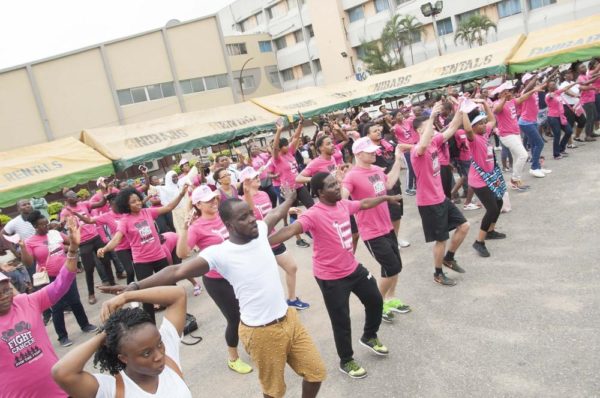 —————————————————————————————————————–
This content has been published for free as part of BellaNaija.com's commitment to youth, education, healthcare and community development as part of our corporate social responsibility programme.