Ever wondered what 'The Guy Code' is about? Don't miss MTV Base New TV Show 'Guy Code' powered by Gulder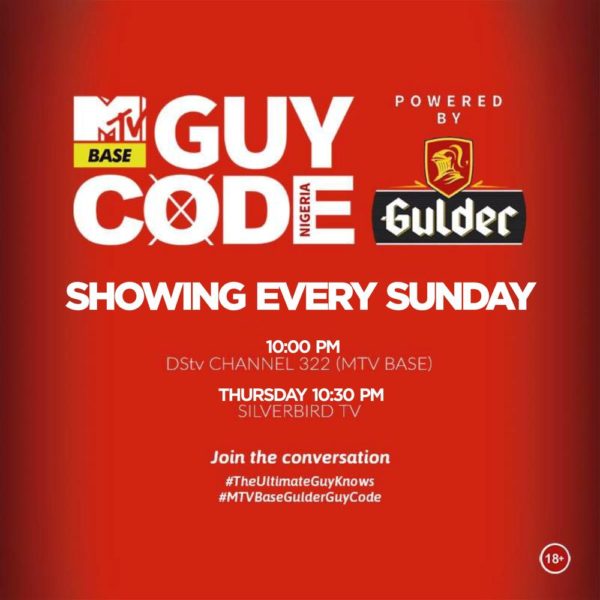 Have you ever been troubled by how to handle a date with a 'crazy' girlfriend? She scrolls through your phone contacts and reads your text messages. She screens your friends and tells you which calls to pick. "Can I really unpack her weird attitude?" you ask.
While dealing with the many troubles of a 'crazy' girlfriend, you occasionally remember other stuff that put so much pressure on your finances. You also think of the crazy stuff Jim or Akin does to survive the economic shock of the last few years. Yes, sugar mummy! Is it something you can handle? And you ask: "Why not if she is not married?"
Suddenly, you think of the best way to move the relationship with your girlfriend to another level. Is it time to propose to her? What will you say? How and where will you say it? And what if she says no? How do you know she really meant to say no? Celebrities like Ehiz, Chigul, Emma Nyra, Praiz, Timini Egbuson and Ik have asked similar questions on the show.
Guy Code, a new television show airing on MTV Base (DStv channel 322) on Sundays at 10 pm, is on a singular mission to unveil how the ultimate guy makes these decisions. Sponsored by Gulder, a premium beer from Nigerian Breweries Plc, Guy Code is not your regular television series. It is dramatic yet real; comical yet genuine.
In the previous three editions of the show that is repeated every Thursdays on MTV Base (DStv channel 322) at 10 pm/Silverbird TV at 10:30 pm and on Saturdays (AIT at 10:00 pm), the hosts brought to the fore the brawns and snags of the masculine gender, as they relate to first move, sugar mummy, crazy girlfriends, lying, proposal craze, wedding etiquettes etc.
Guys' circle is a world of unwritten rules. Do you know the code? Hosts of Guy Code, a show that promises to invade and, perhaps, conquer the guy's world in the next few weeks, prefer to solve the masculine puzzle in piecemeal.
Gulder is also giving viewers an opportunity to win an all-expense paid marriage proposal. Tagged "Ultimate Proposal", the winner of the video contest will enjoy an all-expense paid dream come true proposal brought to life by Gulder….the ultimate.
How it works: Follow Gulder Nigeria on Facebook, Twitter and Instagram. Record a 60-second video and send via direct message (DM) to these platforms:
Twitter:
@GulderNGFacebook: @GulderNigeria
Instagram: @gulderng
Rules of the Ultimate Proposal contest are:
Participants must be male and 18 years or above.
Participants must state their age, name, and location.
The video entry must not exceed 60 seconds.
Participants must be sociable and willing to participate in extended activities online & offline.
Participants must be willing to participate in convivial and Gulder brand related activities.
Any entry that is not submitted with the proper start and end date and time will not be eligible.
Terms and conditions apply.
Use the hashtag #TheUltimateExperience and #GulderUltimateExperience for the Ultimate Proposal.
To get more information on guy code, join the discussion on the #TheUltimateGuyKnows.
---
Sponsored Content