Sujimoto bags International Property Award for excellent Residential Development in Nigeria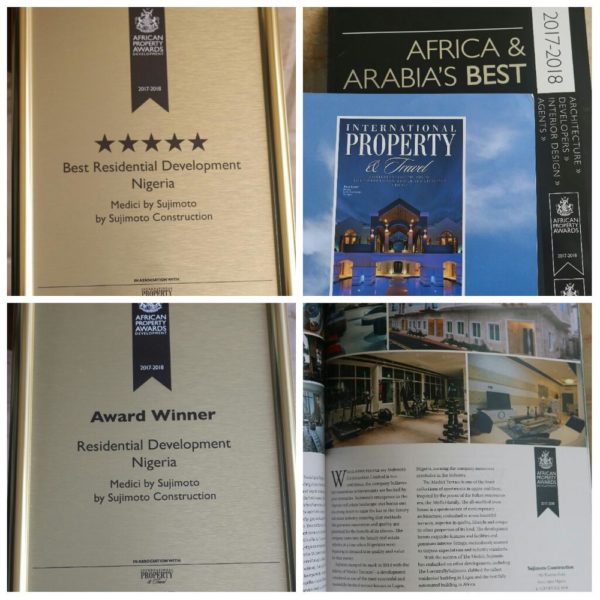 Report cards don't deceive, rather, they are key indicators of a strong performance; reminding us of what we have done right, where we are now, and how we can do better. Growing up, my biggest nightmares were the 3 times in a year when I had to go over to my Dad's place because he was very bent on performance.
"Suji what was your position in class?" He would ask calmly. "17th out of 39 Sir." I would respond shaking, knowing what was to follow. "Tell me, the children that came 1st, 2nd and 3rd, do they have 3 heads?"
He would begin the usual sermon of how life is a competition and I need to learn to be more competitive or suffer the consequences later in life. This usually ends with a punishment or some strokes of the cane and sometimes both. One day when I'd had enough, I almost retorted reminding him that Chief MKO Abiola was 2 years his junior and he is the richest man in Africa while my Dad is here in Agege with one old Peugeot 504.
Notwithstanding today, I appreciate my Dad's lessons, as this has given me an edge in the world of business, amongst local and international competitors, reminding me that right from the stages of planning and architectural design, mediocrity is not an option; and if we want to be top 3 in Africa and top 10 in the world, we need to think customers first. Innovation must be the foundation of our projects, and diligence should be embedded in our DNA. This explains why we stand shoulder to shoulder with renowned companies from Asia to Africa and Europe.
The referees of Real Estate Construction and Hospitality recognise companies like Emaar Group in Dubai, One Hyde Park in London, the biggest real estate company in Asia – Dalian Wanda Group, or the prestigious Legacy Development Management Limited in South Africa – developers of the Michelangelo Towers; Drawcock Estates who are the developers of Nestoil Towers – Nigeria's best office complex, and now Sujimoto. How I wish I was still a 10 year old, and I could run to my Dad and tell him that we at Sujimoto came first.
The same approach of excellence and attention to detail that went into the Medici development that earned us this award is what we intend to deploy for our new project– The GiulianoBySujimoto, situated in Africa's most exclusive and expensive neighborhood, Banana Island.
This would never have happened without the help of our Brilliant team, Engineers like Lamid and Seyi, Project Managers, the dedication of Damilola and of course Christycole who played a persistent role in making sure we prepared adequately, dotted our "I's" and crossed our "T's".
I will never forget her statement;
"Sir we don't want this award if we do not deserve it, but we will let them see why we deserve it".
Thanks to The International Property Awards for drawing a highly competitive measuring yard and choosing us. You have ignited in us a fire to remind us that the starting point for customer satisfaction is value creation and we promise to never stop.
To our critics, thank you for all the checks because, without them, we would not have pushed ourselves harder and this would never have happened.
——————————————————————————————————————————————————————————————–
Sponsored Content