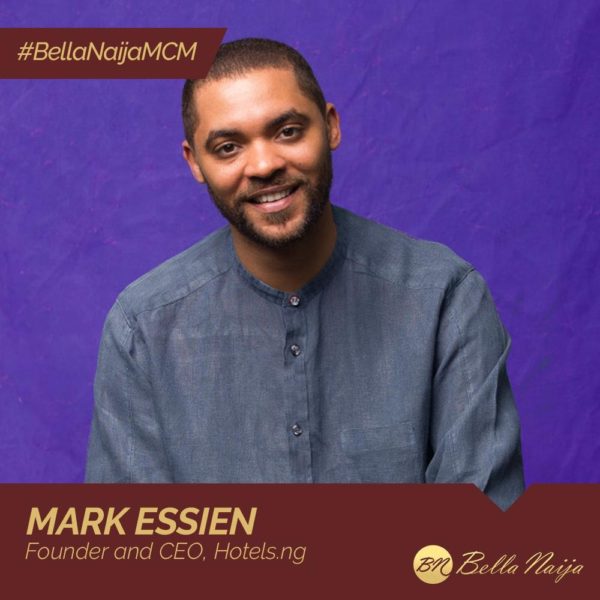 Mark Essien's – our #BellaNaijaMCM this week – company, Hotels.ng, does not have a hotel to its name, but it is one of the biggest hotel businesses on the African continent.
After his primary and secondary education in Ikot Ekpene, Akwa Ibom state, Mark moved to Germany, where he obtained his Bachelors (Computer Engineering) and Masters (Computer Science) degrees.
While undergoing a pre-university study in Germany, Mark worked night shifts, taking care of a paralysed man. The job required him to be awake and watchful most of the time, and to correct slumps and ensure that his ward doesn't have any life-threatening complications at any time. So Mark would spend the entire night actively learning and writing code to keep awake.
In 3 months, Mark created a file sharing software Gnumm, which was acquired by Snoopstar. Mark worked for Snoopstar for sometime before leaving to build his own products and work freelance as a software developer.
Mark also designed and developed one of the first MPEG Encoder software for the DirectShow platform. He sold the software to a lot of large companies, including Disney and the American military.
After completing his B.Sc, Mark began thinking of building a tech platform that would work in Nigeria. He decided to disrupt the travel space in Nigeria and before enrolling for his masters programme, he created the first version of Hotels.ng, just a list of hotels at the time.
He later created a dummy hotel booking site which began attracting traffic – that was when he decided to go fully into the business. In 2013, after his masters programme, he came back to Nigeria to start Hotels.ng in Calabar.
He later caught the attention of iROKO TV founder Jason Njoku, who, through his spark.ng platform, made an initial investment of $75,000, and later, another investment of $150,000.
In 2015, Hotels.ng secured additional investment funding of $1.2m from eBay founder Pierre Omidyar's investment vehicle – Omidyar Network – and seed-stage technology fund EchoVC Pan-Africa Fund.
Mark started the company with $300 and about 150 hotels, and today, it has sold hotel rooms worth billions of naira across the country with about 10,000 hotels on its platform.
The Hotels.ng platform also operates a travel blog where relevant information on cities in Nigeria as well as visa tips for Nigerians who intend to travel outside the country can be found.
In January 2016, Hotels.ng launched the #ThisYearIMustVisit campaign to spotlight some of the lesser-known tourist destinations in Nigeria.
The company also runs the #RestoreOur Campaign, a collaborative project trying to rehabilitate iconic landmarks in the country.
Early this year, Mark started HNG Interns programme, which trains young tech enthusiasts on how to code, using contemporary tools.
Mark was featured in Forbes' 30 Most Promising Young Entrepreneurs in Africa list of 2015 and has been featured in BBC and Newsweek.
Well done Mark!