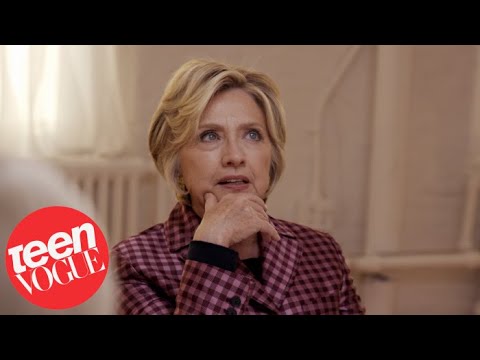 Hillary Clinton sat with 5 of Teen Vogue's 21 Under 21 Class of 2017, where she discussed everything from feminism to LGBT rights and running for office again.
Clinton fielded questions from Hunter Schafer, an 18-year-old trans model; Mari Copeny, the 10-year-old activist at whose request Barack Obama visited Flint, Michigan over the town's water crisis; Muzoon Almellehan, a 19-year-old Syrian refugee who is the youngest ever UN goodwill ambassador; Nadya Okamoto, the 19-year-old Harvard sophomore who's working through her nonprofit to normalize conversations around periods; and Simone Askew, a 20-year-old who is the first African-American woman to be named first captain of the corps of cadets at the U.S. Military Academy.
Asked about working for progress in a male-dominated space, Clinton quoted a line from Shirley Chisholm, a woman who ran for president in the 1970s, saying: "If they don't give you a seat at the table, bring a folding chair."
There's no substitute for being prepared, she said, "knowing what you want to say and being brave enough to say it."
Clinton also asked that people be "compassionate, kind, and understanding" in relation to LGBT people, adding that she was disappointed with Donald Trump's banning of transgendered persons from serving in the US military.
"You will be criticized no matter what you do," she said regarding running for office, adding that she won't be doing it again. Instead, she said, she's "going to support other people who are running for office. Particularly young people, and especially young women."
Read the full interview on Teen Vogue, and watch an excerpt below: