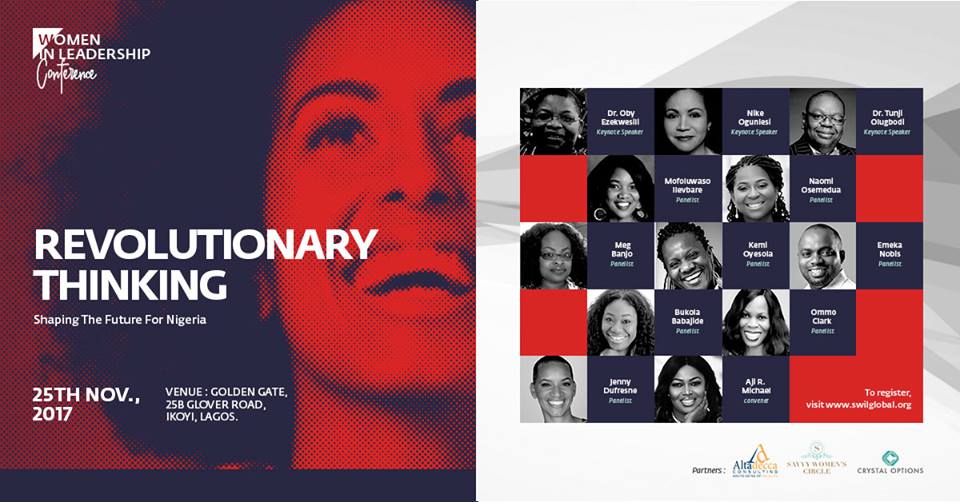 Women in Leadership Conference, the flagship event of Savvy Women's Circle, a social enterprise that focuses on fostering a community of successful women leaders, is set to hold on Saturday, November 25th, 2017 at the Golden Gate, Ikoyi, Lagos.
The event will be chaired by Dr. Obiageli Ezekwesili, including other industry leaders and executives to provide insights on creating a national culture that supports women's brilliance while providing an opportunity to dialogue with relevant corporate, community leaders and government partners in the development of a national agenda.
Themed 'Revolutionary Thinking: Shaping the future for Nigeria', the event features a Power Breakfast with season leaders, networking lunch, interactive panel sessions, and expert commentaries through anecdotal case studies, workshops, with a line-up of exceptional women will provide the insight, advice, inspiration, and support required for new heights.
Other speakers at the event include Adenike Ogunlesi, Chief Executive Officer Ruff 'n' Tumble, Dr. Tunji Olugbodi, Executive Vice Chairman of Verdant Zeal, with Mofoluwaso Ilevbare, Kemi Oyesola, Emeka Nobis, Bukola Babajide and others as speakers at the panel sessions.
With live music by Nikki Laoye, the conference also has the Marketplace, with Made-In-Nigeria goods on sale at the conference.
To get your tickets, visit https://www.eventbrite.co.uk/e/women-in-leadership-conference-tickets-37736430680.
Mofoluwaso Ilevbare is a best-selling Author, Speaker, Leadership & Lifestyle Coach who works with ambitious women and business leaders who want to be unstoppable at work and life without sabotaging faith, family, or self-care.
She's co-authored five Amazon best-sellers and also written twelve books of her own including the Amazon Bestsellers 'Confidence Pearls' and the UPLIFT series.
She is a member of the John Maxwell Team, and a Cherie Blair Women Mentor who has been featured in the Huffington Post, Executive Women and received many international awards for her work on women empowerment and advocacy.
She recently received a Quilly Award in Hollywood from the National Academy of Best Selling Authors for her bestselling book "Cracking The Code To Success" co-authored with Brian Tracy.
Naomi is an Amazon Best Selling Author, with international experience in digital marketing, Leadership, and Coaching that spans across South Africa, Zambia, U.S.A, U.K, and Switzerland.
She is fondly called 'The African Queen of Live Streaming' and is also a speaker at TEDx, Social Media Week Lagos, Alumni of the Dale Carnegie Institute & the Myles Munroe Leadership Mentoring Program.
Coach Kemi is the Founder of How2Think Global Consulting Empire that focuses on THINKING (not Mindset). She helps corporate bodies, entrepreneurs & young people identify inhibiting and limiting thoughts that cause mediocre results and guides you to Purposeful, Powerful and Sustainable Thinking that result in extraordinary outcomes.
She believes 'thinking' is highly under-rated.
Coach Kemi is the author of – 'Thought Transformation – available on Amazon and soon to be published, 'The Stupidity of Fear' and 'Mind Magnets.' She is an inspirational Speaker to women's groups, conferences, young people and facilitates seminars.
Emeka Nobis spent ten years of his life working as a Mechanical Engineer for a multinational oil servicing company. During his years working there, he met individuals who were gifted but couldn't come to terms with showcasing their gifts to humanity.
Emeka resigned from his job to focus on helping individuals who have a message to share with humanity but are scared, doubtful and confused, to become exceptional by clarifying their messages, build a platform for the communication of their ideologies and to earn by establishing profitable business systems. He does this primarily through writing, consulting, coaching and training interventions.
He founded and administers 2 Facebook groups – PLATFORM MASTERY MASTER-MIND and PEN & INK MASTERS. He founded these to help individuals become truly exceptional at utilizing their gifting, expertise, experience, and knowledge to build profitable enterprises.
Emeka is the author of 7 books and married with two kids.
Bukola Babajide is an Award winner of African Entrepreneur Award UK 2016 as "Inspirational Entrepreneur". She is an IT consultant with Over 15 years' experience with leading organizations in a domain such as Oil and Gas, Financial Services, Education etc. She has led and delivered successful Global IT & Business Transformation projects in UK, Switzerland, and United States with expertise in Business and process analysis to drive IT to change.
Bukola is a Certified Project Practitioner, Business Analyst, and SAP HR consultant. She is the Director and lead trainer at Crystal Options an IT Consultancy and Training company in UK and Nigeria. She also coaches and mentors aspiring analyst to achieve a successful analysis career. She was recently featured in Milton Keynes Citizens newspaper & Channel Radio, U.K for her role in empowerment.
#revolutionarythinking, #crystaloptions #swc #WIL #Altadecca
————————————————————————————————————————–
Sponsored Content