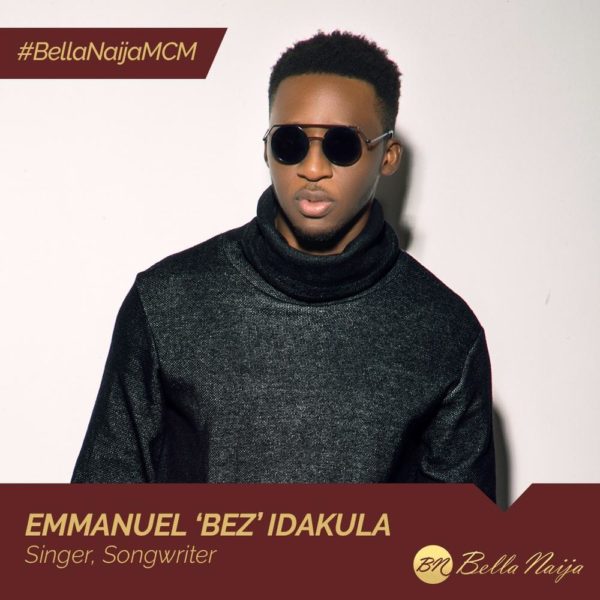 Music is one of the most powerful forces in the world; when beautifully created, it has its way of cruising through your eyes into the depth of your soul to entertain, empower and encourage. It's so much so as it is (most times) a combination of words – another powerful force – and instruments.
One musician who has been creating good music – words and instrumentals – is Emmanuel Bezhiwa Idakula, popularly known as Bez and we'll be celebrating him as our #BellaNaijaMCM this week.
Bez grew up listening to gospel and country music and by age 9, he was playing his father's guitar. At the time also, him and his siblings were back up singers for their mum and dad, who were regularly singing duets at home with his dad on the guitar. Bez, a multi-instrumentalist, singer-songwriter and composer, describes his sound as Alternative Soul, a blend of Jazz, Rock, RnB and Soul.
Bez continued in music, singing in choirs and while at the university, performed at several Open Mic nights, and that gave him the opportunity to hone his craft.
Bez released his debut album – Super Sun – in 2011 which had the well received track "That Stupid Song" – a mixture of songs sang by children growing up in his days in Nigeria.
The album place number 3 on The Boston Globe's top ten world music albums of 2011 list. Super Sun was also listed as one of the hot Soul/R&B albums on iTunes USA. Bez became the first African musician to premiere his video (Stupid Song) on BET's 106 and Park. Bez has been featured on top platforms like Vogue, Essence and Rolling Stone Magazine.
Bez released his second album – Gbagyi Child – in 2016, and he took listeners on a journey of life, love and growing up in northern Nigeria. Bez pushed the boundaries of his creativity, blending local music played in his village with sounds he would normally create. Travelling to Karu, a village in the outskirts of Nigeria's Federal Capital Territory, sampled their music, then took it New York for recording with a band, and to Houston, Texas and then to Nashville, Tennessee where the guitars, horns, and finishing percussive touches were applied.
Bez is one of the unique Nigerian acts easily distinguished by his ability to switch between alternative genres when the need arises. He seamlessly breezes through jazz, rock, RnB and what more, he has a dependable band to fall back on. Songs like "Stupid Song", "Super Sun", "You Suppose Know" and even the more recent "High" attest to this.
Bez gives back to the society through his Bez Idakula Foundation; he's a member of the Africa Leadership Network and board member at the Ovie Brume Foundation and he endorses Friends of the Global Fund Africa (Friends Africa), a platform committed to fighting AIDS, tuberculosis and malaria.
In 2016, Bez hosted the first Bez Live concert and him and colleagues thrilled fans with eclectic performances. The concert returns this year and it's scheduled to hold at Muri Okunola Partk, V.I Lagos on 24th of December 2017.