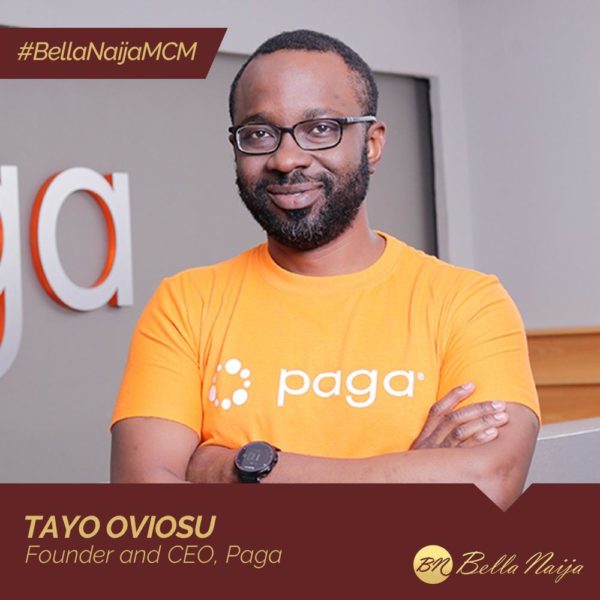 Nigeria's Fintech industry is one of the fastest growing space in the country, not just within the tech ecosystem, but the entire economy, but as recent as 10 years ago, it was not so.
Making payments at the time was a herculean task, and out of frustration, our #BellaNaijaMCM this week Tayo Oviosu of Paga – a full-service payments and digital financial services provider –  decided to change things. Challenges at the time, such as inefficiency of the banking system, which includes little or no online presence, almost non-existent branches in rural areas, as well as long hours one had to spend at the bank; and the large percentage of Nigerians without bank accounts or any link to a bank.
It was indeed not just a difficult venture to take on, but a new one in the country, but Tayo was armed with experience from his previous roles. Tayo had worked with global giants such as Lucent Technologies, Cisco and Deloitte in various capacities bordering on business development, management consulting and venture investments.
However, his story did not start from his roles above. Tayo had had his own share of struggles and failures.
"I had to work my way through college, sometimes holding up to 5 jobs at a time. So I was excited when I finally graduated with an electrical engineering degree (form the University of Southern California). I had chosen to concentrate on semiconductor chip design which, in hindsight, was actually the hardest subject we did in school. It was the only part of electrical engineering I didn't get As all the time. Yet, I enjoyed it," he told Techpoint.
He got a job right after graduation at a startup designing digital imaging chips that could capture images the way the human eyes do. One day, he said, his boss called him to the office and said he had to let him go, barely 3 months into the job.
He struggled for a while after his sacking, worked in a mail-room, a call centre, and did anything to make ends meet. He was also collecting employment benefits from the state of California. He landed another job soon after, from where he moved to Deloitte consulting.
Tayo founded Paga in 2009, and in the first six months of operations, he funded the company from his personal savings. Later on, he got funding from Goodwell-Alitheia Capital, after which more investments came following Paga's full operating licence from the Central Bank of Nigeria (CBN) in 2011.
Paga now has about 11,000 agents, more than 6 million customers on its platform. The company also offers services that helps business make and receive payments online.
In 2013, Tayo was nominated for the West African Entrepreneur of the Year at the All African Business Leaders Awards.
For using his frustration of carrying cash around to develop a product to meet that need, Tayo Oviosu is our #BellaNaijaMCM this week.