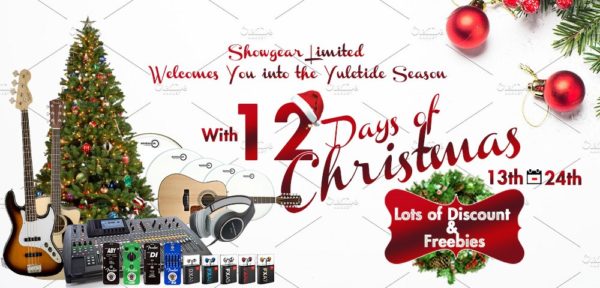 12days of Discount Prices at Showgearonline!!
Showgearonline Nigeria's leading music store for all Pro-Audiovisual equipment and musical instrument celebrates you this Christmas with 12 days Christmas!!!
You can now get those musical instruments you've always wanted such as guitars, keyboards, headphones, speakers, and all kinds of audiovisual equipment.
From Thursday, December 14th to Monday, December 25th, 2017, we will be giving discounts on all items and a free gift for everyone who stops by. Show up at Showgear store at No 18,Little Road, Yaba and benefit from the everyday special giveaways. You can also shop online.
Follow us on Instagram, Twitter, and Facebook for details of daily discounts and giveaways.
Call 09037748851, 09037748853 and 09037748860.
Showgearonline splashing your Christmas with goodies!
Showgearonline making your Christmas memorable!!
Guess you could call us Santa's little helpers!!!
——————————————————————————————————————–Sponsored Content