Hey BellaNaijarians!
Did you watch the two-hour special of our wedding? Yes our wedding ?. I'm talking about the Banky W and Adesua Etomi wedding documentary on AfricaMagic. I watched it and I LOVED it!
I spent the night smiling at my TV set like I had a special investment in the ceremony.
After the teaser was shared a few days ago, I loved watching the show and seeing the camaraderie between the two of them, the love that their friends have for them and the planning that went into them having one of the most amazing wedding ceremonies of 2017. Watching the show made me ask myself – how could we have missed the fact that these two were in a relationship for more than two years?
Our BN rep was at the Cape Town wedding but this documentary really made me feel like I was there personally.
Anyway, here are three highlights – for me – from the show!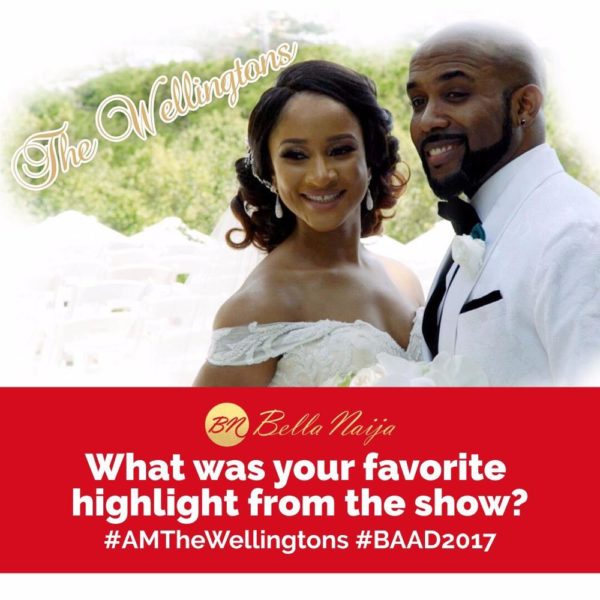 ***
Getting to "Meet" Adesua
For me, I loved Adesua even before I met her but this documentary gave me a look into her semi-private life. Guys, Adesua is fun and down-to-earth. She's the kind of girl that dances during fittings, is excited about calling Banky her "husband" and mistakenly reveals the age of her bridesmaid.
She's us ?.
It was nice to see the wedding from Adesua's point of view and that was a major highlight for me. It was also nice to meet Adesua's friends – her MOH and bridesmaids. It was fun to hear about her screaming "I'm engaged" to her best friend of fifteen years in February of 2017 and it was super fun to see her practicing her dance steps while doing her fittings with Toju Foyeh.
I watched the documentary and felt like Adesua was my bestie.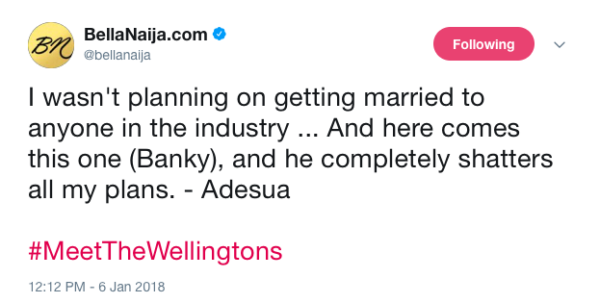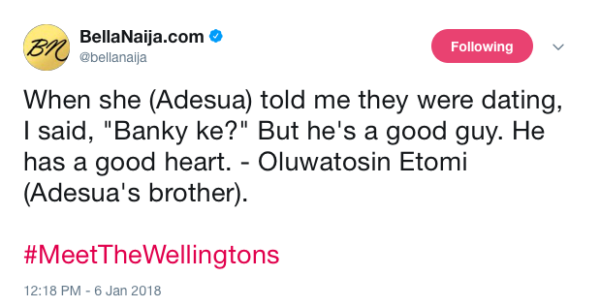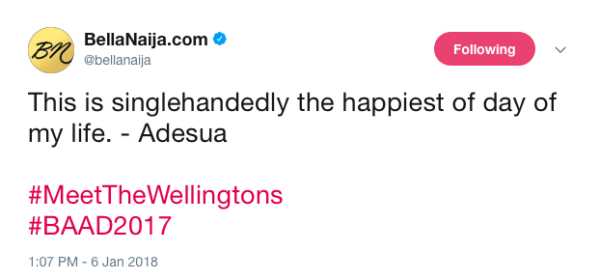 The Fun!!!
There was so much fun at this wedding abeg! I loved how everyone also had a smile on their face: from the couple, to the parents, to the guests. They rocked Lagos and then rocked Cape Town. The rockies were too much…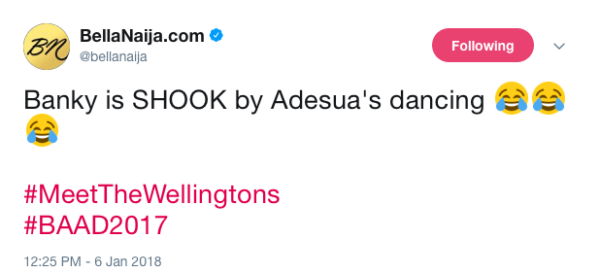 The Behind-the-Scenes Exposè 
The one thing that I really enjoyed about the show was the BTS exposé that I didn't know I had missed out on. Like, so Banky already suspected Ebuka in this #AgbadaSaga? Or the fact that Banky never esperred Adesua's dance steps? What of the fact that Adesua's veil was burnt minutes before she walked down the aisle in SA? (The devil is a liar!!)
So much happened that we did not even see..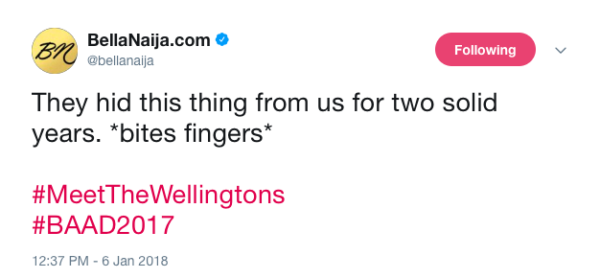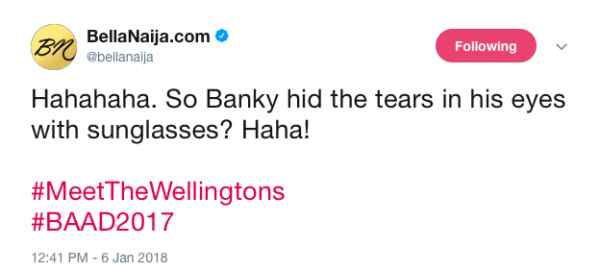 If you missed the show, check out the live commentary on @bellanaija's Twitter page…
…and saying a big "Thank You"…