BellaNaijarians, Sawubona!
It's Runor Jiroma and i just got back from South Africa. I had such a great time. I hope you followed the journey on @bellanaijaonline instagram page – if you didn't, now is a good time to catch up on all the adventure!
My favourite moments of the trip were seeing an Elephant dance and respond to instructions, visiting Mandela's house, Cheetah experience with Tarzan and Jane and attending #BAAD2017, aka the wedding of the year.
So let's get into it.
***
Pre-Departure Plans
Prior to the trip, there was a media briefing at South Africa Tourism office during which we were given information about the trip; where we were going and who we will be going with. My team included SAT officials Hloni Pitso and Jennifer Awoh, photographers Kelechi Amadi Obi and Kola Oshalusi, as well as media representatives Elizabeth Osho, Sisi Yemmie and Rachael Abiriba.
Day 1
I got to Murtala Mohammed International Airport (MMIA) at about 8:30pm. Departure was scheduled for 10:25pm, so i was pretty early – you can never be too safe with this Lagos traffic. See, I had been having nightmares that I might miss my flight so I wasn't taking any chances ?. I checked in and found out some of the people I was traveling with had already checked in. Why do Nigerians go to events late but always early to the airport?
I left Lagos for Johannesburg on a South Africa Airways flight, landed at the OR Tambo International Airport and immediately took a connecting flight to Cape Town.
I was so tired and hungry when we got to Cape Town. We checked in at the African Pride 15 On Orange hotel. I had lunch, got a new sim card, and got into my room. My room had a very nice view of Table Mountain and Devil's Peak.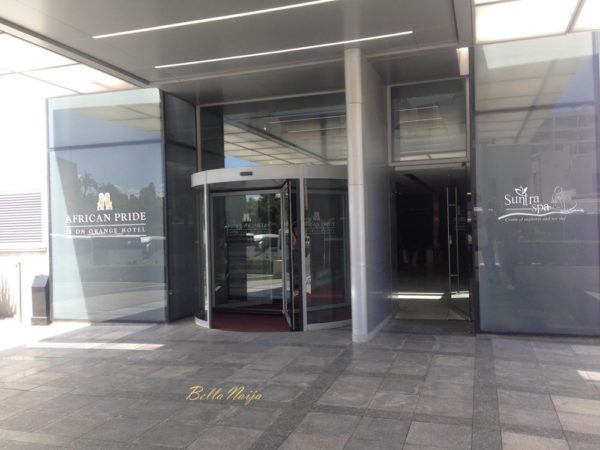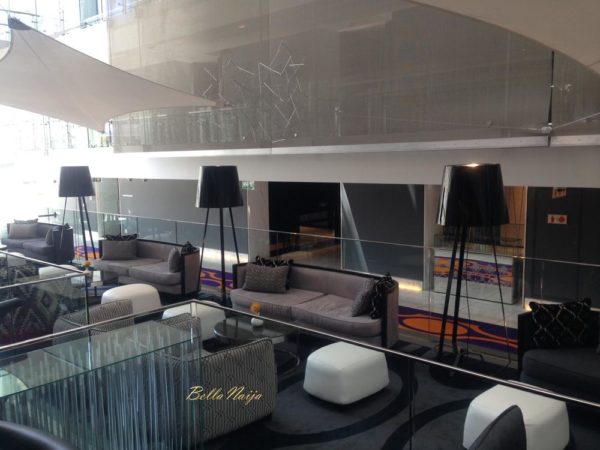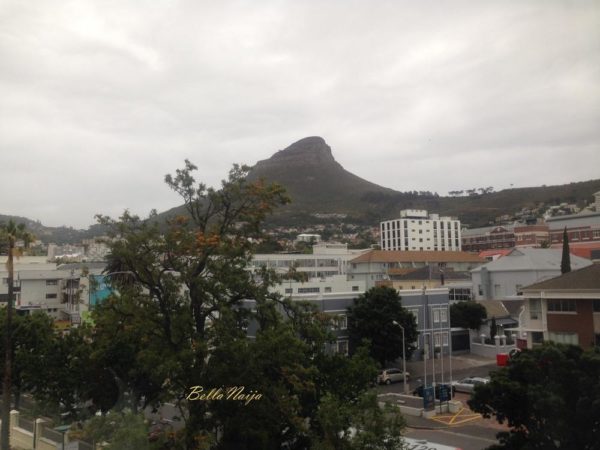 Next stop was Sundowners at Signal Hill even though at this point, I really just wanted to sleep. It was really cold there, after taking a few photos, it was time to leave as it was getting colder. I couldn't be more grateful because the cold was killing me already. I got to the hotel, had dinner and SAT official, Hloni Pitso welcomed everyone.
Day 2
The weather was so cold when I woke, even though the night before I had turned off the air conditioner in my room.
After breakfast, I got on the tour bus and left for the V & A Waterfront — which is a shoppers delight — with so many shops to choose from. I was literarily moving from store to store looking for a cardigan that won't cost me too much. I finally got a black cardigan at H&M and after paying, I headed straight for the bus to meet the others before I will start spending money I don't have.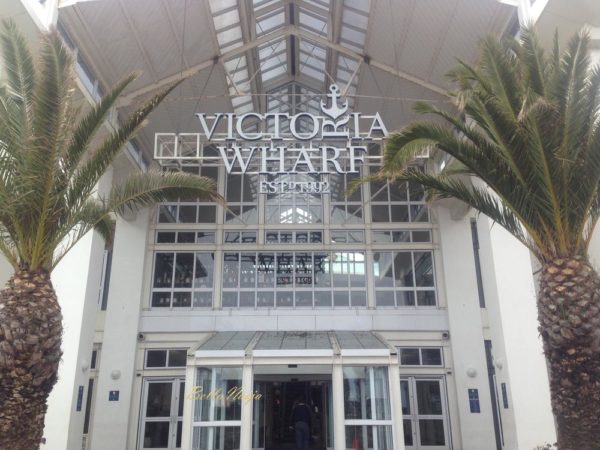 On the way to Table Mountain, I got a really good view of the city and our tour guide shared some facts about Cape Town; it is the seat of Parliament, which makes it the legislative capital, the city has about 25 golf courses, and there is a labyrinth at St George's Cathedral (Desmond Tutu's church) that is open to the public.
I got to Table Mountain along with the #BAAD2017 crew and we joined the queue — which was as long as bank queues in Lagos on a Monday morning — and then we got cleared for the CableWay ride. The view from inside the Cable car is stunning and I saw some people hiking to the top of the mountain. Table Mountain is 3,563 ft above sea level and it is very cold there.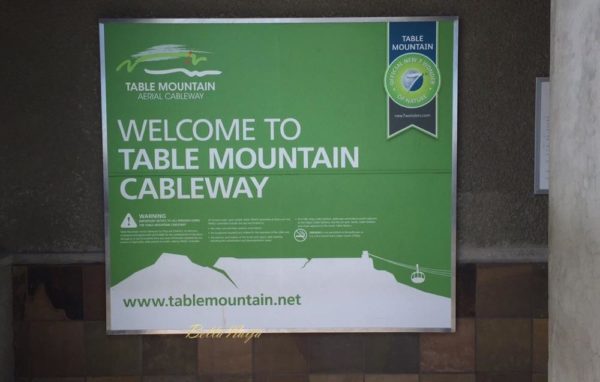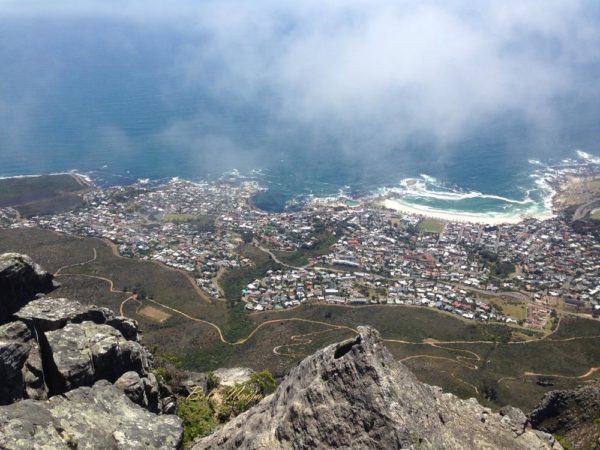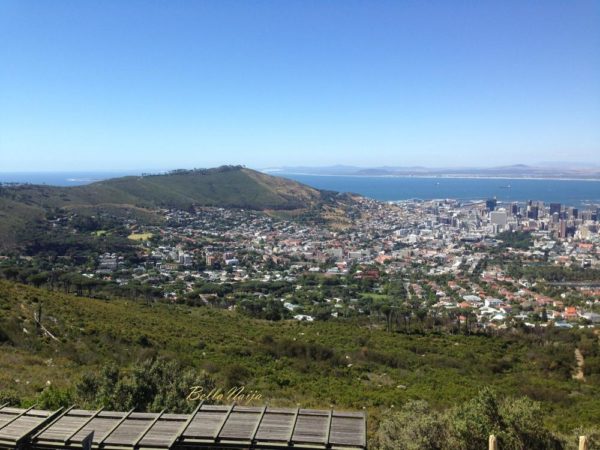 The top of the mountain was even colder than I had anticipated. There is a Cafe and a Merchandise shop that I was so excited to go into, as they had a heater there, it stocks everything from clothes to postcards. I thought i was going to get a few things here, you know like souvenir to show my people that I came to Table Mountain until I saw the prices, I quickly turned and faced the heater.
The view from the top of the Mountain is captivating, you can see the entire city from up there. The #BAAD2017 crew had a series of photoshoots here and then it was time to leave.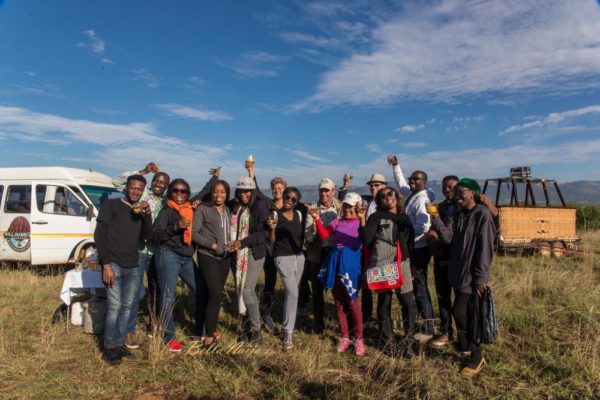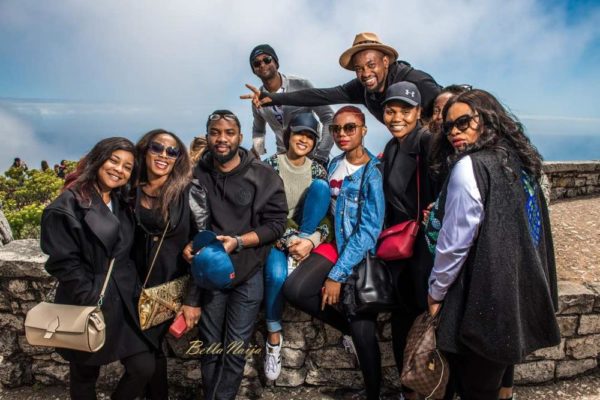 Next stop was wine tasting and lunch/dinner at Simon's at Groot Constantia. It was my first time at a wine tasting, and it was really good.
When it was time to order, I looked at the menu and the only familiar food was Chinese Salad because it had salad in it. It wasn't bad at all .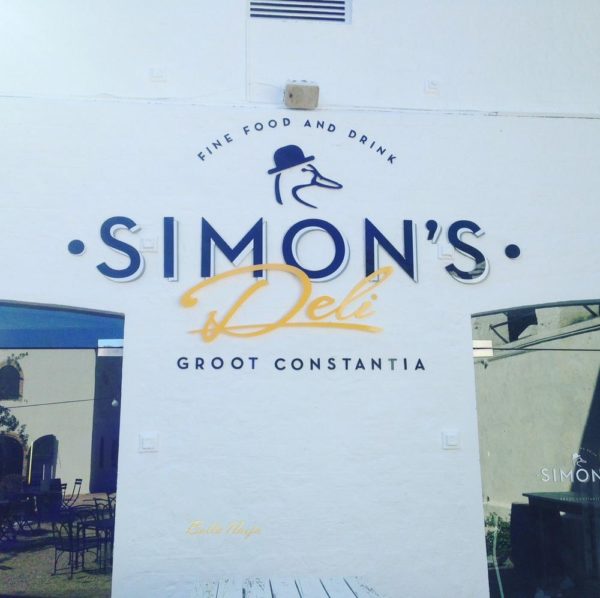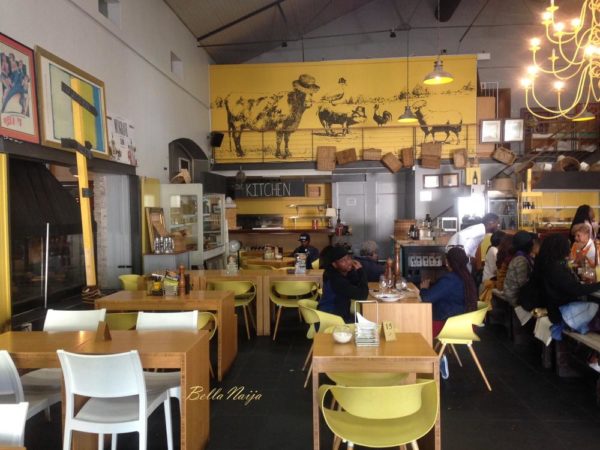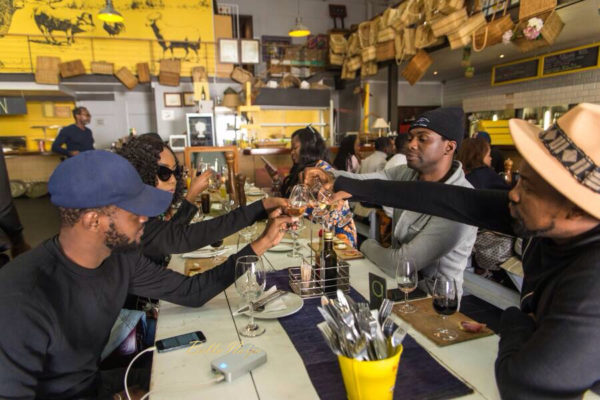 Day 3
Checked out of African Pride 15 On Orange hotel after breakfast. I had to pay for drinks I took from the mini bar in my room because I totally forgot that it wasn't free???.
Checked in at The Westin International later that morning. I think this is one of the best hotels I have stayed in my entire life. My room was on the 8th Floor and from there I could see Table Mountain, Devil's Peak, ABSA building and Cape Town port from my window.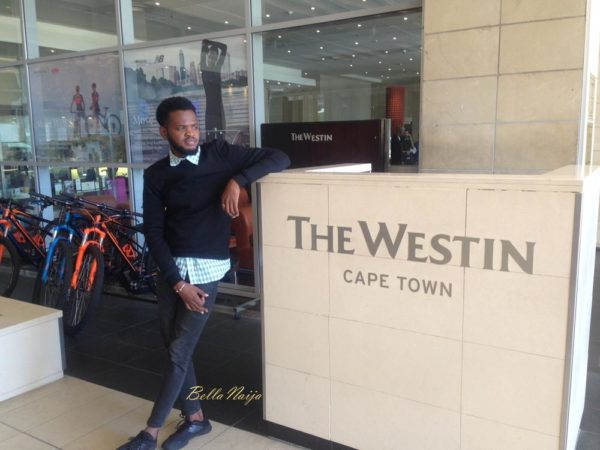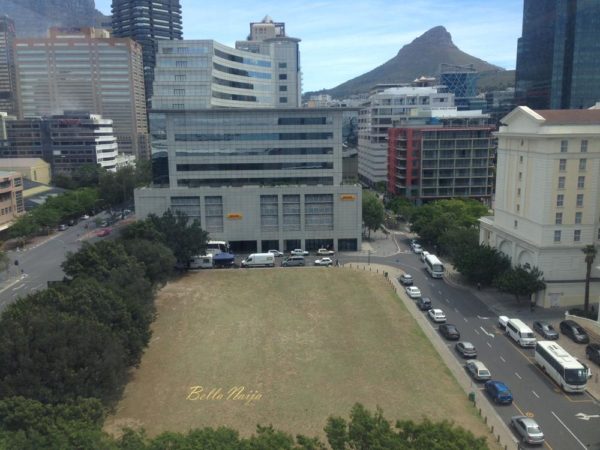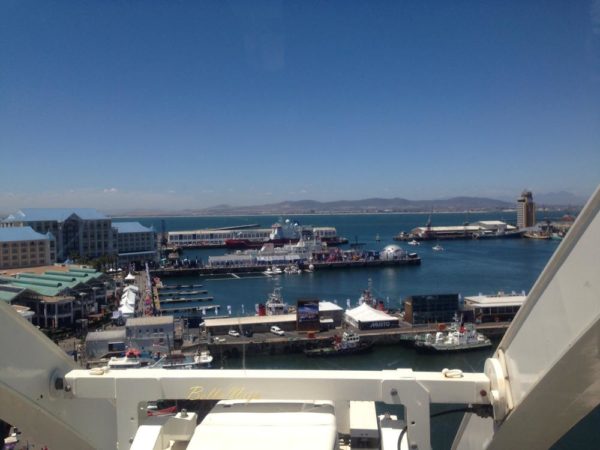 I got to ride in the Cape Wheel at the V&A Waterfront in the afternoon and take in all of Cape Town's beauty. Then had lunch at Quay Four, a terrace restaurant with local seafood and a very nice view of the harbour. This was where Kola Oshalusi tried Sushi for the first time, and his reaction was so hilarious.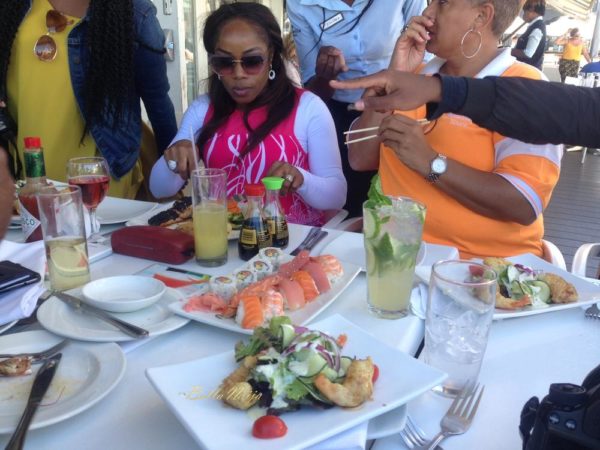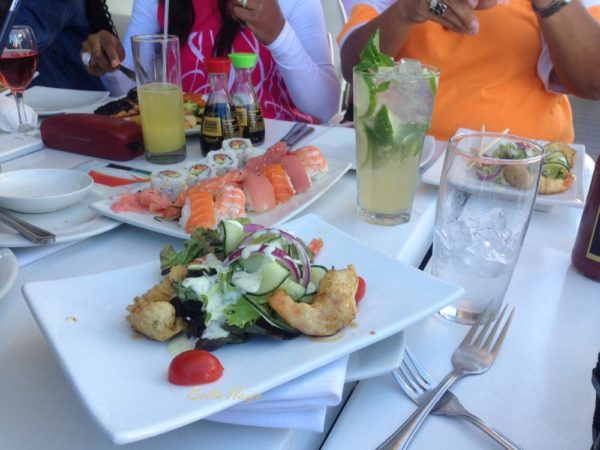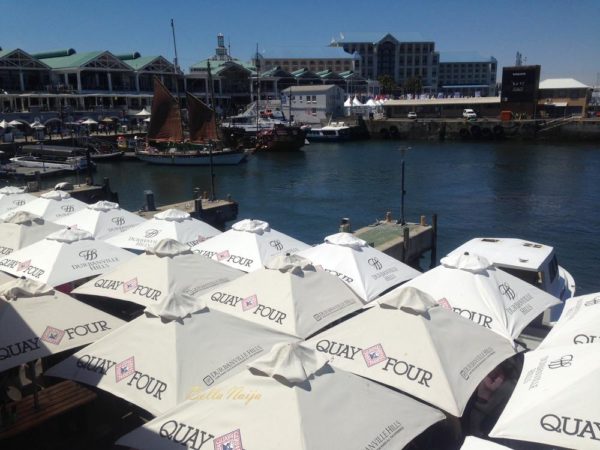 On the third day, I also got to experience night life in Cape Town at Cubana Havana Lounge & Latino Caffe and it is almost energetic as that of Lagos. I had dinner here and partied till the early hours of the morning.
Day 4
#BAAD2017 Wedding day!
The formal wedding ceremony was kept private and strictly for family and friends but the reception was open to all and the SAT team was given access. Yay! I got there ready to slay in my tuxedo and patent shoes. The reception was held at the Old Harbor Conference Centre in Westin Hotel.
The decor at the reception was cream with gold lightings.
Favourite highlights for me was Banky W's dad dancing, the shoe game where we got to know that Banky W is better at giving gifts (he is also always the first to apologize) and Adesua is the better actor and singer, and finally Banky W and Adesua signing out for the night as the DJ played Banky W's Lagos Party song.
Other highlights was the speeches by Banky W's younger brother, Temi Wellington (who didn't prepare but gave one of the best speeches) he told everyone a story of how Banky W and their eldest sister Didi got he and Funmi (the youngest brother) all the things they wanted for Christmas when they were kids including the ones they listed as options, just to show us that Banky W has always been a generous person. Finally, Segun Demuren's speech about chasing girls and the period Banky W wanted to give up on Adesua because she wasn't responding favourably to his advances.
The wedding was heavenly and everyone had a good time.
Day 5
After breakfast I had my first ever Harley Davidson ride experience. The ride was from Westin through V&A Waterfront down to Camps Bay were I had lunch with the SAT team at the Paranga Restaurant. It had a very good view of the beach and it's mostly windy there.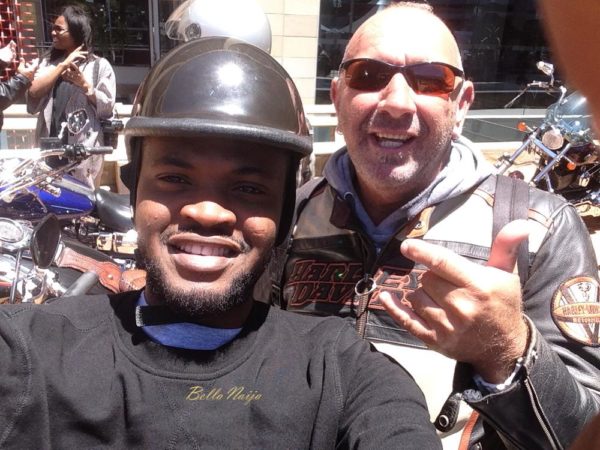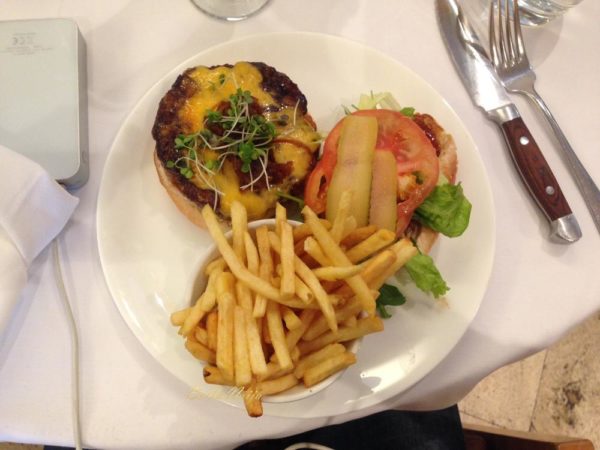 After lunch, it was time for Boat Cruise with #BAAD2017 crew at the V&A Waterfront. It was a really smooth ride, the ambience at the sea had this calming effect on me, like all my problems were over. There was music and too much wine to go round.
We all had dinner at Marriott and then left for our hotel.
Day 6
We checked out of Westin Hotel.
Got to the airport for our flight to Johannesburg. We got to Johannesburg, then had lunch at Nandos and got ready for our 2 hours ride to Zebula Golf Estate & Spa, Bela Bela in the Waterberg region of Limpopo province.
By the time we got to Zebula I was so tired and the 2 hour ride felt like 6 hours to me but the beauty of the estate made it all worth it.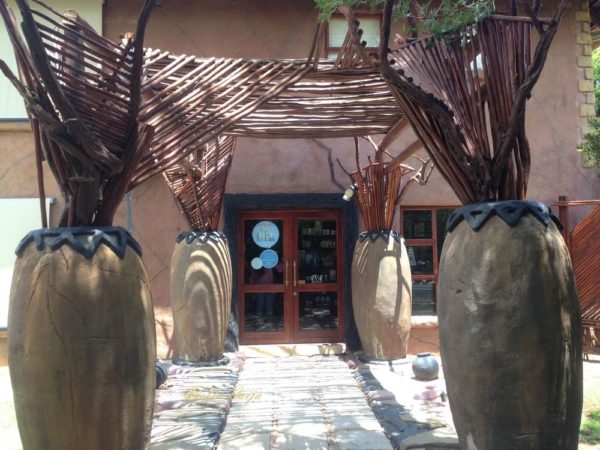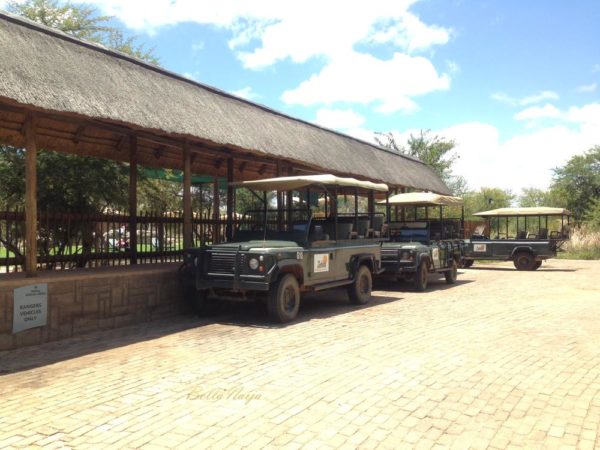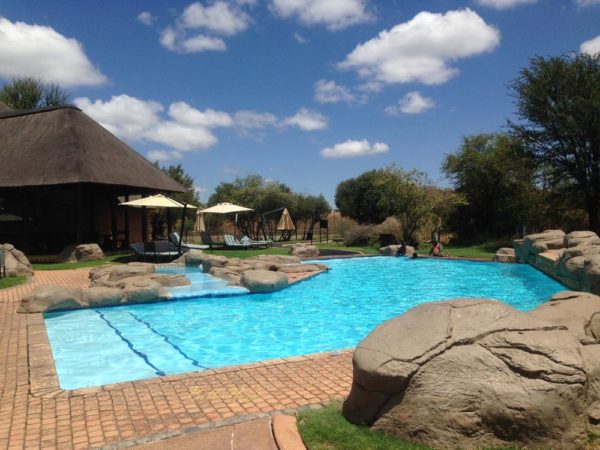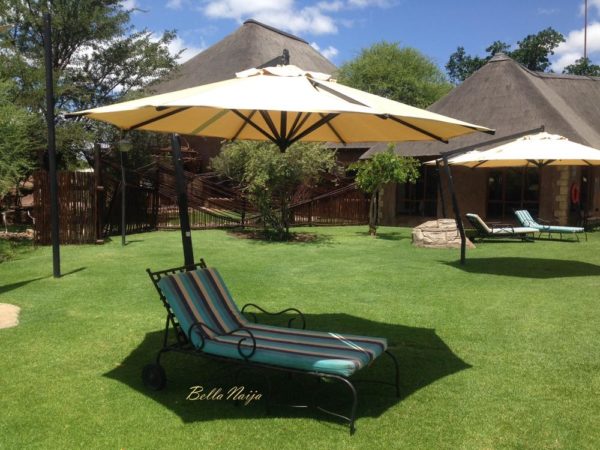 Day 7
We had breakfast at the restaurant in Zebula.
Spa treatments were scheduled for everyone but I wasn't really interested… I just wanted to sleep.
After my sleep-in, I had time to explore the golf estate which had a snake park, a spa & sport centre, a crocodile gorge and a few relaxation spots.
I got to see Cheetahs for the first time. I really don't know what pushed me to go into their cages and touch them but I did and I loved it, lol. Before I got in, the Cheetahs got really agitated and the lady in charge had to call for food for them while we waited. Surprisingly, I wasn't scared when i got in…maybe because they were being fed. There are two Cheetahs in Zebula, Jane and Tarzan. Fun Fact: Jane was once a pet and Tarzan was once addicted to coffee.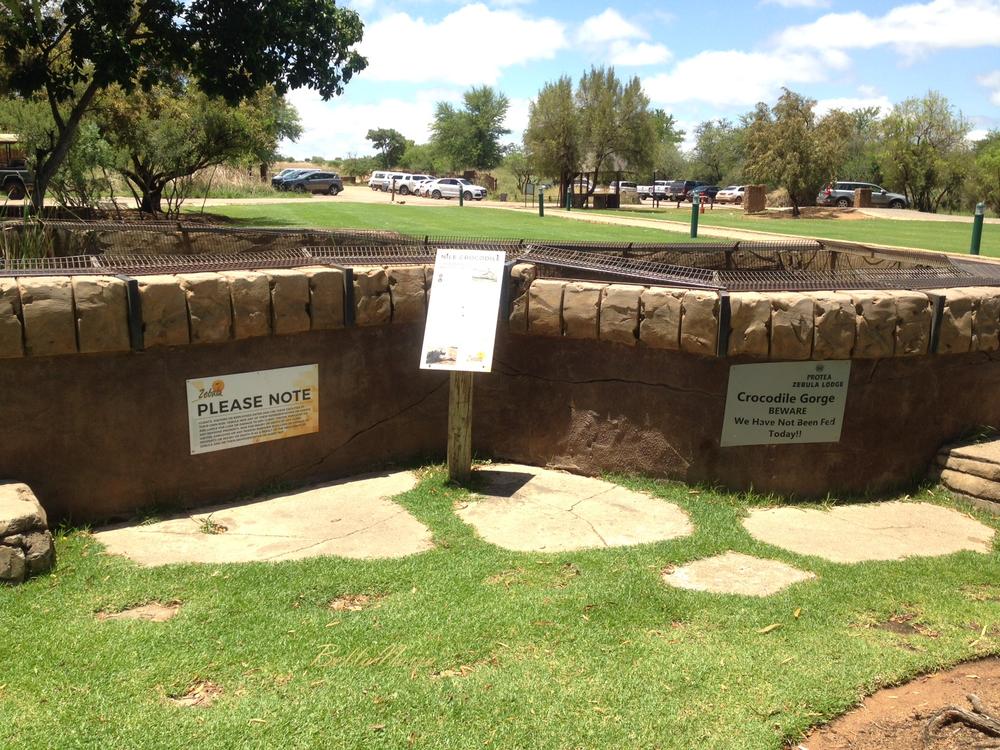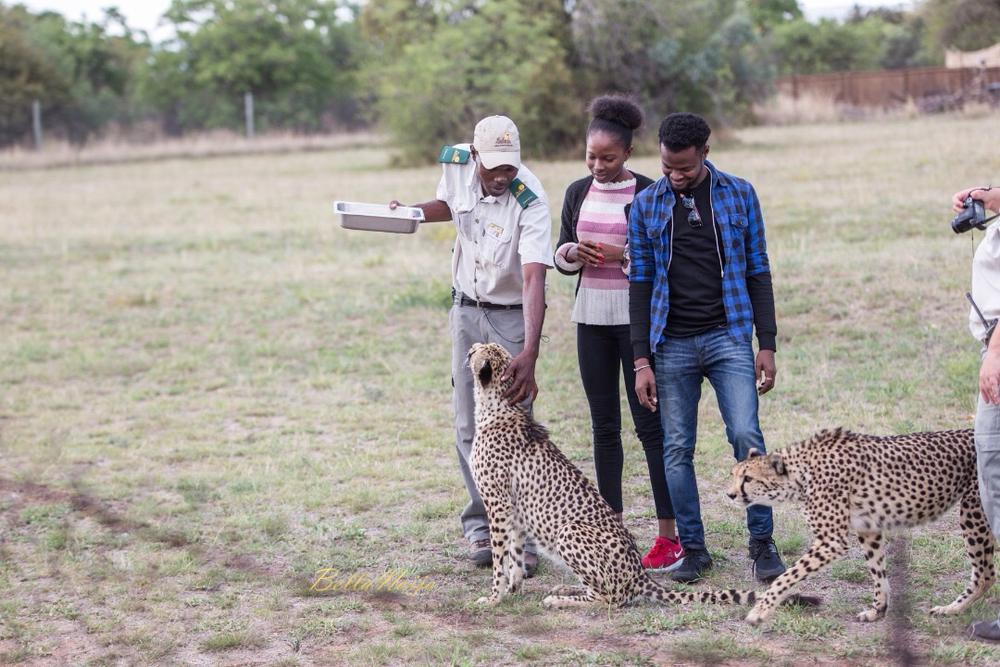 The game drive and dinner in the bush later that night was awesome.
There was a buffet, we had drinks and ate cake as we celebrated Ebuka's wife, Cynthia's birthday.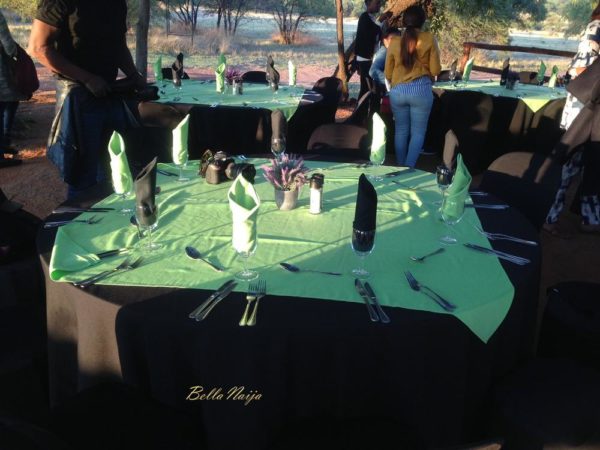 The Zebula Golf Estate & Spa is a traveler's delight with its African themed cottages with really nice views. Most of the cottages have their own swimming pool, the rooms are very big and there is a jacuzzi in the bathroom. Wildlife here is also amazing. If you come out of your room or you are being driven in one of their shuttle buses, you might see a few animals moving around from Zebras to Antelopes to Giraffes.
Day 8
I woke up really tired and I just wanted to sleep as I partied too much the previous night?. I wasn't too excited about the Elephant experience at the Adventures with Elephants in Bela Bela but then Then I saw an Elephant dance and carry out instructions given to it and my tiredness disappeared almost immediately.
We checked out of Zebula later that morning.
Next stop was Soweto were we, along with the #BAAD2017 crew, visited Mandela's house in Orlando West . The house is a single-story red-brick matchbox that was built in 1945.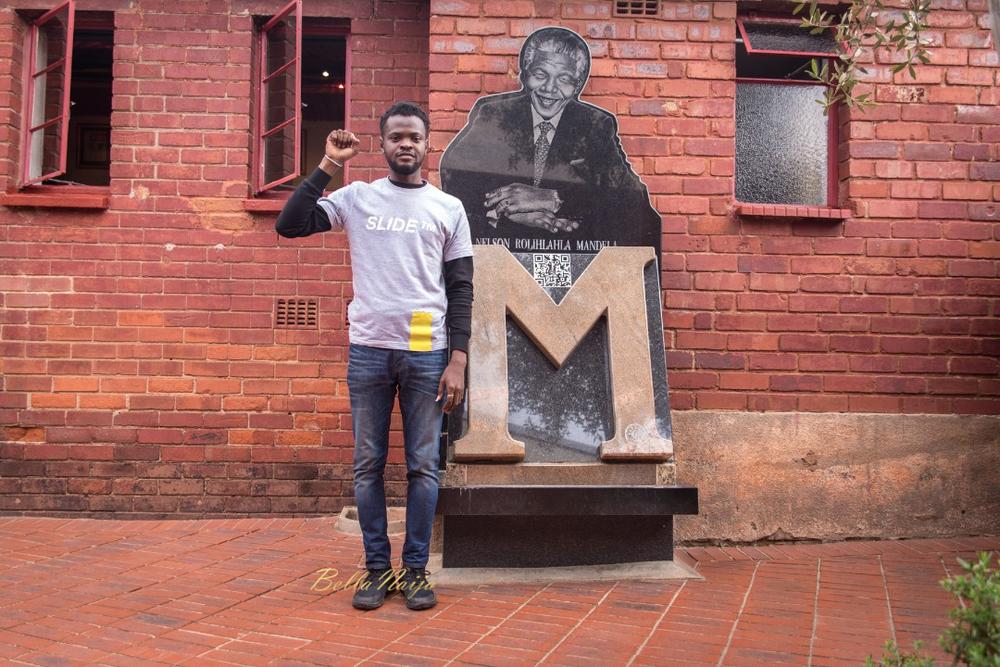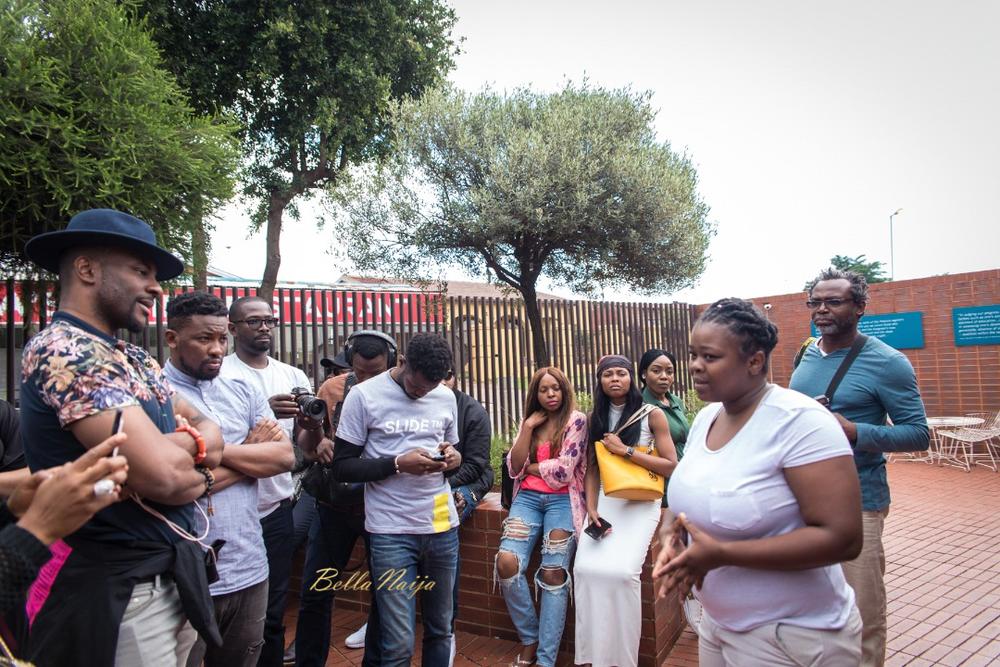 Standing in Mandela's house with all the memorabilia, some original furnishings, seeing all these things first hand made me realise how powerful and influential Mandela is even in death.
From Mandela's house we visited Hector Pieterson Museum.
Hector was the first victim of the 1976 Soweto uprising in South Africa. The museum is just two blocks away from where he was shot and killed on the 16th of June 1976.
We left Soweto for Johannesburg and checked in at the African Pride Hotel Melrose Arch.
Day 9
I woke up at 3am to prepare for my hot air ballon ride at 4am at Bill Harrops "Original" Balloon Safaris in Bojanala. The ride was so good and peaceful like a Sunday afternoon nap. It was an exciting experience and my first time in a hot air balloon. I even got awarded a certificate after. This is one thing I definitely want to do again.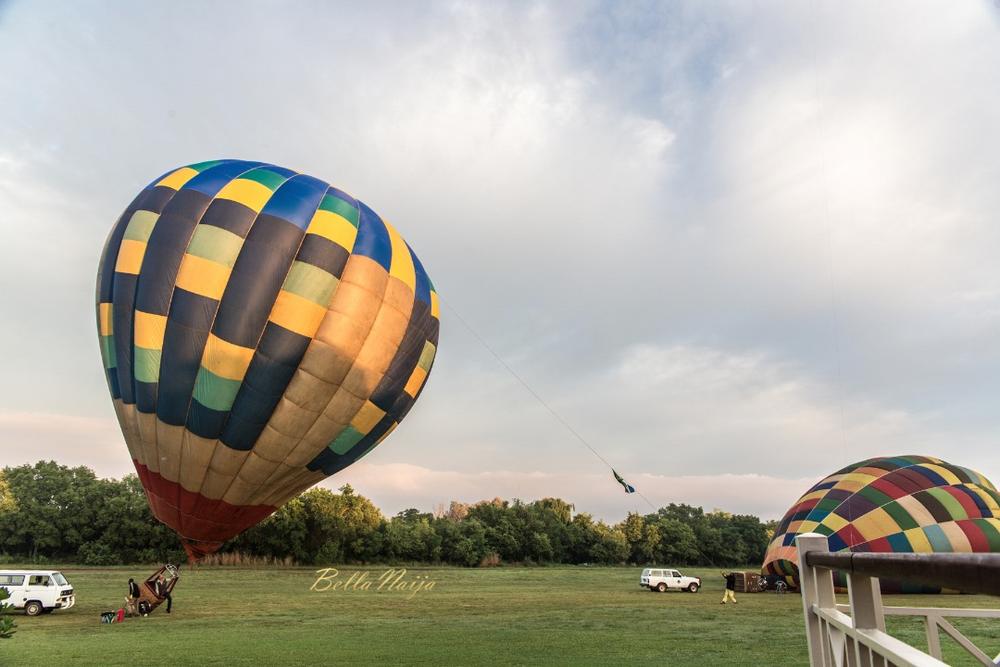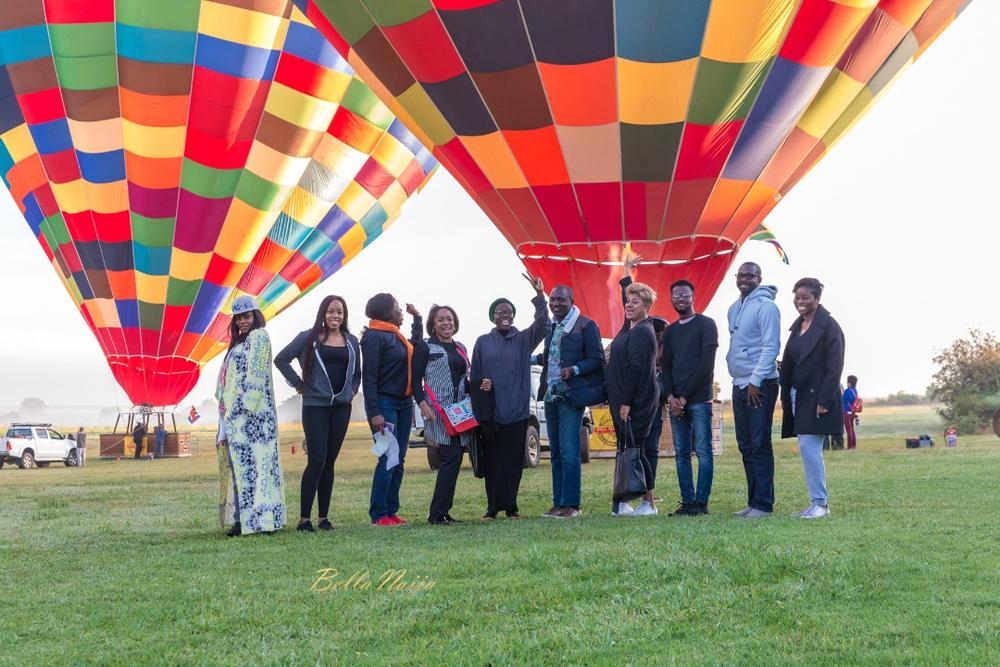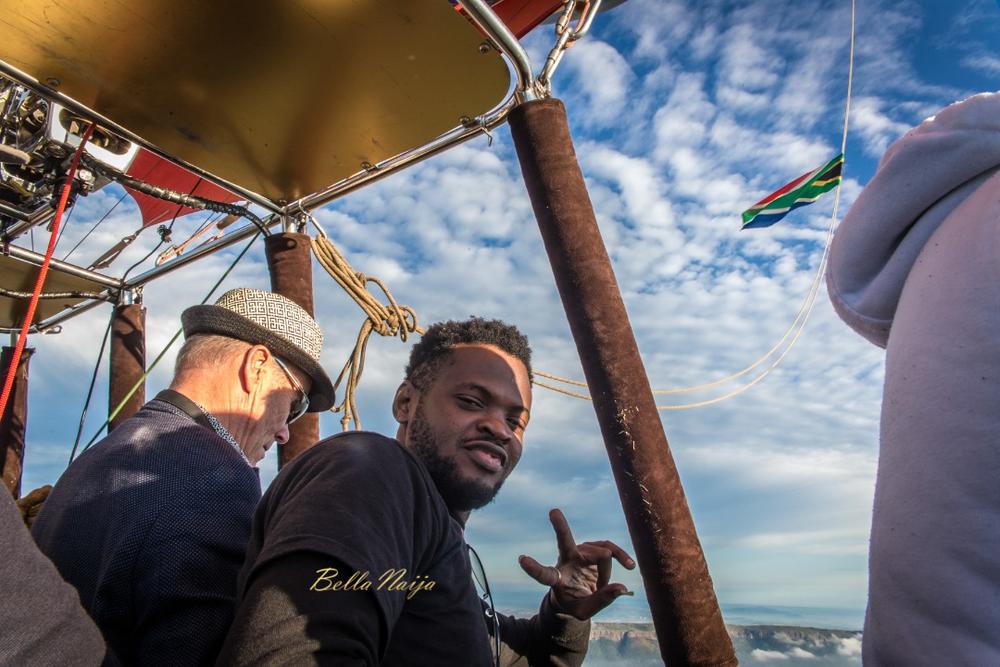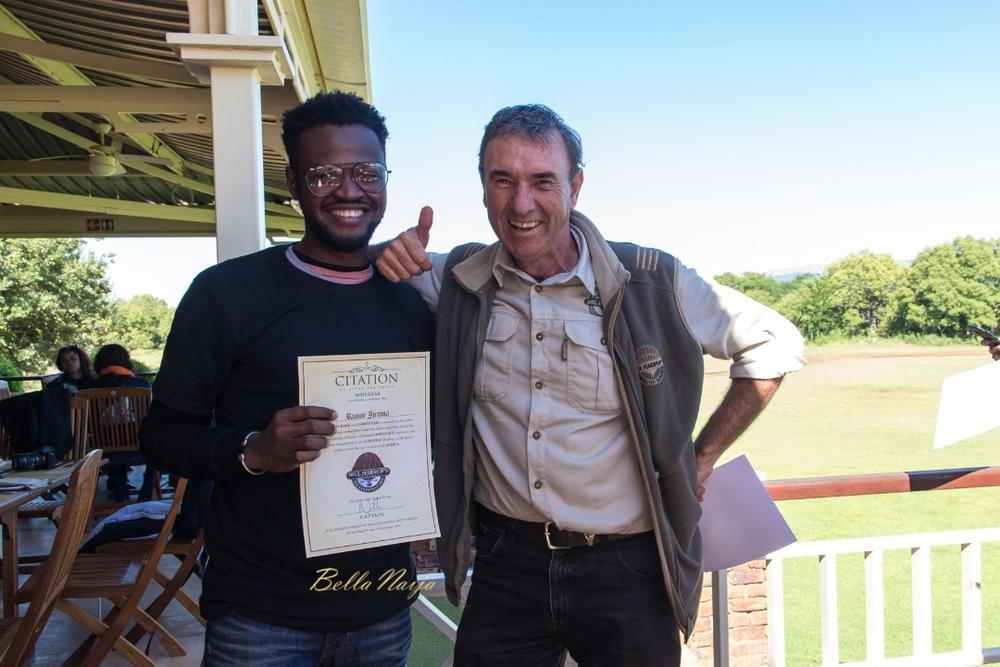 We checked out of African Pride Hotel Melrose Arch and left at about 10am to catch our 2pm flight from Johannesburg to Lagos, Nigeria. We got to Lagos at about 8pm and I couldn't wait to get home but trust Nigerian Immigration to delay you with the 'what did you bring for us' line lol.
I had the time of my life and I was sad to leave everyone but I am also grateful that I got to experience South Africa for the first time with such great people.
***
Special thanks to South Africa Tourism (SAT)  and South Africa Airways (SAA) and everyone I travelled with that made this trip such a memorable experience, and thanks to BellaNaija for giving me such an amazing opportunity.!
Thanks for coming on this trip with me guys!
Don't forget to check @bellanaijaonline on Instagram as well as these hashtags; #BNinSA #MySAExperience and #BAAD2017 for more photos and videos.