Wow! We are so thrilled by the response to #BBN3ForTheLoveofWeddings
Raise your hand if you loved Mawuli ,Timini and Ayoola's videos. Your grooms were certainly inspired and we are loving the entries received. Now that this segment of entries is closed, we can't wait to send our #BBNWonderland brides their invitations starting this week.
Lots of people have been asking about the story behind our theme this season –
What is "For the Love of Weddings"? It's all the precious moments with your favourite people which make weddings so special. – …how your sisters showed your beau your dream ring ?
…how your friends and family "plotted" with your guy to ensure you got your dream proposal ?
…the first meeting with your wedding planner when you got emotional with a few happy tears ?
… going wedding dress shopping with mum ?
…dance practice with your #MyBSquadbest girls to ensure you slayed your entrance at your Traditional Wedding?
…and the list goes on.
All these "For the Love of Weddings" moments pair perfectly with a bottle of Baileys to be shared by all.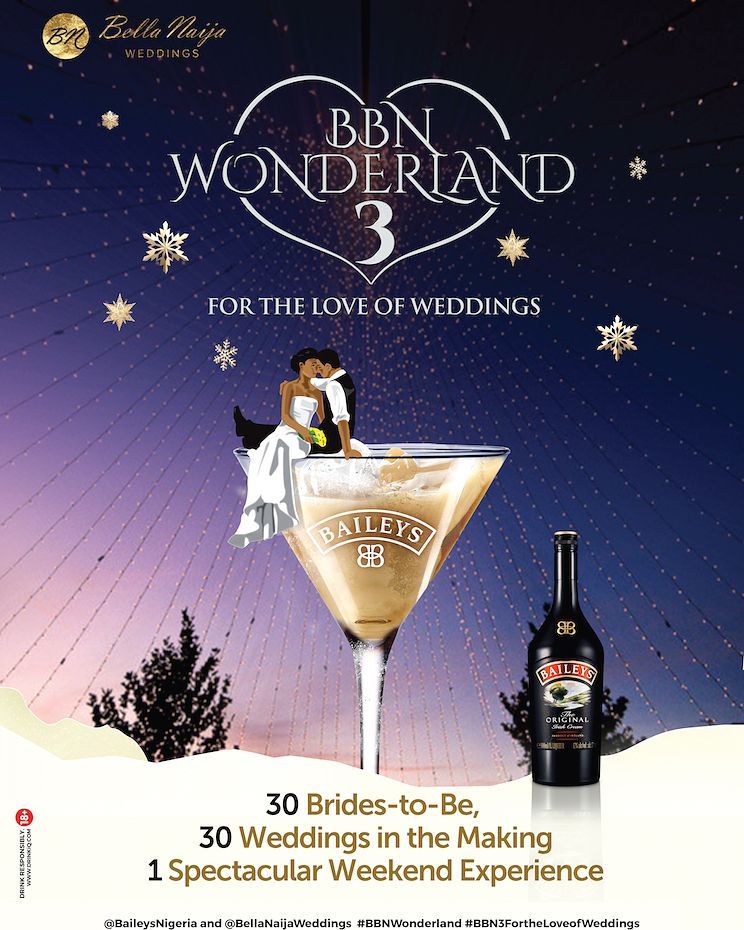 Brides-to-be, for the next 24-hours, you can share your #BBN3FortheLoveofWeddings moment to get a chance to join us on the weekend of the 27th of January 2018 for an amazing experience.
This is the final opportunity to win an invitation to #BBN3FortheLoveofWeddings
To submit, Brides-to-be, share your "For the Love of Weddings" sweetened with Baileys moment and story with us. It could be your proposal video, your dress fitting photos, your pre-wedding shoot etc… Tag @BaileysNigeria and @BellaNaijaWeddingsusing
#BBNWonderland and #BBN3FortheLoveofWeddings
– Kindly note that social media pages should be open (not private) in order for us to view your entry
Or
Email your entry to [email protected]
Email entries should include the couple's social media handles and wedding date.
Deadline – 10.30AM WAT 10th January 2018. If your groom previously submitted, you do not need to submit again.
All entries will be evaluated equally and fairly.
Full Terms & Conditions available on www.bellanaija.com/bbnwonderland