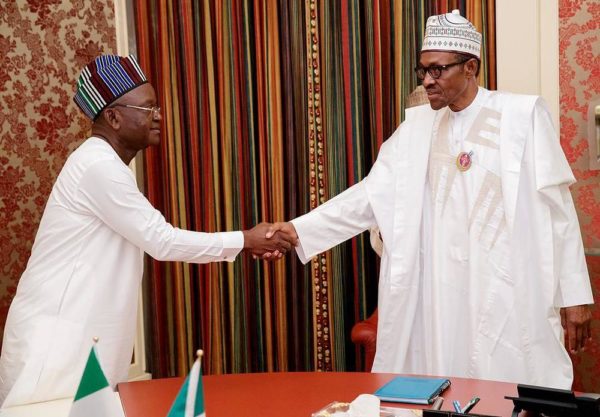 Benue State Governor Samuel Ortom has said he supports anything that will bring an end to the killings of people in his state, Premium Times reports.
Ortom spoke after meeting with President Muhammadu Buhari at the Presidential Villa in Abuja.
Ortom, who on Monday said people around the president are frustrating his communication with him, said to State House correspondents that he never accused anyone of blocking him from seeing the president.
He said he's always had access to the president, adding that he speaks to him on the phone. He said:
I have never accused anyone of blocking me from seeing Mr. President. I'm seeing Mr. President. I told him when this incident occurred, I spoke to Mr. President on phone and followed it up.

I know what it entails being a president. Even as governor most times I am not with my phone, people cannot access me the way it used to be, talk less of a president. I didn't say that and I have not said it.

The truth is that I have access to Mr. President anytime I want, I speak to him on phone and I see him personally. I requested to speak to him on phone that day because I couldn't come to Abuja and he gave me the opportunity and today I'm here and I have seen him.
Asked if he believes a full scale military operation could put an end to the herdsmen killings, Ortom said:
Anything that can stop the killings of my people, I will go for it, I support it. Any policy or any directive, anything that will help stop the killing of these innocent people who are not armed, because this cannot continue.

We know that the continuity of this will create greater challenges. I don't want it to continue. We are struggling with economic issues, we are struggling with political issues and we are struggling with several other issues in this country, security issues and all that, Benue State should not be part of this; there is no need for it.
Speaking on the allegation made by the Chairman of the Mayetti Allah Cattle Breeders Association of Nigeria (MACBAN), Garos Galolo that the January 1 killings were in retaliation of 1000 cows stolen from the herders by people of the state, Ortom said:
You know that man is a liar. Gololo is a liar, he is a wanted man in Benue State, we don't even know where he is. He stays somewhere and makes allegations. The other time, he said 1,000 cattle drowned and the herdsman decided to commit suicide by jumping into the river. He has not come out to justify what he said.
Ortom added that although he does not understand the Federal Government's plan of creating "cattle colonies," he believes the solution to the open-grazing bill is ranching, as he has often repeated. He said:
I am waiting to be briefed about what colonies means, I don't understand it and until I understand it…But like I keep saying, for us, the way forward is ranching and up til this time, I am talking to you, the way forward is ranching because is global best practice.

And it is not just practised in other parts of the world, on African soil in Swaziland, South Africa, Kenya, Tanzania, Mozambique, almost all African countries that rear cattle, they ranch. So why can't we do the same thing here? For the colony thing I don't know what colony is.
Read the full interview HERE.