Meet Coventry University Representatives to Find out How to Secure a Spot for 2018 Admissions & Funding | Feb. 15th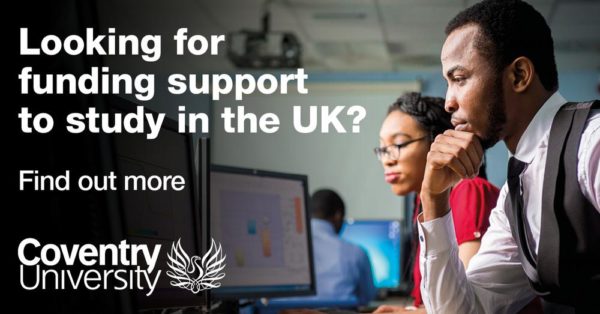 This automatic discount is for any Nigerian student who meets our entry requirements and makes an application to study at Coventry University for the May 2018 start date. Meet Coventry University representatives this week in Kano State for a unique opportunity to make an application for the May 2018 academic start date and get this amazing discount.
Date: Thursday, February 15th, 2018
Time: 11.00am – 5.00pm
Venue: BCIE Kano Office, 1st Floor Chalet A Tahir Guest Palace (Annex), 84 Lamido Road, Off Suleiman Crescent,(Behind Niima Hotel), Nasarawa G.R.A, Kano State.
For more information, please send an email to [email protected] or call 08130743252.
Kindly bring along with you copies of your academic qualifications for on the spot admission to Coventry University UK May 2018 academic start date.
—————————————————————————————————————————————————————
Sponsored Content