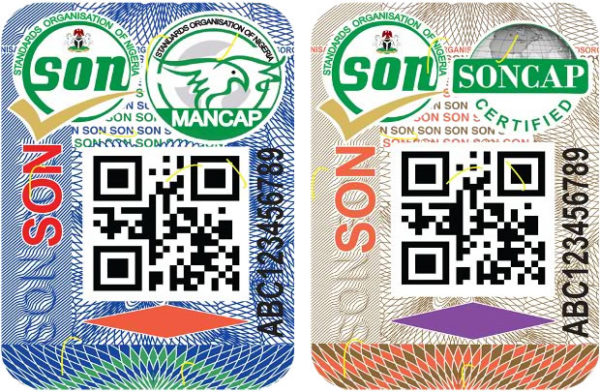 Late last year, the Standard Organisation of Nigeria (SON) introduced the Product Authentication Mark (PAM) to check substandard products in the country.
At a stakeholders forum on PAM in December, SON's Director-General, Osita Aboloma, said that PAM will raise the patronage of made-in-Nigeria products, boost the country's economic diversification drive from oil to non-oil sector, and check substandard products, ThisDay reported.
PAM is a sticker that is intended to guarantee the authenticity of a product. The sticker will have security features and a QR code which can be scanned by a smart phone and will cost N3. According to the policy, the sticker will be for each product and not product type.
"It is applied on each product to ensure traceability and track imported and local products," Anoloma had said last year, adding that "certain items such as food products, drugs, machineries of manufacturers, among others, are exempted from PAM, which will tentatively take effect from February 1, 2018."
The agency's boss said:
We started it because counterfeiting is an age-long menace that has burdened us, leading to the influx of substandard goods in Nigeria. It also makes it difficult for local manufacturers to be competitive. It is our opportunity to deploy technology and authenticate products shipped into the Nigerian market.
The agency, on its website gave reasons for the policy:
In line with Section 5 of the SON Act No. 14 of 2015 to ensure the authenticity and traceability of products certified to have met the requirements of the relevant Nigeria Industrial Standards or other approved specifications in Nigeria, the SON hereby notifies the general public of the introduction of PAM on all locally manufactured and imported products into Nigeria.

The objectives are to among others provide assurance to Nigerian consumers on products and guarantee value for money, to ensure effective control of non-complying products in the Nigerian Markets, to promote a level playing field in the market for both locally manufactured and imported products and to protect genuine manufacturers and Importers from faking and product adulteration by ensuring that only certified products are in the markets in the long run.
While the president of the Manufacturers Association of Nigeria (MAN), Frank Jacobs, according to ThisDay, commended SON for the initiative, saying it "will further improve patronage of made-in-Nigeria products, clearly identify original products, further safeguard the health of consumers, provide unambiguous means of authentication and heavily reduce grey trade activities such as smuggling and counterfeiting," the policy is being considered as an additional tax in some quarters.
President, Stanford Seed Transformation Network, Nigeria, and Managing Director, Housessories Limited, Nwamaka N. Okoye described it as a "tax in disguise" saying that "it is very clear that this sticker is nothing but an additional tax to further cripple the manufacturing industry and burden the Nigerian consumer who is already reeling under the load of sporadic fuel supply, near absent electricity, high price of food in the market."
Okoye adds that it is "a failure of the government to enforce a very well thought out law, and instead take the lazy way out by punishing the citizens for its inability to enforce existing laws."
Okoye argues that the logic behind the introduction of the policy which SON says will be a stamp of quality to assure consumers they are not buying counterfeit products, "is flawed for many reasons".
She argues that SON already verifies and authenticates imported products. "It is already mandatory for all regulated goods that are to be imported into Nigeria, to undergo mandatory testing. See below, the information on Intertek's website. Intertek is one of Nigeria's designated testing agencies with labs all around the world: 'Every consignment of imported goods which contains regulated products must be accompanied by a Certificate of Conformity (CoC) issued by an independent accredited firm, such as Intertek. The CoC is electronically transmitted to SON's portal who will then generate the SONCAP certificate on the basis of the CoC and will hand it over to the importer or Importer's agent against the clearance of goods in Nigeria,'" she says.
You'll need the CoC before you can import any regulated product into Nigeria and the product must also be submitted for a test at a designated independent lab in the country of origin.
Amidst all this verification stages, Okoye wonders how substandard products are imported into the country, being that SON, is already equipped by law, to challenge the menace of counterfeit products.
"I challenge the government to hold SON to an audit to produce all the corresponding test certificates. If indeed Intertek issued certificates to importers for substandard products, then the solution is to discontinue with Intertek, and get a new testing agency. If it is SON randomly issuing SONCAP certificates, then they should be held accountable. This is the solution. It is already encapsulated in the law. The government should do its job and hold itself accountable. Do not punish business people and consumers with additional taxes. It is counter-productive, and unfair to the people who have placed their trust in this government," Okoye concludes.
BellaNaijarians, in light of these, what are your thoughts on this new policy?
Photo Credit: SON