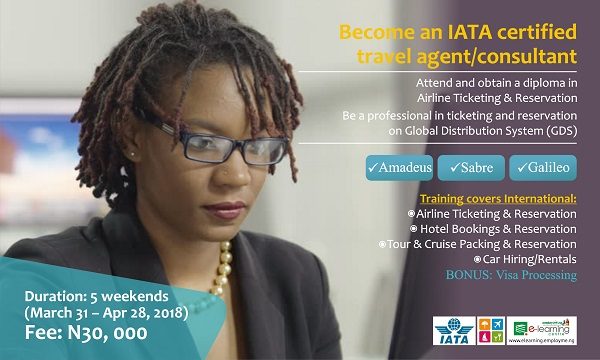 The travels and tourism industry is growing, do you desire a career in world travels and tour industry? Then this is for you. The IATA Air Ticketing & Reservation Course comes up from Saturday, March 31st- Saturday, April 28th, 2018.  The weekends-only programme offers participants opportunity to be a certified travel consultant/ticketing/travel agents.
The training course will expound participants to all IATA global distribution systems of Amadeus, Galileo and Sabre.
The Training Module Will Cover:  
Airline Ticketing & Reservation

International Hotel Booking & Reservation

Tours & Cruise Booking & Reservation

International Car Hiring &Rentals

Travel Insurance
With a Bonus Session on Visa processing. The event is jointly organized by EmployMe Nigeria and Event Plus Entertainment Concept Ltd with Eduwhere Aviation College UAE as the training and certification authority.
10 participants looking to set up their own travel consulting company will receive FREE DSTV decoder + 2months subscription courtesy of Multichoice Nigeria. Over 16 IATA licensed travel agencies will recruit participants from the programme as interns, full and part-time employees.
Participants looking to work independently (work from home) will be linked to IATA agencies as sub-agents.
Read full details here.
To participate, contact:
EmployMe Nigeria
Lagos E- Learning Centre
01-2932996 | whatsapp- 07085556666
Email: [email protected]
Eduwhere Aviation College UAE
Whatsapp – +971 52 594 4074
Upcoming Training and Certifications
To pay for the programme click
here
———————————————————————————————————————
Sponsored Content