#BBNaija – Day 41: When Women Win, Party Up and More Highlights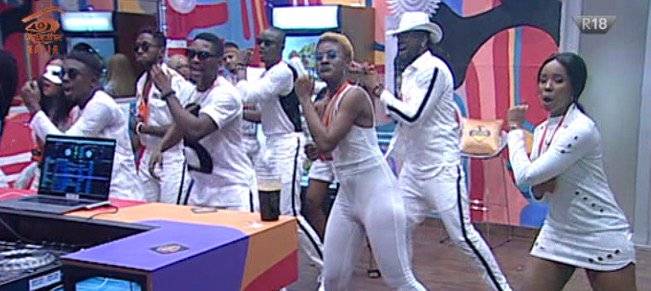 Did you watch day 41 of the Big Brother Naija 3 reality show?
If you missed it, we've got the highlights for you!
..
Getting Jiggy with Biggie
Housemates have discovered that everyone had entered Biggie's House at their own emotional risks.  Six weeks into the season, families, friends and freedom have started to be missed, so much so that if it wasn't for Biggie's constantly keeping them on their toes, some Housemates would have had a much harder time. While the bonding and reshuffling of pairs has tightened relations, even the tomcats of the crowd have started cracking.
Double A
To lighten up the mood, and simply because that's how she rolls, Alex chose to shake the tension away, and got everyone to follow her freestyle dancing.  Eventually it turned out into some kind of group dance therapy, the likes of which offered a much welcome relief valve.  As for Anto it came out that she was as loved as feared by her peers. Earning the love was no small feat, with the amount of Double Wahala available, but earning the fear has come in the same package and inseparable from Anto's legendary mystery.
Winning and Losing
Just when Housemates loss another wager, and were still reconciling with the news mentally, Biggie boosted their morale by announcing that Team Blue had won the Presentation and secured mentorship, seed money and much more to help it develop its app.   No matter what, one ought to sit tight, and buckle up because one got to get jiggy with Biggie!
A Tasty Occasion
Today may have been grey but in the Big brother House it was all about Team Blue, they were wined and dined thanks to their Heritage Bank Task victory.
The Food
The Housemates lost their Wager yesterday which obviously means that it will be slim pickings in the House for the rest of the week but today, Ifu Ennada, Leo, Tobi and Lolu got to gorge themselves on the most delectable cuisine. It was lavish to the max, lobster, oysters, calamari and steak with all the trimmings for the victorious team. The wine and champagne were also flowing with made for some juicy conversation. After a week of water restrictions and environmental awareness, this lunch was like a gift from above.
Table Gossip
The conversation was unbridled at lunch, it darted from Ifu's imminent issues with Cee-C to which she said she "doesn't hate her but doesn't like her either" to Leo brazenly speaking about his love interest outside of the House. His in-House love Alex even came to the table during lunch and stole a hug from the amorous Housemate. Towards the end of the lunch the conversation was directed towards love and relationships, the guys spoke about what they look for in a woman, Tobi stating that it is a specific connection and that the woman in question needs to be beautiful inside and out.
Rule Breakers
It is no secret that the Housemates are not the best at following rule and today was no different. Biggie specifically told them that they need to watch on while Team Blue enjoyed the lunch but that lasted all of about five minutes before they all went inside to prepare their own, less glamorous lunch. Housemates like Anto, Teddy A and Alex drifted to and from the table during the food extravaganza to take a gander at what was being served. Teddy A was noticeably jealous of how well they were eating.
When Women Win
Starting from BamBam's breakthrough victory of the Head of House title, a women-led week was ushered into the Double Wahala House. Since wearing the crown, it is another BamBam altogether who was on the screen. She was at times the consoler-in-chief, wise peacemaker and when she finally let her guards down revealed a party animal side.  Even under her new pairing with Rico Swavey, Bambam remained Teddy A's sidekick and shadow. Yet her leadership role pulled the best out of her as she has blossomed over the days.
In addition to her amazing hosting skills, this week saw Ifu take the lead for the morning fitness workouts. With her outstanding stamina, it hasn't been easy to catch up with her pace, yet Housemates seem to have enjoyed her guidance.  With the creative challenge, Ifu has demonstrated once more how much of a good sport she really was, and winning the Presentation has sent her through the roof. On the same wavelength as Ifu is Anto who very much remained her own woman, keeping a tab on everyone while sharpening her game.
As for Alex and Nina, they have remained steady on the nurturing, loving and supporting tracks. Both have been since the start the silent cheerleaders of their peers – although Leo and Miracle have been the recipients of most of their attention.  In a way, they have fused so well with their partners that they could easily fade into the décor like wallpaper flowers. Had it not be for Alex and Cee-C's fight, Alex would probably have gone under the radar.  It was the first time that both came at each other's throat. Their spat was so sudden that Lolu had to stand in between and separate them.
Yet luck had its own way and helped Cee-C secure her very first win the House.  Her victory resonated in the House for Housemates seemed to have learned that when a woman is happy, everybody is happy.
Party Up
Earlier in the day, when Biggie delivered the party outfits, Housemates unpacked them like children on Christmas day, all overexcited and giggling as they unwrapped their individual goodies bags.  Never before in the Double Wahala history had Housemates screamed so loud of at the discovery of the dresses, shoes, shirts and accessories gifted to them. Miracle and Tobi bounced back and forth as they impatiently tried the all-white trainers, high-heeled sandals to squeals of delight.
Saturday night parties have always been the peak of the week, as the mood in the House is of glamour and playfulness. The dancefloor has by far been one of the preferred area for Housemates as it's where they get to let some steam off, enjoy a few glasses and break a good sweat to the sound of the latest hits. Tonight Biggie upped the stakes by hosting an all-white party that pioneer Nigerian hiphop DJ Jimmy Jatt  spiced up.  Highly recognised and revered for pushing hip-hop in Nigeria, DJ Jimmy Jatt blasted his mixtape to Housemates greatest enjoyment.
No one could follow Alex and her impressive legwork, Rico tried and after a few steps slid away. Together with Tobi, they led the party where extremely provocative and suggestive moves had taken over.  As much as the dancefloor has been a leisure area, with all the grinding and hip-shaking that took place, there were too many wandering hands that ended up on very private body parts. Clearly, as Lolu has shown,  it has become increasingly difficult for some Housemates to keep the tension bottled-up. How much longer until the genie is let out of the bottle?
***
Have you been watching? What did you think of the Day 41 activities?