#BBNaija – Day 46: Creativity Unleashed, Wrestling Silly & More Highlights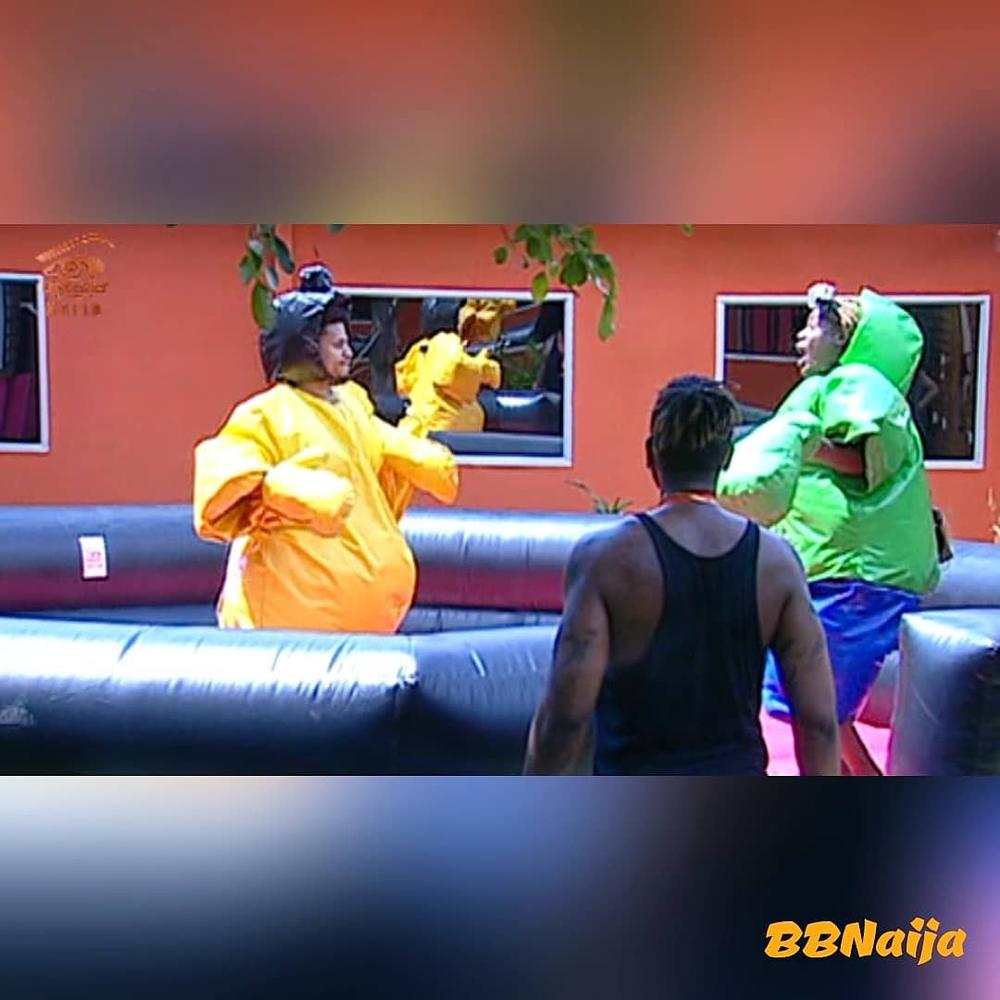 Did you watch day 46 of the Big Brother Naija 3 reality show?
If you missed it, we've got the highlights for you!
..
Creativity Unleashed
The Short story task has the Housemates tapping into their creativity corners and they seem to be loving it. Thanks to Nokia, they spent their entire evening preparing for what will decide whether they'll be winning their Wager this week or not. All the Housemates put a great amount of effort but Cee-C and BamBam as well as Tobi and Rico Swavey's presentations are the ones standing out so far.
Captured
The emotion the ladies are bringing to their story and the message they're conveying speak to a lot of people. Tobi and Rico Swavey on the other side have really stepped out of the box; both their imagination and creativity came into play and they brought it, no doubt. On the other hand, it looks like Miracle isn't that into the Task or is simply too comfortable, thank to working with his bae. Our advice? Business and pleasure should never be mixed, lest they create a bitter-sweet cocktail.
Director in the House
The task has given the Housemates the chance to showcase their skills and some have taken advantage of it. BamBam and Teddy A have grabbed the opportunity to showcase what they can do and it seems their fellow Housemates have given them the greenlight. Alex has also shown a bit of hereself, after winning the DanoMilk mother's day Task, she's become confident in her writing skills ans seems to be having a ball with the Task. But then again, it could be that they're just excited to have phone.
After a rather eventful evening, the Housemates did the usual, dragging their feet to the Arena for yet another training session. There must be something about the music because as soon as they stepped in, the rhythm took over. Alex seems to have gone back to her old dance queen ways and Anto is a convinced contender. Another day, another Naira.
Wrestling Silly
Still on the 'Silly Week' tip, following the zoology and face 'pieing', Biggie brought it up a notch by transporting the Housemates to a Japanese sumo club where they clearly had loads of fun.
Bouncing Wrestlers
After a long morning of lazing around and probably contemplating the evening's Wager judgement, Biggie had a ninja come in and deliver the brief that promised a whole different mood; silly game time. The Housemates were provided with an inflatable sumo ring and costumes to match. This time around there were no riddle formed catches, they simply had to make their own rules and wrestle away.
Coupling It Up
Romance has to be the number one theme in the House because even with their pairing, they decided to couple it up. Teddy A and BamBam were there ones tasked with inaugurating the ring as they were the first to jump onto it, armored and ready. It was clear that Teddy A gave BamBam the upper hand and allowed her to win. Anto and Lolu followed swiftly, with Anto bringing a fight and Lolu simply caressing her, we might be wrong though.
Cee-C and Tobi took to the stage and as if getting her revenge for all the times that Tobi acted out and misunderstood her, Cee-C pulled some moves and had Tobi pinned, KO style. Cee-C's victory was followed by Nina's. We can't tell whether he let her win or she was just that strong but nonetheless, she beat her bae. With all the wailing and babying, we just didn't see Alex having so much strength. Panting and sweating, her tall frame hovered over Rico Swavey and beat him hands down.
They tournament continued as the Housemates that managed to slay their baes soldiered on but Alex had all the rights cards that lead to her win. Thanks to Teddy A's unconventional commentating, Tobi and Miracle's gymnastic interval entertainment, the Housemates had a ton of fun and so did we.
Jungle Kings & Queens
Stronger
With so much at stake, including the Nokia Challenge, Housemates pushed themselves above and beyond their own limits to secure the Wager.  As focused as for a school final exam, Housemates dedicated a good chunk of the afternoon to scripting, choreographing and rehearsing their musical presentation. The dining table had been turned into a war room with notes scattered all over and chairs all occupied.
Harder
All Housemates had come to the table in their costume, Alex being a bee, Cee-C dressed as a fox, Nina wore a leopard suit, BamBam was in zebra catsuit, as Anto had become a bright yellow rooster. That Lolu passed on a sheep 'suit and Rico a rabbit's was quite indicative of how they are perceived as compliant in the House. On the other hand, the two alpha-males were expectedly wearing a gorilla suit (Tobi) and a tiger costume (Teddy A). In a funny twist, Miracle wore a horse costume during the rehearsals only to perform dressed like a tour guide.
Faster
Biggie's instructions were clear for the musical show to be presented under half an hour. In her role as Head of House, Nina had the honour of presenting the theme of the play as bringing a message of unity and peace. In an Arena transformed into an African grassland, all animals entered in an organised fashion, each sticking to their part and always singing their lines. Lolu, Anto and Rico entered growling like all hell had broken loose. Cee-C followed purring into her fox suit. Then Alex skipped around in her bee costume, belting out a parody of Beyonce's Girls at the top of her lungs with 'Who runs the world?Bees. Bees.'
Better
Housemates put all their hearts in the delivery of what has proven to be quite a musically challenging task. Judging by the confidence that some have discovered in their vocal cords, a few stars may well have been born tonight.
***
Have you been watching? What did you think of the Day 46 activities?