#BBNaija – Day 60: The New Dilemma, Colliding Characters & More Exciting Highlights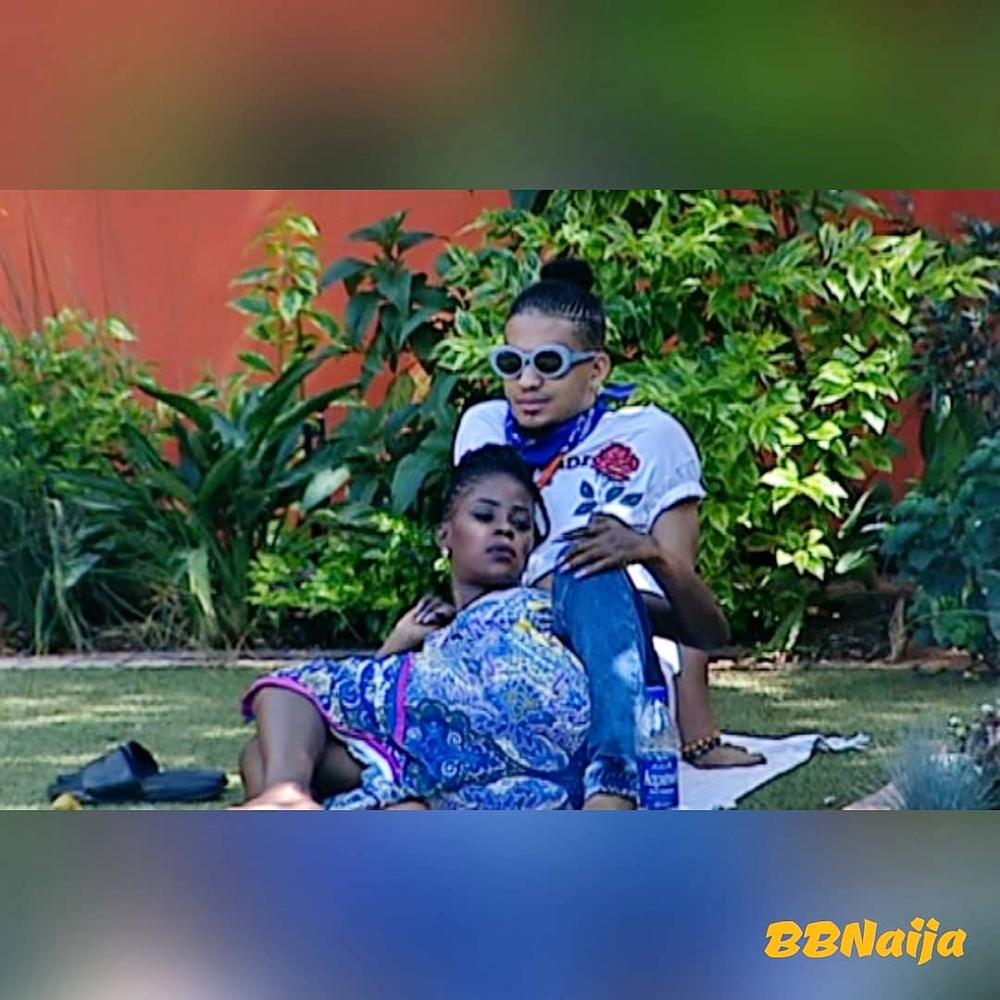 Did you watch day 60 of the Big Brother Naija 3 reality show?
If you missed it, we've got the highlights for you!
..
All Knocked Out
This morning has been wholesome and full of good energy, which is a flip compared to last night's shifting dynamic between all the Housemates. With old love interests and couples dissolving, it seems there are new flavours on the horizon.
Girl's Rule
Tobi, Lolu and Rico Swavey were still disoriented from the rising female energy since Anto and Khloe's return. Of the three, it is Rico who won at sharing the bed with Khloe, and he enjoyed her massaging his back. Curiously, it is Tobi who with Alex on his lap, received the pleasure of Anto and Khloe who twerked around the dining table for his and Miracle's amusement.
Pour it Up
Yet even the drinks Biggie had poured into the House didn't manage to keep them awake. Cocktail master Teddy A and Anto poured drinks after drinks to a shrinking pool of drinking buddies.  As for Lolu, he had long gone to the land of dreams, as he didn't stay to hang out long after dinner. Teddy A and Khloe also ended up having a heated argument.
Bedroom Switch-Up
In the bedroom, Tobi was found leaning against Alex who had slid beneath the duvet, and was ready for a restful night. But Tobi's arrival kept her awake for a little longer as they eventually moved to the dressing room to engage in some good old gossip and strategizing.
A Time of Transition
Ever since the Game rest and the addition of Khloe and Anto into the House, there has been a definitive shift in the social dynamic of the House.
Crushing
The romantic vibration in the House has done so many changes recently it could make your head spin. Obviously Tobi and Cee-C have been on the rocks for a while now but things are completely torn apart since Tobi decided he would choose Khloe for the luxury room. It gets even more complex when it looks like Tobi is actually into Anto and has been flirting with her a lot recently, even sharing a bed with her last night and a few cuddles. This of course has Cee-C's nose out of joint, even if she won't come out and say it. This new flame between Anto and Tobi, whether it be purely platonic or not has also caused a stir for Lolu, Khloe seems to of taken a shine to Rico too, giving him a massage last night and sharing a bed with him. Oh how things have changed.
Friendship and Fights
The House is full of women and with all this feminine energy flying around, there is bound to be cattiness. Cee-C seems to be taking a bit of strain lately, before Anto and Khloe came into the House, she was calling shots left, right and center but now she has some stiff competition. From huge fights with Khloe and Nina to a snapback of her going into her shell, things have definitely been transformative on that front. Today saw BamBam, Alex and Cee-C all sitting in the garden, laughing, joking and talking like good old friends. So strange seeing as though Cee-C and Alex were at each other's throats a few days ago and all of them Nominated each other for Eviction. Khloe and Anto have a close bond but it seems Nina fits into that mix at various points, bonding with Khloe yesterday morning and then Anto this morning.
Don't Mess with Koko
It is no secret that Khloe is fierce and strong but her reintroduction in the House shows her working on her temper, however, this has not stopped her from standing her ground with the guys in the House. Yesterday she told Miracle exactly where to get off after she felt he was picking on her and last night she had a full blown argument with Teddy A over some meat.
The New Dilenma
Platonic or Nah?
Even before Anto was evicted, her and Tobi shared a connection. They were very good friends and had a great time together but at the time, Lolu and Anto were romantically involved. Consequently Anto got Evicted and then reintroduced to the House with a whole new outlook on things. Needless to say Tobi and Anto have become even closer, Tobi is not shy about flirting with Anto and last night he even slid into her bed. Today they have been chatting and chilling but nothing romantic has happened as yet. Are they just friends? Is this all part of Anto's strategy?
Low-lu
Where does Lolu fit into all of this? His previous actions towards Anto had her thinking he was in love with her but upon her reintroduction to the House, she has been cold and even cried about the fact that he has led her on. It was clear that she had genuine feelings for him but she was the one going on that it was all a game and none of this was real anyway. Was Lolu's relationship with Anto all part of an underlying strategy? Oh how the tables have turned.  Things do seem to of cooled between them now as Lolu could be seen giving Anto a back massage earlier today in the garden.
New Wave
Things always get complex when there are so many people in a confined space, Tobi does not seem to care about his previous relations with Cee-C or how she would feel if he had to strike up something with Anto or any other Housemate for that matter. Anto is the same, yesterday during the first part of the World Cup Task, Tobi gave Anto a massage in front of everyone. No qualms.
How do you think Lolu and Cee-C feel about Anto and Tobi's new strong alliance?
Adesua Etomi graces the Big Brother Naija House
Besides her captivating acting and outstandingly flawless depiction of the characters handed to her, not on a silver platter but as fruit of her hard work and artistry, Adesua Etomi's presence in the Big Brother Naija House was so captivating that the Housemates couldn't help but be taken by her rock solid aura. Clearly fans of her craft, they screeched and screamed, unable to contain their excitement; their afternoon had just gotten better.
In Awe Of Greatness
Like no other, Adesua made the Housemates comfortable with her presence by letting them know that she wasn't different from any of them, she was just given an opportunity to do what she loves and is succeeding in it. Their eventual ease was evident in how lead by Tobi, they showed her around their home and made her feel like one of them. After the tour and when the Housemates had fully digested the fact that they had been graced by her presence, they all settled in the lounge and had quite a meaningful conversation.
Feast off of Goodness
Adesua indirectly addressed all of the issues that have brought bitterness into the House and when asked about how she handles the success and sometimes unnecessary full blown attention, she mentioned that her age has never been a deciding factor in the trajectory of her career as she only got her big break in 2013, during her late 20s; furthermore, she neutralises hate with love and finds solace in the fact that there are more people that appreciate her craft than those that find fault in it. Basically, she feeds of the good and learns from the bad.
Love and Not War
Another issue that she ironed out without mentioning what she's observed thus far was the hate. After the Housemates mentioned bullying and biased behavior as some of the things they absolutely loathed, she told everyone that no one was above another and that it is okay for them to have differences however, it was better to manage their anger and curb their hunger to quarrel.
She advised them to not fear the unknown and assured them that it's okay to create relationships, fall in love and let themselves go without forgetting who they are and where they come from. The Housemates clearly appreciated the visit and as a token of their appreciation and in true African fashion, they packed her a take away lunch.
We're pretty sure the Housemates would have loved to ask Adesua about their profiles and how they're being perceived by the public, especially considering the fact that the advice she gave was almost completely applicable to them all; but as she'd highlighted, it's okay to not know everything and we absolutely concur.
Colliding Characters BFF'ing
The saying 'opposites attract' has proven to be true when it comes to Anto and Khloe's friendship in the Big Brother House.
Having been reunited again, after their short span experiencing the outside world, their bond seems to becoming stronger as days go by.
Known for her forthright personality, Khloe seem to have a soft spot for her counterpart, Anto, whom on the other side is straight-forward calm.
Both feed off each other's personalities and this has become more evident with their interactions in the House since they gotten back.
A Beauty To See
Not so long ago, the House bred a 'bromance' between Miracle and Tobi which has been a marvel to see a genuine friendship being formed.
Anto and Khloe have also come to the party and proving its ok for ladies to get along without any hidden agenda.
Genuinely Genuine
From the beginning Khloe has never shied away from the person she is and as a result, that led to her early exit in the game.
Anto on the other hand has been the person others have felt she was easy to talk to. As much as she's not a push over, she knows how to calm Khloe.
***
Have you been watching? What did you think of the Day 60 activities?