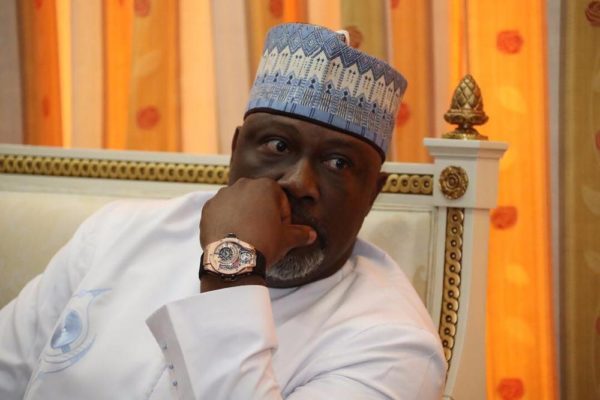 Senator representing Kogi West District Dino Melaye has alarmed the Inspector General of Police, along with several international bodies, over an alleged threat to his life, Punch reports.
Melaye, through his lawyers, Messrs Ricky Tarfa and Co., petitioned the IG Ibrahim Idris, UN, Amnesty International, Transparency International, and the Human Rights Watch.
He also petitioned the Ambassadors of United States, Germany, Canada, and the High Commissioner of the United Kingdom in Nigeria.
Melaye alleged that there are plans by "political enemies" to murder him.
Officers with the Kogi State Police Command are colluding with his enemies, he continued.
Dino Melaye asked that the Inspector General of Police form a "neutral" team of police officers to investigate the allegations of gunrunning made against him by the Kogi State Police Command in cohorts with the Kogi State Government.
He also asked that the international bodies petitioned help fight to ensure his fundamental human rights. He wrote:
As things stand, I live each day in constant and reasonable fear for my life, looking over my shoulders and being harassed by the named politicians.

The Police are willing tools in the hands of these politicians.

I am a law-abiding citizen who voluntarily submitted himself before the FCT High Court to answer charges which, I know are unsustainable.

However, the situation I am in right now gives me a reason to believe that the law enforcement agencies, particularly the police, are in cohorts with my political enemies and can even go to the extent of terminating my life extra-judicially.

I therefore seek your intervention in the circumstances to ensure that my fundamental human rights which both Nigeria and your countries are party to are guaranteed and my life protected.