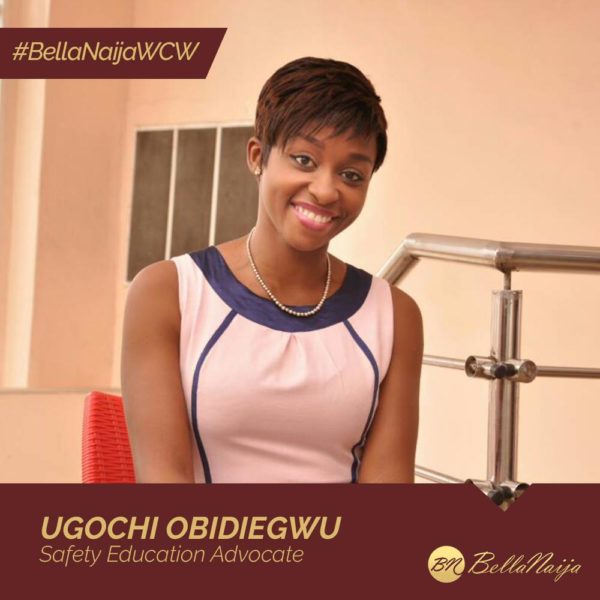 If you've ever sat in passenger seat of a public bus in Nigeria, no way you haven't been told by a conductor to use the seat-belt. We all know that instruction is really not for one's safety, but to ensure the law is obeyed and the bus doesn't get pulled over by officials of the Federal Road Safety Corps (FRSC) or their counterparts in each state.
This is virtually how we view safety in Nigeria; maybe only companies in the aviation, construction, and oil and gas sectors take safety serious, and most other industries do not really care.
Our #BellaNaijaWCW this week, Ugochi Obidiegwu, wants to change that with her "The Safety Chic" platform. She describes herself as one who wants to show people how to make their every day personal and business life much safer.
In 2013, Ugochi, who was and is still working as a cabin crew staff, was told she was now a safety officer and in addition to her earlier responsibilities, was to work with a colleague to bring safety information and solutions to the Cabin Services Unit. What happened next led to the establishment of The Safety Chic.
Ugochi and her colleague decided to launch a monthly safety forum, and she also proceeded to read up on safety as well as attend conferences and trainings.
"In the course of doing all these, I observed that it was mainly businesses in aviation, construction and oil and gas industries that took safety systems seriously. I decided to start a health and safety business that would provide tailored and affordable safety solutions for businesses, especially SMEs. A lot of SMEs I got in touch with thought accidents were beyond their purview," Ugochi said in an interview with She Leads Africa.
Ugochi is the CEO of Ulomka Multi Solutions, a safety establishment that helps "businesses, primarily SMEs to incorporate safety procedures into their day-to-day activities to ensure safe work and reduce loss of any kind."
Ugochi took it further to set up a blog to write about safety in simple terms, and then to social media where she launched a #60SecondsWithTheSafetyChic weekly series on her Instagram page.
Because Ugochi wanted to keep preaching the safety message, she launched the Train Them Young Initiative (#2TYI) to teach school children about safety, because even when machines are "safe," there is also the human factor when it comes to accidents.
#2TYI "is a free safety training for public schools on road safety, fire safety, first aid and personal safety." The initiative aims to get safety education established in the curriculum of schools in Nigeria.
Ugochi holds a BA in Communication and Language Arts, and was selected as part of the participants in the Mandela Washington Fellowship Cohort 1, an initiative of the Young African Leaders Initiative (YALI).
Through her volunteer work, Ugochi has also gained experience in the oil and gas sector. She is a certified HSE professional with a Distinction in the International General Certificate, NEBOSH, and is also certified in OHSAS 18001 and ISO 9001.
She is the author of The Adventures of Muna: A Kid-to-Kid Safety Guide. Ugochi has also been named in the shortlist for the Rising Star of the year category in The Safety and Health Excellence Awards 2018 which is scheduled to hold at the VOX Conference Centre on the 11th of April 2018 at the NEC, Birmingham.