#BBNaija – Day 78: Roles in Motions, Stinging Veto Power & More Highlights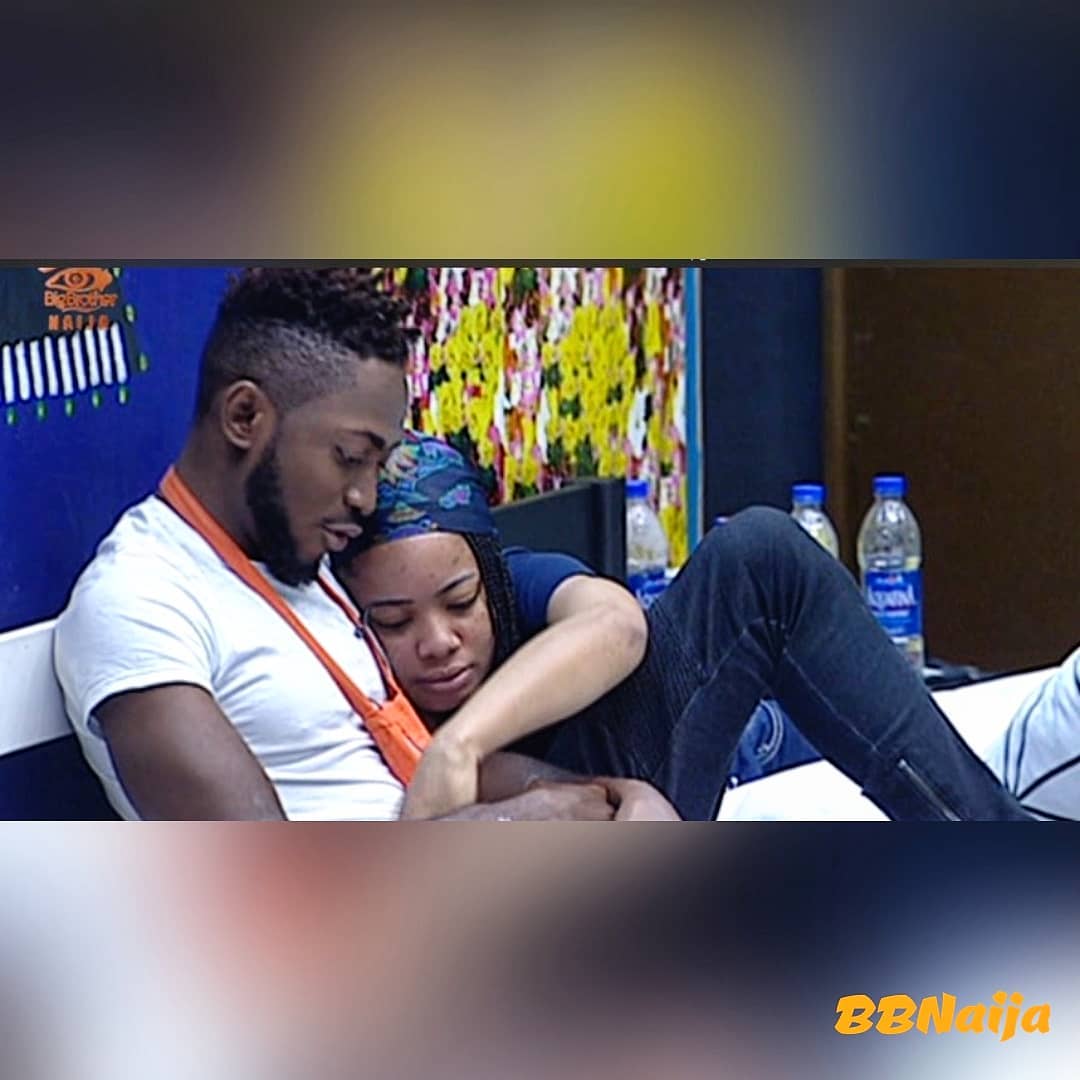 Did you watch day 78 of the Big Brother Naija 3 reality show?
If you missed it, we've got the highlights for you!
..
An Electric After-Party
Tobi, Alex, Miracle, Cee-C and Nina found themselves to be the lucky few who had survived the final Eviction that saw Khloe, Anto and Lolu leave the Double Wahala House. Emotions were at the peak tonight as Nina and Alex couldn't hold their tears back – overpowering rivers of joy mixed with disbelief and gratitude at having been Saved.
In Line for The Prize
Upon realising they were heading for the Finale, Tobi, Miracle, Nina and Alex gathered around a bottle of sparkling wine to celebrate their victory. They had barely started pouring the bubbly that Cee-C walked back through the doors, to her peers incredulous faces. Cee-C had come back fronting an inscrutable face nonetheless exuding a certain arrogance as she seemed to take delight in the disappointment her return had caused. Expectedly, she retreated to the garden area to savor her fate while talking to her fans and praying for strength.
Spiking Fever
Yet Biggie had more surprises for the shrunken House, as one by one, video messages recorded by friends and family emerged on the screen. In the lounge, Tobi, Miracle, Cee-C, Nina and Alex were overwhelmed to see and hear messages from their loved ones. As Nina and Alex cried their eyes out, Tobi, Miracle and Cee-C jumped for joy elated as they were by such unexpected encouragements.
Nina Reigns once More
The remaining Big Brother Housemates have unanimously chosen Nina as the new Head of House for the final week.
Unlike going into the Arena and playing a game of chance that eventually crowns the HOH, Biggie asked the Housemates to choose from either a Housemates who's had the least opportunity or the one who has the most experience in heading the House.
Cee-C, who's never had the opportunity to be HOH missed out on the opportunity when they decided to vote on it. Even though Miracle had put her name up, trying to be fair towards everyone, Alex disputed it and suggested it be put to a vote.
Alex' reason for going against Cee-C were that she doesn't 'want drama' in the house and ironically, Cee-C let the issue go to rest.
Heading The House
The Housemates joked about the Head of House duties saying it's to change batteries but for someone who hasn't experienced it, it would have been a chance.
However, the decision came and Nina graciously accepted the title and life in the House went back to how it was, where Alex and Tobi were laying down in the upstairs executive suite while Nina and Miracle on the other beds downstairs.
Cee-C on the other hand, who's somehow been isolated from the rest, also went her separate way.
Roles in Motion
The Housemates lost their wager yesterday but Big Brother has given them an opportunity to avoid starvation in their final week in the House.
Each day will produce a different challenge and unlike previously, the rewards will not be in the form of BBNairas or shopping privileges but will be whatever Biggie feels they deserve.
Their performances in the challenge will determine if they deserve a reward or not and today they've started with a role playing task.
Characters in Motion
The Housemates were given a mystery hat to pick out names of the people they'd be impersonating and at the sound of the buzzer were required to start their roles.
Miracle picked out Joseph Yobo and has been with the ball since while Nina, Alex and Tobi had to impersonate other evicted Housemates.
In the first round, Nina had to impersonate Dee-One, Tobi had to pull an Ifu Ennada which he mimicked from the accent to the walk while Alex had to imitate her former rival, Khloe.
Cee-C on the other hand refused to let others know of who she had picked and after a while asking her she decided to just be quite and make herself something to eat.
However, Biggie clearly stated in the Brief that during the period of the challenge, Housemates were not allowed to be quite at any time for more than five minutes. Additionally, the brief also made it clear that Housemates are not allowed to have an alone time nor is sleeping permitted.
The task is supposed to bring the unity in the House and Housemates are required to work together.
What's Cee-C to do now?
With only six days to go before the eagerly anticipated Big Brother Naija Finale, our Housemates are feeling the heat. One Housemates in particular, seems to be feeling it more than the others.
Since Day 1, Cee-C has clashed with a number of her fellow Housemates and now the chickens are coming home to roost. From fiery fights over food, to full on fall-outs with love interests, Cee-C's journey has been as colorful as they come – and as the numbers have continued to dwindle courtesy of Evictions week after week, so have her allies.
Last night, Lolu, Anto and Khloe were given the boot, leaving Cee-C to "roll solo". As soon as she walked back into the House after the Eviction Show last night, Nina, Miracle, Alex and Tobi looked shell-shocked, possibly because they thought she had been sent packing (which off course isn't the case) – and just like that, the stage was set for awkward interactions.
Sharing the House with the biggest alliance of the season, plus Nina will not be easy. It's no secret that Alex and Tobi are joined at the hip. On any given day, you will find them whispering in bed and laughing up a storm. Tobi and Cee-C were the first romantic alliance of the season, but unfortunately when that relationship disintegrated, it imploded with such force, a friendship was totally out of the question. Despite many attempts to make peace, Tobi and Cee-C remain estranged.
Miracle and Nina on the other hand, are always wrapped up in each other, so any chance of third wheeling is out of the question. Even though the two lovebirds are friendly towards her, most of their free time is without a doubt spent with Alex and Tobi.
When Sleep Cupid Strikes
As the number in the Big Brother House has reduced and it's down to the final stretch, the Housemates' entertainment span has also reduced.
More than anything, what they seem to like doing most is sleeping even though there's a task given to them. Although it's nothing new, with the friendships and closeness they have, one wouldn't think they'd run out of things to do.
Cook, Breath, Sleep
Even though the finalist have built solid relationships with each other, except for Cee-C who's somehow isolated herself from the rest, sleep seems to have taken over.
And though one would imagine the House as the perfect setup for friends, what's one to do in between the buzzer sounds?
Khloe made a promise when she was still in the House but failed at it dismally, because the midday nap became a norm.
Even after Alex' vow that there would never be any Housemates who sleeps while she's still in the House, she's also failed and instead joined in the sleeping routine
Talking Helps
For a moment after yesterday's Eviction, Miracle, Nina, Alex and Tobi were on cloud nine when they believed they were the only Housemates left. To their surprise, Cee-C walked through and the mood quickly changed.
However, if they would use the time they have in ironing all the issues that have caused divisions, they wouldn't spend it sleeping.
On the other hand, when pride is involved, sleeping is a good escape mechanism.
The Stinging Veto Power
Regardless of the Finale, it looks like Alex and Cee-C are not ready to bulge an inch from their longstanding rancour. As the last five Housemates standing in the Double Wahala House, and given all had taken a turn in the Head of House Chair, it was suggested that Cee-C be given the chance, at last, to endorse the coveted role.
Let's Meet Outside 
While suggestions for her appointment were made in a rather casual way, Alex had no intention to keep her feelings under wraps. She requested the House passed a Vote and indicated her opposition to Cee-C's becoming the last Head of House. If there's one thing Alex can be counted on, it is to tell it like it is, without sugar-coating it, and today was no different. She had earlier confessed to Tobi wanting to slap Cee-C to rest her brain but the possibility of Biggie issuing her with a Strike prevented her from doing so.
Imminent Eruption
Cee-C on her end is not entirely blameless to say the least. From the start of the game, she had made no attempt at hiding her contempt for Alex – and if prompted to, Cee-C's eyelashes could even testify in Alex's favour. Judging by the constant frown on her face since Cee-C's surprise return to the House following the last Eviction Show, Cee-C has a lot of emotions bottled up about Alex too. However with no shoulder to lean on in the House, Cee-C has had to refrain from airing them.
For the Sake of Peace
By general consensus, and for the sake of peace, Nina stepped into the Head of House role with gusto for the very last time.  The run-up to the Finale has suddenly taken a more torturous meaning altogether. Biggie decided to intervene and set the Housemates straight about Cee-C, the Housemate with the least Head of House record should be the new leader. Against all odds, Cee-C was imposed upon the House, to everyone's bitter surprise.
Do you think Alex and Cee-C will settle their scores off-camera, after the Show?
All Shocked & Surprised
Alex, Cee-C, Miracle, Nina and Tobi had just enough time to catch their breath following a series of unpredictable events that Biggie asked them if they had in any way, shape or sense anticipated the concentrated can of Double Wahala that had opened up.
The Writings on the Wall
For Miracle, nothing had prepared him to live the Eviction of three Housemates at once, especially since the Reset had returned Anto and Khloe to the House. According to Nina and Tobi, there were clues in the air about everyone except Lolu, whose exit was totally unexpected.  Just this once, Cee-C concurred with her peers about Lolu, and added that she hadn't seen any of the sensational events coming, especially given how she had been made to stay in the Arena fearing for her own fate. To make it worse, Cee-C didn't even expect her own return in the House.
A Sour Touch
Yet Alex didn't hide that she was just deeply irritated to see Cee-C back, as she would have preferred Anto who had much less drama to manage especially at such a crucial time of the game. Even Miracle seemed to be at the end of his tethers when he stated that they popped drinks at four and suddenly became five Housemates again. Somehow Nina and Tobi barely mentioned Cee-C's return, focused as they were on sending love to viewers and Evicted Housemates. But Cee-C exulted at the memory of her surprise come-back, as she called the look on her peers' faces 'priceless', a stare that she believed meant she was the girl who had refused to die.
***
Have you been watching? What did you think of the Day 78 activities?