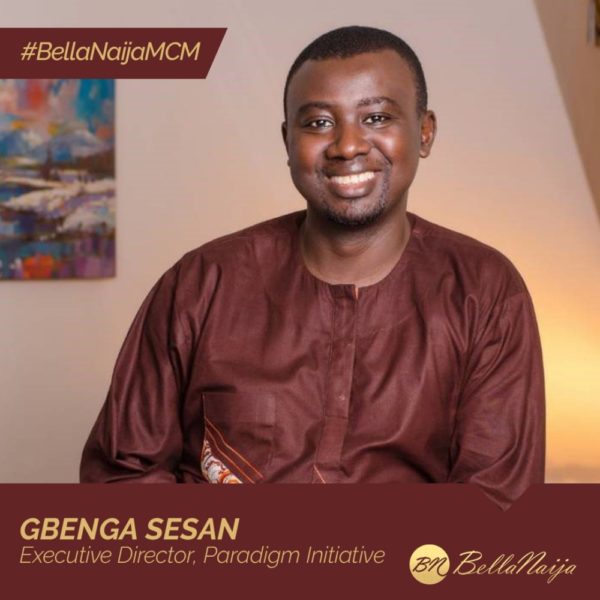 While attending the Federal Government College, Idoani, Akure, in the early 90s, our #BellaNaijaMCM this week Gbenga Sesan was rebuked by a teacher who told him he could not understand how to use computers because they are not for people like him. The school had received two sets of computers and Gbenga was excited to use them, but the teacher wasn't having it.
What was more painful for Gbenga was that two other students whose fathers were professors were allowed to use the computers since they were familiar with the devices. This event ignited something in Gbenga, and today, that's what his life is about – using ICT to facilitate socio-economic growth, like job creation, with a focus on underserved groups.
Immediately after his secondary school education, Gbenga decided to learn how to use computers before getting into Obafemi Awolowo University (OAU), Ile-Ife, to study Electrical and Electronics Engineering. As part of his coursework, he was attached to a tech firm where he learnt website design.
After returning to school, he began teaching his newly learnt skills to other students for a fee, which he used to pay for his accommodation in school. He was later elected the Chairman of the school's Electronic Club, running on the campaign that he was going to continue teaching his skills.
In 2001, after his university education, Gbenga was appointed the Information Technology Youth Ambassador for Nigeria after winning a competition, and part of his role was to travel around the country, teaching about computers and how to use them.
Gbenga worked with Junior Achievement Nigeria (JAN) for six years, and was involved in the Lagos Digital Village initiative in partnership with Microsoft and the Lagos State Government. In 2007, Gbenga resigned to start Paradigm Initiative Nigeria (PIN).
PIN is a social enterprise focused on digital rights and inclusion for disadvantaged Nigerian youths familiar with opportunities in technology. PIN also advocates for digital rights in order to improve livelihoods for underserved youth.
Gbenga also consults for private and public institutions in the area of ICT development and digital advocacy.
In 2006, Gbenga was appointed as a member of the Nigerian Presidential Task Force on the Restructuring of the Nigerian Information Technology and Telecommunications Sectors.
In 2012, he was listed by CNN as one of the 10 Leading African Tech Voices on Twitter, and by Ventures Africa as one of 40 African Legends Under 40.
In 2013, he was on the BusinessDay 40Under40 list and also served on the Presidential Committee on Roadmap for the Achievement of Accelerated Universal Broadband Infrastructure and Services Provision.
In 2014, Gbenga won the Schwab Foundation Social Entrepreneur of the Year award.
He is a Crans Montana Forum Fellow, Archbishop Desmond Tutu Leadership Fellow, Ashoka Fellow, Our Common Future Fellow, Cordes Fellow and Schwab Foundation Fellow. He had also served as Vice Chair of United Nations Economic Commission for Africa's African Technical Advisory Committee.
Gbenga has also completed executive education courses at Lagos Business School, New York Group for Technology Transfer, Oxford University, Harvard University, Stanford University, Santa Clara University and University of the Pacific.