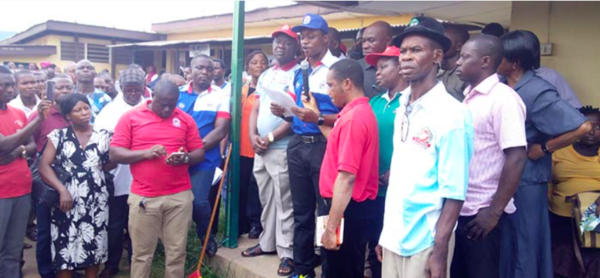 Nurses, pharmacists, and lab scientists working in federal hospitals across the country have announced the beginning of an indefinite strike, Punch reports.
Obinna Ogbonna, the National Chairman of the union overseeing the health workers, Joint Health Section Unions (JOHESU), revealed this at the Obafemi Awolowo University Teaching Hospital, Ile-Ife, on Wednesday.
The Federal Government has failed to fulfil the agreement reached over 6 months ago on the adjustment and payment of arrears of the Consolidate Health Salary Structure (CONHESS), Ogbonna said.
CONHESS has been implemented for the medical doctors since 2009, he said, with other health workers left in limbo.
He added that the Federal Government had failed to act after they gave a 21-day ultimatum and 30 working days strike notice. he said:
Consequent upon this, therefore, JOHESU has no other choice than to proceed on an indefinite nationwide strike as from the midnight of Tuesday 17th April, 2018, which is the spiralling of the notice of strike.

Therefore, JOHESU hereby directs all her her members in Federal Health Institutions all over the country to commence the strike immediately (midnight of Tuesday, 17th April, 2018) unfailingly.

States and Local Government Health Institutions are by this placed on red alert and are to continue intense sensitisation and mobilisation of our members for possible entry into the fray if the government foot drags in attending to our demands.