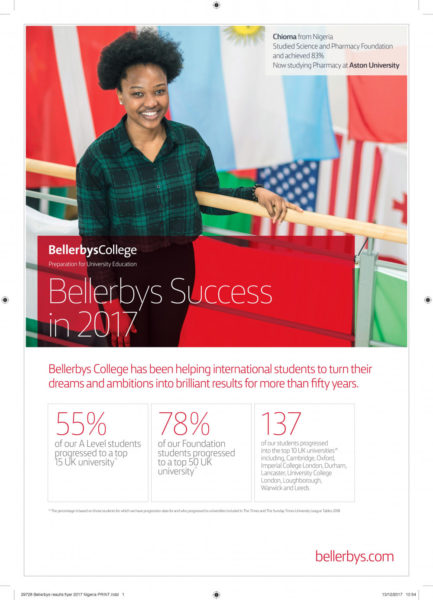 Bellerbys College provides high-quality British education which will help you thrive at your chosen university. Every Bellerbys student gets the support of a dedicated personal tutor. You'll learn from excellent teachers, chosen for their experience in teaching international students. Extended teaching time and ongoing individual assessment will help you get great results. Even the activities you do outside of the classroom are designed to help you get to where you want to be in life. At Bellerbys your education is tailor-made for you.
Bellerbys College gives you a choice of dynamic places to study and prepare for life at a UK university. You will find our Colleges in cities (Brighton, Cambridge, and London) that are well known for their student opportunities and educational inspiration. Each one is modern and well equipped. They are designed to help you get great exam results so you can go on to succeed at your chosen university. Expert teachers are experienced in working with international students, just like you.
Bellerbys practices blended learning, using online resources to supplement lessons. ELearning gives students access to materials before their lessons, so class time can be reserved for discussion and debate. Students have access to a Virtual Learning Environment, a web-based learning platform for submitting homework, online testing and tracking progress. Bellerbys encourages students to take control of their learning experience and helps you reach your full potential so you can progress to the University of your Choice. Bellerbys students get top results. Many go on to study at prestigious Russell Group universities.
We will do everything needed to support your university ambitions. This means access to extended teaching time, dedicated personal tutors, and programme managers to help with your UCAS application. We also have university liaison offers who are connected to top universities in the UK.
2017 A Level results
The combined A Level results from Bellerbys Brighton, Cambridge and London are:
56% of our A Level grades were A* to A grades; compared to a national average of 26%
76% of our A Level grades were A* to B; compared to a national average of 53%.
2017 university progression results
298 students progressed to a Russell Group university.
91% A Level students went on to a top 50 UK university.
78% Foundation students went on to a top 50 UK university.
90% Undergraduate Year 1 students went on to a top 50 UK university.
137 of our students progressed into the top 10 universities including Cambridge, Oxford, Imperial College London, Durham, Lancaster, University College London, Loughborough, Warwick and Leeds
Contact us for more information on start dates and scholarship availability.
Nubi Education:
300A Surulere Way, Dolphin Estate,
Ikoyi, Lagos State,
Nigeria.
Phone: 01-4534084 || 07069644299 || 09091749223 || 08028776584
Email: [email protected]
——————————————————————————————————————————————————————————————–
Sponsored Content