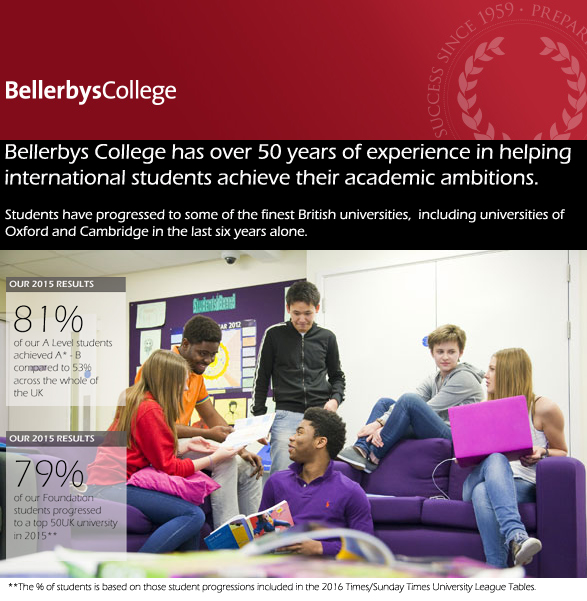 What makes us the No. 1 choice for international students in the UK?
Whether you choose to study with us in Brighton, Cambridge, London or Oxford, you can always be sure of a warm welcome at Bellerbys. Each college is home to a friendly community of students from all around the world, including the UK.
Many students are living away from home for the first time, and also studying subjects in English for the first time, which means your new friends are likely to share the same mix of nerves and excitement that you may feel when you first arrive.
To help bring the Bellerbys College experience to life for you, our students worked with us to create this video: Click Here to watch.
What makes us unique?
We are proud of the fact that at Bellerbys we are able to offer you an education that goes far beyond the classroom.
Our specialist colleges provide you with the depth of subject knowledge, personal development and independent thinking skills that top universities and leading employers look for.
Click here to watch video on Prepare for UK university with Bellerbys International Colleges
Contact: Francis Adekoya – [email protected] – 09091749998 (SMS preferably) to book an appointment meet at any of the venues below.
If you are sending an Email: Kindly send Full Name & Phone Number.
If you are sending an SMS: Kindly send Full Name & Email Address
LAGOS
Did you miss Lagos? You can contact the mobile number & email above.
ENUGU
Monday, April 18th 2016
UKEAS Enugu
Suite B8, First Floor, Bethel Plaza, 36 Garden Avenue, Enugu.
11 AM – 1 PM
PORT HARCOURT
Tuesday, April 19th 2016
BCIE Port Harcourt
2nd Floor, F. H. Jumbo House, 80 Aba Road Opposite Government Crafts Development Centre, Port Harcourt, Rivers State
10 AM – 12 PM
PFL Port Harcourt
2nd Floor, Item House, No 82 Tombia Extension, G.R.A Phase 2, Port Harcourt, Rivers State
1 PM – 3 PM
Friday, April 22nd 2016
UKEAS Port Harcourt
Plot 156, No 11 Tom Inko-Tariah Street. Rumuogba Estate
9 AM – 11 AM
ABUJA
Monday, April 25th 2016
Futurize Solutions
Suite 302, No 12 Cape Town Street, off IBB Way, Wuse Zone 4, Abuja
10 AM – 12 PM
Vantage Scope 360
Suite B8, S H M Complex, Mabushi, Abuja
12:30 PM – 2:30 PM
SI-UK Abuja
Suite SF 15 Olive Plaza by Banex Junction, Wuse 2, Abuja
3 PM – 5 PM
Tuesday, April 26th 2016
UKEAS Abuja
Suite 3, 2nd Floor, Hatlab Place, Plot 1952 Sokode Crescent, Wuse Zone 5, Abuja
9 AM – 11 AM
PFL Abuja
Ground Floor, Right Wing, 10 Gimbiya Street, Area 11, Garki, Abuja
12 PM – 2 PM
BCIE Abuja
24B Djibouti Crescent off Freetown Street, behind Rockview Hotel (the 5th House after Zartech)
Wuse 2, Abuja
Thursday, April 28th 2016
Chelis Education
2 Femi Otedola street, 7th avenue Gwarimpa Estate, Abuja.
3 PM – 5 PM
Tuesday, May 3rd 2016
DRUMS Schools Finder
S.E Daniya Close, Guzape, Asokoro District, Abuja
10 AM – 12 PM

British AUC Abuja
No. 8 Ihiala Street, Bacita Close, off Plateau Street, Section 2, Area 2, Garki, Abuja
1 PM – 3 PM
————————————————————————————————————————
Sponsored Content