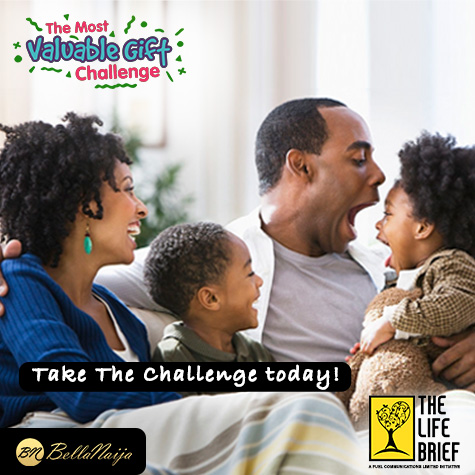 As part of activities to mark her 8th anniversary, full-service marketing agency, Fuel Communications Limited, launches The Most Valuable Gift Challenge in commemoration of Children's Day. In a twist of creativity and corporate social responsibility, the campaign seeks to increase the amount of time that parents spend with their children in order to bring about healthier families and better societies.
Launched on Fuel Communication's Life Brief Initiative, in partnership with BellaNaija, Grande Esprits Academy, Tregeo Learn, The Punch, and BusinessDay, the campaign has started a movement by challenging parents and parents-to-be, to post online a ten seconds video of themselves promising to spend more time with their kid(s).
The Most Valuable Gift Challenge will set up parents and parents-to-be to fulfill their promise. By mentioning their friends it will also create a chain of awareness on the importance of the quality time that parents spend with their kids all over the world
The Managing Director of Fuel Communications, Tunji Abioye, says that the agency put together this campaign because, of all the numerous sacrifices that parents make for their children daily, it is becoming almost impossible to get them to spend time with their kids. He explains that while it is important to provide for the child materially, it is equally important to spend quality time with them.
Take the challenge and join the movement for a bright future for our children:
Make a 10 seconds video of yourself promising to spend more time with your kid(s);

Post this video alongside a family picture on Facebook, Instagram or Twitter with the tag #fuelchallenge mentioning at least five friends.

The entry with the most likes, retweets, and shares by midnight on May 27 would win a remarkable family dinner on May 29.
The Life Brief is Fuel's initiative for providing solutions to salient life matters.
—————————————————————————————————————————————————————————————————-
This content has been published for free as part of BellaNaija.com's commitment to youth, education, healthcare and community development as part of our corporate social responsibility programme.