#BNTravel: Slave Museums, Scary Monkeys & Rubber Alligators – Niyi shares his #GidiwithGoogle2 Experience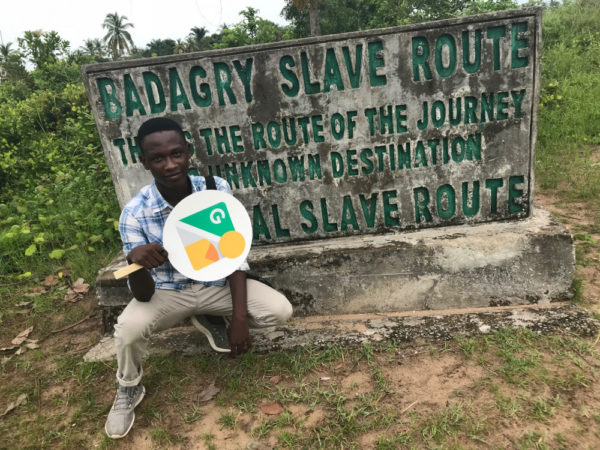 Hey people!
It's Niyi here, and I had the best time exploring Lagos with other influencers at the #GidiwithGoogle2.
I want to say thank you to BellaNaija and Google for this opportunity.
I've lived in Lagos all my life, and I was really curious to see what the tour had to offer. I'd been wanting to do exactly something like this with my friends, but we all know how these things go – someone always pulling out at the last minute.
Well, finally I got the chance: see Lagos with Google.
Our first stop was Badagry – but before then, we had the longest bus ride from the Island to our destination. Man, Lagos is so big! I thought we'd never arrive.
Anyway, we visited the Seriki Faremi Williams Abass Court Baracoon, the Slave Port, the Slave Museum, and the point of no return in Badagry.
A little backstory: Seriki Williams Abass had been taken as a child and made to serve as a slave. However, he was one of the lucky ones (if any slave could be described with that word) as he was educated by one of his masters. After gaining his freedom, Seriki returned and founded his town, marrying 138 wives and birthing 144 children.
There was also the slave museum, which was, to be honest, a bit disturbing.
There were chain links used to chain slaves together. They would put these chains on their necks and have them trail one another. There were also chains to the legs and padlocks for the mouth. To think that actual humans had to live through that is just the most painful thing.
Day 1 ended with a visit to Whispering Palms where we got the most thrilling welcome ever. I mean, these men could move!
Day 2
Saturday, our itinerary was all on the Island, which meant, unfortunately, no road trip. (I love road trips!)
First we visited the Lekki Conservation Centre, where some monkeys wanted to give me a heart attack. They wouldn't get out of the way! And there was still the canopy walk!
We quickly proceeded to Nike Art Gallery, and man, Nigerian art is insane!
What stopped me in my tracks first was the sculptures outside, two of them made with tires and the last with spark plugs. It was so beautiful.
And inside was even better, with this huge alligator made of tires and the gate with the most intricate patterns.
We were then garbed in the biggest beads, with us guys in agbada. I was just there feeling so royal.
Then we visited Rele Art Gallery where I finally got the chance to show off my creative powers.
We were asked to paint a bus with a backdrop of the Third Mainland Bridge. I killed it!
Our next stop was the Freedom Park. Who else has visited this park but only to see a live performance or to hang out with friends? Apparently, the park was formerly a colonial prison called Her Majesty's Broad Street Prison. Although most of the former structures have been demolished, new ones that are significant of the old ones have been built.
And that was it! I had so much fun exploring Lagos, visiting all the spots in Badagry I had never been to in all my years in Lagos. 10/10 would do it again!