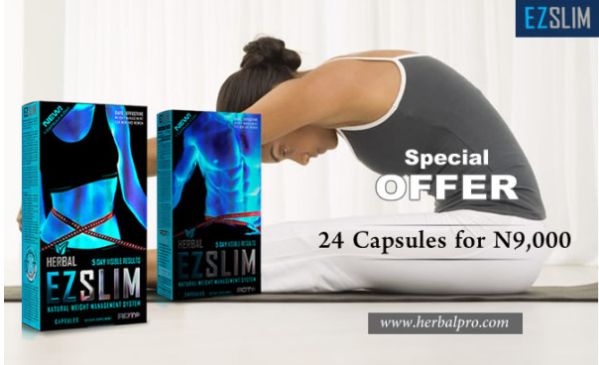 It's our anniversary! This month of June, EZ Slim is celebrating its anniversary. To celebrate this new milestone EZ Slim is offering you more weight loss at the same price with the EZ Slim 24 capsules promo pack.
From the 20th of June to the 21st of June, you will have the opportunity to buy the EZ Slim 24 capsules promo pack at 9,000 naira. This month you get more weight loss, increased fitness and more fat burning for just 9,000 Naira. We have had testimonies of people losing weight and achieving their weight loss goals with 18 capsules. See testimonies here. Imagine how much more weight you can lose with EZ Slim's 24 capsule pack. You will also get 1 free pack when you buy 5 packs of EZ Slim this June.
EZ Slim also does not affect your ability to get pregnant. We only advise pregnant women and nursing mothers not to use EZ Slim.
Herbal Pro also offers customers weight loss assistance and support via EZ Slim's various social media platform.
Location: 25b Ladoke Akintola Street GRA Ikeja, Lagos. We look forward to helping you achieve your slimming goals.
For more information, visit www.herbalpro.com  or contact Herbal Pro on Whatsapp number; +234 8183078888, or call us on 08186108888.
Follow us on Instagram, Twitter, and Facebook
——————————————————————————————————————————————————————
Sponsored Content