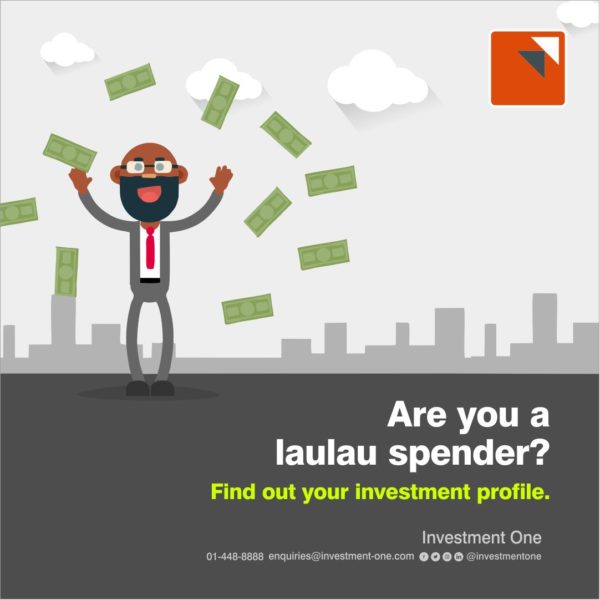 "Have you heard of this investment opportunity?"
Whenever you hear those words, what's your reaction?
"Abeg I'm not interested".
"What's it all about? What sector? Where's the hookup?"
When it comes to investing, there will always be opportunities – good and bad alike. Perhaps you've explored a few of them and found the process to be frustrating. Maybe you're a newbie to investing and absolutely clueless on how to start. Investment One, a leading financial services group in Nigeria, can help you.
A lot of people spend time debating the best investment strategy – picking stocks, mutual funds, or following a passive savings plan; forgetting the more important question: Which one is right for me? Apparently, Investment is just like falling in love (well, almost). Knowing the theory is not enough; emotions are a major factor! More often than not, your emotions or personality type will play a big role in how you invest.
This is why Investment One has released its Investors Profiler App!
The Investors Profiler (www.investment-one.com/profiler) gives you a picture of the kind of investor you are, taking into account your age, current financial situation, earnings, investment goals, and attitude to risk.
The app is like any social media game – open the link, answer the questions, click submit, and voila! You'll know your investment personality type.
The interesting part is that the app is built Naija-style – so you won't be forgetting your personality type anytime soon! Results will tell if you fall under any of the following categories: an akagum, a laulau spender, an accountant general, an investment boss aka Yes Boss! or a future Warren Buffet aka Goals!
Don't be scared to find out, you can always migrate from Akagum to Goals!
So get started! Discover your investment personality type at www.investment-one.com/profiler.
About Investment One
Investment One Financial Services was founded in 2007 as GTB Asset Management Limited, a subsidiary of Guaranty Trust Bank (GTBank). Following the divestment of GTBank from their non – banking subsidiaries, the company's name was changed to Investment One Financial Services.
Investment One provides market insight and financial solutions to help to clients achieve their investment goals.
Contact
Investment One Financial Services Limited
37, Karimu Kotun Street, Victoria Island, Lagos
01-448 8888, 08129921188
Facebook/Twitter: @investmentone
Instagram: @investment_one
——————————————————————————————————–
Sponsored Content