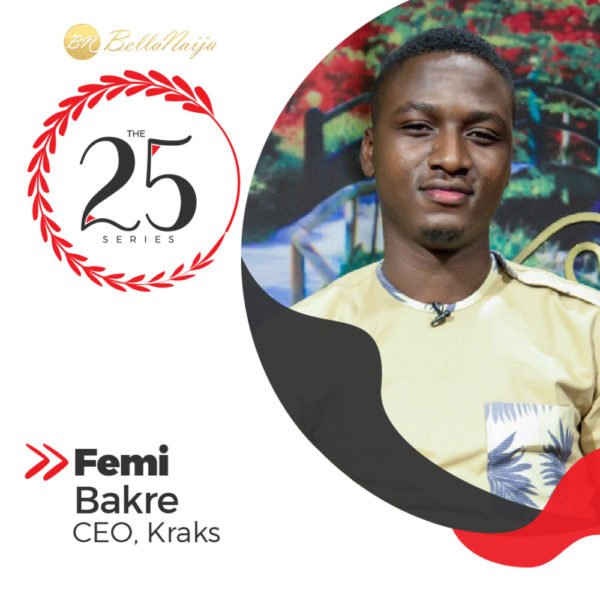 At the beginning of 2018, BellaNaija started a series – The 25 Series –  to shine the spotlight on excellent young individuals under the age of 25 (at the time we had a chat with them), who are influencing and disrupting the world of entrepreneurship, leadership, governance, pop culture, corporate world, arts, and sports.
With 25 questions (or less), this column seeks to dig into how these individuals think, work and live, particularly in an era where business and relationship models are changing rapidly.
For our June feature, we speak to Femi Bakre, the 25-year-old founder/CEO of KRAKS, an entertainment (read comedy) brand with a following of over 2 million people across various social media platforms. During his mandatory National Youth Service, Femi started posting memes across social media. The reception was amazing, and that was how KRAKS was born.
He describes himself as a "fun-loving introvert with a unique sense of humor and a profoundly creative mind." He prefers to make an impact from the comfort of his room and have "his work speak for him than being in the public eye."
Femi is a graduate of Electrical and Electronics Engineering from the University of Lagos, and emerged the Best Graduating Student for the 2012/2013 session with a 4.86 CGPA. In 2017, he obtained a master's degree in Future Power Networks from Imperial College London and also won The Future Awards Africa (TFAA) Prize for New Media.
Founded in August 2015 with zero seed capital, the company currently boasts a workforce of over 30 people, and provides bespoke services which include content creation, digital marketing, branding, and media consultancy for her clientele.
In this interview, he shared how he started the business, his plans for the brand, and how individuals can grow their businesses when their marketplace is on Instagram.
Here's our chat with Femi:
How did you get the idea for KRAKS
Right after university, I worked on numerous startup ideas with an old friend and KRAKS was one of the few that succeeded.
Any plans to diversify your business?
Yes, we plan to diversify into print, TV, radio, and tech by God's grace.
Would you say having a university education contributed to your success today?
Yes, it did. Although I currently find myself in a career utterly different from what I studied at school, most of the skills I acquired while working on KRAKS back in the day were self-taught, and I believe this was down to the foundation I received via my university education.
What is the most challenging thing about your work?
Kraks is well-known for its innovation and creativity, so, for me, there's the constant pressure to come up with excellent ideas and find new ways to wow our ever-growing diverse community.
What else would you have been doing if not this?
I would have been pursuing a PhD or working in the energy industry.
What was your childhood dream?
My childhood dream was to be a musician because I liked my music teacher very much. Yes, I have music potential too, but you'll have to pay if you want a sneak peek 
How does your typical day go?
I get up as early as I can to pray, then freshen up and head straight to work. I also find time during the day or later in the evening to surf the internet for articles, and other engaging content.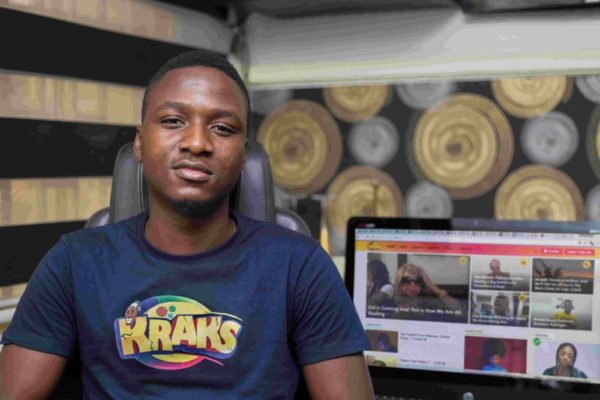 What's your advice (for growth and profitability) to young business owners whose marketplace is predominantly Instagram?
You should strive towards building a dedicated community rather than amassing a large number of followers. You should also endeavor to post contents that add value to your followers and find time to engage with them regularly. Once your followers develop an emotional attachment to your platform and become loyal to your brand, it becomes a lot easier to achieve growth and profitability.
When you are on the cover of TIME or FORBES what do you want the headline to be?
Behold, Africa's Most Influential Man. I'll probably be in some Hercules pose or something. Nice one, yeah? 
If you were the president of Nigeria for a day, what would you do?
I would sign bills to ensure the government invests heavily in education and human capital development, implement stringent measures to check population growth, and enforce strict punishment to curb corruption.
Whom will you consider your role model and why?
Jeff Bezos because of his personality and how he transformed Amazon from a small e-commerce company into a global tech giant. I want to be that Nigerian. Watch out as KRAKS goes global.
Fun questions!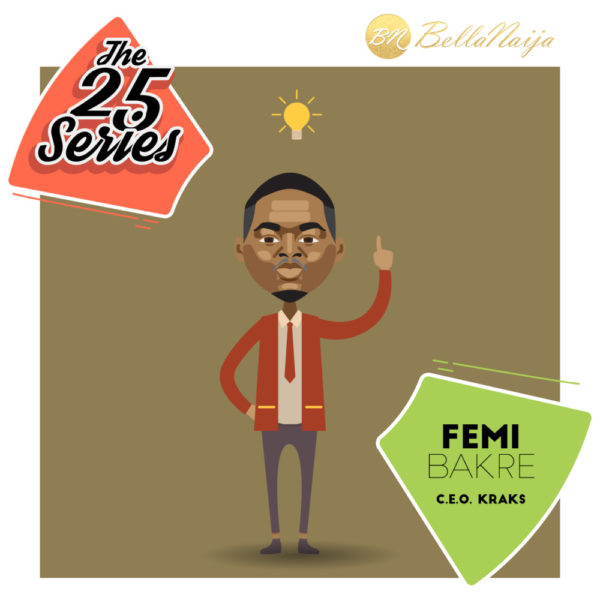 Jollof or Fried Rice?
Fried Rice
Netflix and Chill (and Netflix and chill means Netflix and chill *side eyes*) or Dinner Date/cuisine?
I'm always indoors so Netflix and Chill 
Twitter or IG?
Twitter
Mummy or Daddy's boy?
Team #MummysBoy
Night owl or early bird?
Night owl
Fave Dress code: Smart, Casual or Trad?
No, I'm not into pets.
Fave spot to hang out
Amusement parks. I always crave a rush of adrenaline.
Fave thing to cook/fave meal
Bugatti Chiron Sport
Fave color and why
No, I don't collect anything yet.
Final word for the young Nigerian
Your dreams are valid, and nothing is impossible as long as you believe. Our environment may not be enabling, but it is in the DNA of every Nigerian to grind through and make things work despite the adversity.
---
The 25 Series is published every second Tuesday of every month.