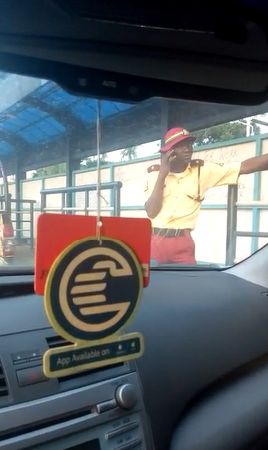 A BellaNaijarian just shared a disturbing story of her experience with some officials of the Lagos State Traffic Management Agency (LASTMA) on Wednesday morning.
She said the incident occurred in the Palmgrove area of the state, adding that she had diverted into the BRT lane in a bid to get into the service lane as she was pressed.
Read her account below:
At about 07:00hrs this morning (27/06/2018) enroute work I diverted in to the BRT lane at Palmgrove in a bid to get into the service lane as I had an overwhelming urge to use the toilet and suddenly a patrol truck with 6 LASTMA officials and 2 police officers apprehended me asking me to disembark for breaking a traffic Law, I explained my predicament to them and asked them to understand it was exceptional circumstances because I was distressed. They insisted and I insisted on speaking through the window which was wound down slightly (I have heard people's experience of them putting in their hands and unlocking the door)

While one Police officer was speaking to me through the passengers side window, the LASTMA officer unlocked my car with a master (universal) key and the police officer jumped into the car, put my gear in park and switched off the ignition and took my keys (at no point in time had anyone asked me to follow them to their office at this point). I tried to grab my keys from him and he yelled at his colleagues to take pictures that I was assaulting him.

I sat back in my car ignored them and waited to see what their next play will be. The team lead (I guess) came back with a phone that I should speak to their boss (all this while other road users were driving freely in the BRT lane I have video evidences) and they made no move to apprehend anyone else. The purported boss yelled obscenities at me over the phone when I pointed out that other road users were freely using the same BRT lane. He went further to say they would tow my vehicle at which point I told him that I was happy to pay any fine or receive a ticket but I would want my keys so I would be on my way and he hung up.

About 10 minutes later one of the officials asked me to come and speak to the team lead, I stepped out of my car and immediately a police officer and a LASTMA official rushed into my car and tried to drive off. At that point I started screaming, they insisted I enter the backseat and they will drive me. Fed up with their antics I told them I would take it up with them if they attempted to move my car at that point they abandoned the vehicle and drove off with my keys which includes my house keys, gate keys and bedroom keys.

I had to call my husband who brought me the spare key and that was how I was able to get to work today. As I type I have no idea where my car keys are and this is really dangerous. It's a criminal act to unlock my car with a master key and then proceed to seize my car and house keys??? Where is the professionalism the agency purports?
She said she spoke with the General Manager of LASTMA on Wednesday and he has promised to take up the issue.
Watch videos below: