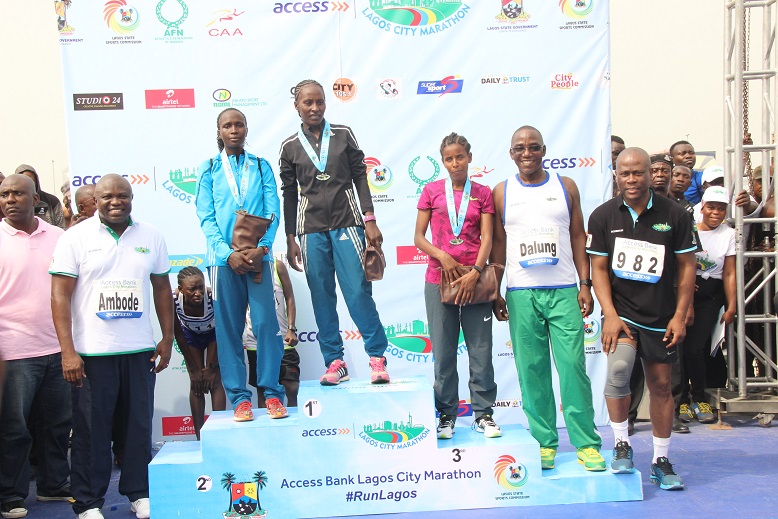 Lagos State Government, yesterday, announced alternative routes for motorists to facilitate the 2017 edition of the Lagos City Marathon Race this Saturday, February 11. The state government is also deploying 300 traffic officials to control traffic along the various routes designated for the marathon race.
The state's acting commissioner for transportation, Olanrewaju Elegushi,  who briefed the press on the preparation ahead of the 42-kilometre marathon, said the race would kick off at the National Stadium, Surulere, to terminate at Eko Atlantic City, Victoria Island, between 6:00am and 2:00pm.
According to Elegushi,
To ensure the marathon race is not disrupted, motorists from Eko Bridge shall be diverted through Costain to connect Ebute-Metta, Orile, Nigerian Breweries and Bode Thomas through Apapa road, while those from Alaka Estate, shall be diverted through Iponri or Iponri Estate.

Motorists from Apapa/Orile – Iganmu to Funsho Williams shall be diverted through Apapa road to continue their journey.

Masha inward Stadium shall be diverted to Shitta roundabout for onward movement through Falolu and Adeniran Ogunsanya roads to their various destinations.

On the Apapa-Oshodi Expressway (from Mile 2), motorists shall be diverted through BOC Gases/Armed Forces Resettlement Center on the service lane through Agege motor road. There will also be traffic diversion through Town Planning way before Anthony-Oke, while Gbagada inward 3rd Mainland Bridge will be closed to traffic from Anthony Oke.

From Old Toll Gate to Alapere, Ogudu, motorists shall be diverted through Gbagada, Oworonshoki -Oshodi -Apapa Expressway and navigate their journey to destinations. From Ajah to Ozumba Mbadiwe Road through Lekki, traffic shall be diverted through Admiralty Way, Lekki Phase I" he added.
He explained further that
Motorists shall also be diverted through Alexandra Road from Cable Bridge while Bourdillion Road will be temporary closed to traffic.

From Awolowo road, motorist shall be diverted through Falomo bridge to connect Ozumba Mbadiwe road while Falomo roundabout inwards Bourdillion will be temporary closed and Akin Adesola Street inwards Bar Beach will also be temporarily closed to traffic. And from Bonny Camp to Ozumba Mbadiwe Road, traffic shall be diverted through Old Mr. Biggs junction to Kofo Abayomi Street." He said.
Elegushi appealed to motorists, commuters and the general public plying the affected routes to be patient and obey traffic management officials who will be deployed to the various identified routes to manage traffic.
Elegushi assured residents that adequate arrangements have been made to ensure security operatives and officials of the Lagos State Traffic Management Authority (LASTMA) barricade access to the dual carriage way to be affected by the event.
In addition, the General Manager of LASTMA, Olawale Musa, disclosed 300 officers would be deployed to different locations within the state to ensure that the restricted routes does not cause gridlock in the state.
According to him, since we are taking this option and restricting movement we feel duty bound to provide information on alternative routes that people can take on the day of the event.
It is our plan to mount and deploy adequate traffic diversion signs and personnel to monitor and montage traffic. The routes will be open as soon as the last runner leaves each point to ensure the traffic is not held for too long." Musa said.