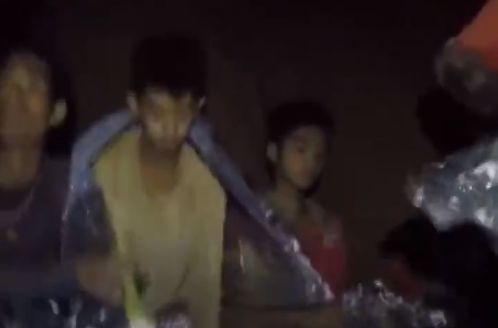 Four more boys have been rescued from a cave in Northern Thailand, bringing the total number of those freed to eight, Guardian is reporting.
Twelve boys and their assistant coach Ekaphol Chantawong who are members of the Wild Boars football club had gone missing and were found in Tham Luang cave in Thailand's Mae Sai.
While in the cave on June 23, a heavy rainfall had poured, blocking the entrance and forcing them to go even deeper and trapping them. They were discovered on July 2 by two British divers.
Four of the boys were rescued on Sunday in a dangerous operation involving them diving underwater and making a 2-mile journey.
The journey saw two divers accompanying each boy, one guiding a boy through the cave in the front while carrying his oxygen tank, with the second trailing behind.
The rescue operation continued today and saw four more boys freed. Narongsak Osatanakorn, the head of the joint command centre coordinating the operation announced at a press conference on Monday: "We are so happy that today we could rescue another four kids."
The next operation will begin at 4pm local time on Tuesday with an elite team of 18 Thai and international divers with the support of 80 other rescue workers.
On whether the final five will return on Tuesday, Osatanakorn said: "I cannot answer this question right now. It's down to weather conditions and our plan. We've set a plan for four but if we want to rescue five, those responsible will have to adjust the plan. We can't overrule the diving team because it involves safety."
According to Al Jazeera, FIFA has invited the boys to the World Cup final in Russia on Sunday if they make it out in time.
4 out of 12 boys and their coach await rescue in Thailand. #ThaiCaveRescue pic.twitter.com/tHmvYXJBzg

— Al Jazeera English (@AJEnglish) July 9, 2018