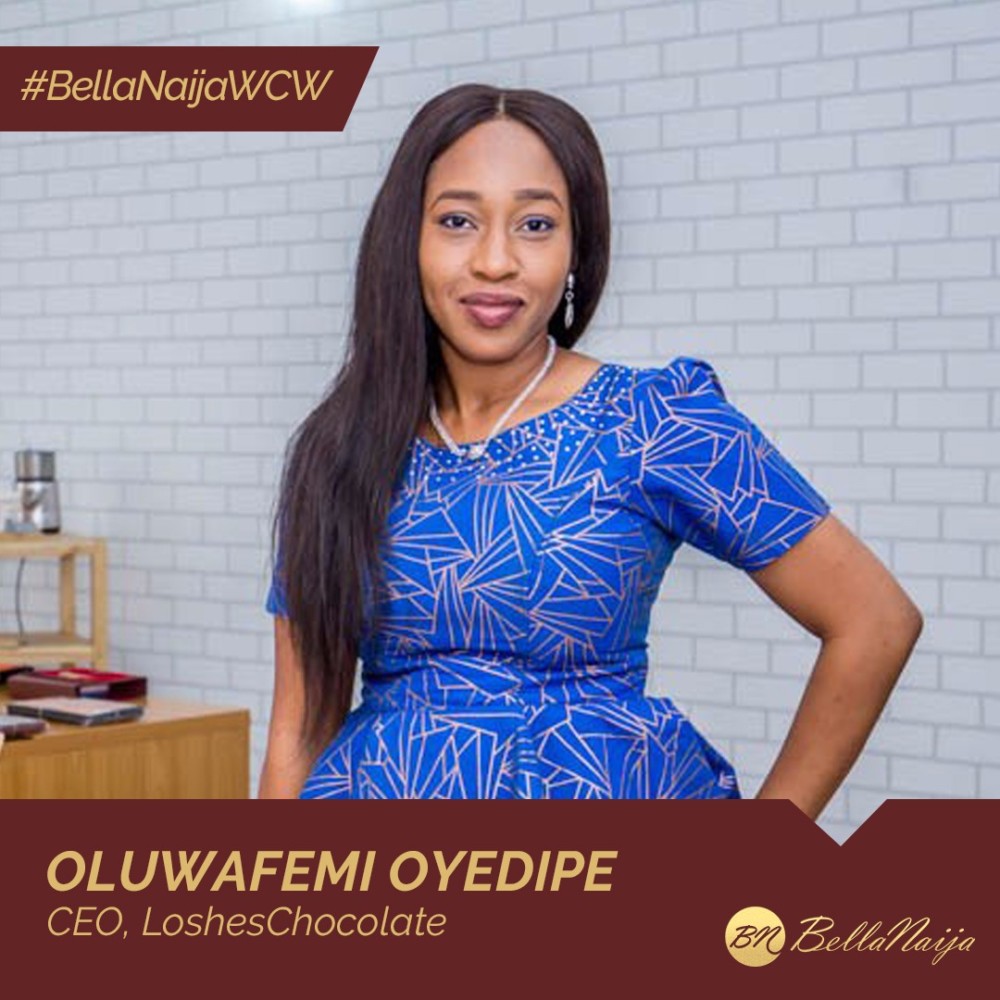 Cote d'Ivoire, Ghana, Nigeria and Cameroon, grow 70% of the world's cocoa but guess what? None of these countries, nor any country in West Africa or Africa is among the top 10 producers/exporters of chocolates on the planet.
Thanks to young entrepreneurs and trailblazers, that narrative will be changing soon. Our #BellaNaijaWCW this week Oluwafemi Oyedipe is working to put Nigeria and Africa on the map in chocolate production globally.
Oluwafemi founded LoshesChocolate in 2015 which, according to her, was in a bid to impact society. Oluwafemi has always been interested in making things with her hands and between 2010 when she completed her first degree and 2011, she learned makeup artistry while working a 9 – 5.
She enrolled for a masters programme in 2011 and after she was done, she and her family moved to Ghana where she developed a keen interest in baking and preparing desserts.
What started out as pastries/desserts for family and friends, soon grew into a full-fledged business called Creme Indulgence.
Her family returned to Nigeria soon after and she continued working as a human resources executive.
She wanted more, she wanted to contribute more to Nigeria. Her husband suggested she continued her with Crème Indulgence but she said if she was to continue chocolate making, she wants something that will greatly impact a whole lot of people.
She noticed Nigeria does not have home-grown chocolate makers so she decided to start her company – LoshesChocolate, which she says aims to develop the entire cocoa production-chocolate making value chain.
She and her husband began researching – her husband, an engineer, focused on creating the machinery needed locally, while she, a biochemist by training, continued to research on cocoa beans.
They got their first bag of cocoa beans from Eruwa in Oyo state and currently source their cocoa from Ondo and Oyo states.
"LoshesChocolate is a Bean-To-Bar, Single Origin Chocolate Maker and Chocolatier operating in Lagos, Nigeria," the company says on its website.
"We  deliver handcrafted chocolate from a single and premium source of cocoa bean to the finished products to ensure that the benefits of our rich cocoa are not lost through production and the flavour note of each cocoa bean origin is preserved in the final product."
LoshesChocolate has an ambitious goal of being "the No. 1 brand for Chocolate Confectionery in Nigeria and across Africa" soonest and we are rooting for it.
Nigeria, Africa, must recognise that for it to leapfrog past its challenges and become prosperous, it must look inwards and not outwards as is the convention. Oluwafemi is on to something big and we're rooting for her.