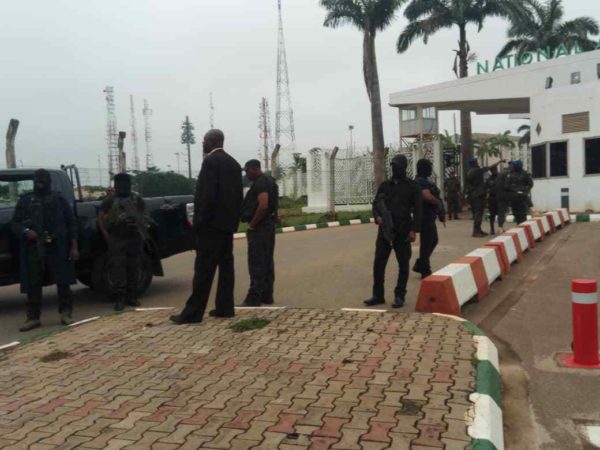 The Department of State Services (DSS) on Tuesday blocked all entrances into the National Assembly, barring opposition senators from making their way in.
Videos shared on social media showed the DSS officials holding the fort at the entrance while the opposition senators tried to make their way in.
The staff of the National Assembly were also according to Premium Times turned back.
Premium Times reports that 30 pro-Buhari Senators met with the director general of the DSS, Lawal Daura, overnight.
The meeting, and the siege, are said to be to aid the pro-Buhari senators from removing Bukola Saraki who defected from the All Progressives Congress (APC) to the People's Democratic Party (PDP) from his role as Senate President.
See videos from the siege
DSS has blocked all entry or exit from the National Assembly. This is a coup to try to impeach the Senate President and his Deputy. #SaveOurDemocracy pic.twitter.com/VnZAOFRFgw

— Olu W. Onemola (@OnemolaOlu) August 7, 2018
A serving Senator, Senator Rafiu Ibrahim is being denied access into his office by the DSS. He asks the DSS officials "Has the military taken over?" #SaveOurDemocracy pic.twitter.com/U9vWF3UKhY

— Olu W. Onemola (@OnemolaOlu) August 7, 2018
I want everyone who is out there, who has facilitated or endorsed these actions implicitly or explicitly to know that #TheWholeWorldIsWatching. pic.twitter.com/xcHPk9ZmXJ

— Olu W. Onemola (@OnemolaOlu) August 7, 2018
Honourable Boma Goodhead from Rivers State, confronts the masked men blocking the National Assembly. #TheWholeWorldIsWatching #SaveOurDemocracy pic.twitter.com/AnbPJyb5GE

— Olu W. Onemola (@OnemolaOlu) August 7, 2018
Photo Credit: Premium Times