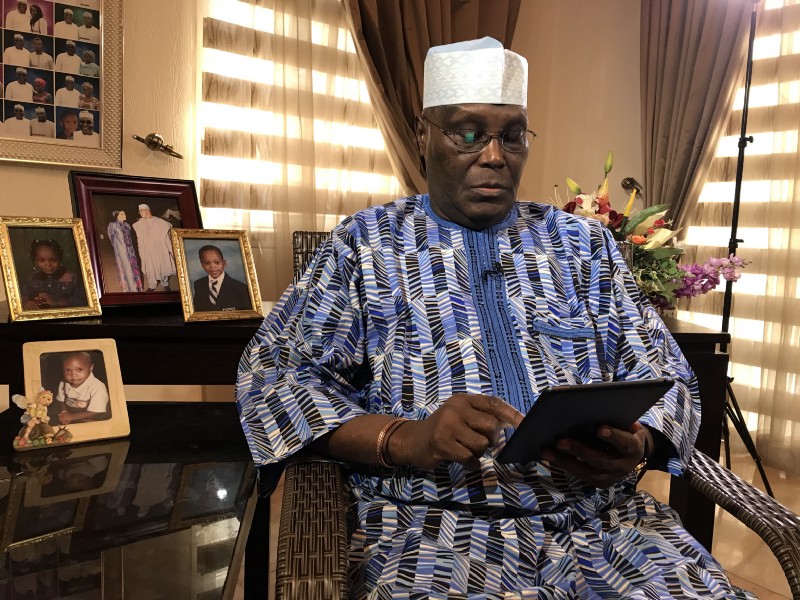 Former vice president and 2019 presidential aspirant Atiku Abubakar, in an interview with Thisday's Olawale Olaleye and Bayo Akinloyeshares his plans for Nigeria if elected, his thoughts on restructuring, and how he plans to tackle the country's education and unemployment challenges.
When asked if he'd commit to only one term if elected, Atiku said:
Of course, I would! I have said this before on my own initiative. I believe in it. If I am elected as the President in 2019, I give an undertaking that I would only do one term.

Having said that, let me remind Nigerians that Buhari also gave such an undertaking in 2011, but he is not living up to it today. My own case will be different. I am prepared to sign an undertaking to do only one term.
On his Agenda for Nigeria
My agenda is centred on jobs. That is what I have been doing for the past 40 years. I am first and foremost an entrepreneur. A job creator. My group of companies has a workforce of about 50,000. This does not include the hundreds of thousands that are indirectly employed. I believe in creating jobs, providing opportunities, being united as one Nigeria, and securing it all with a military-industrial complex whose raison d'être is 'Nigeria First.'
On what gives him an edge over other candidates
The number one problem facing Nigerians today is not insecurity. It is not corruption. It is not even lack of power. The most pressing problem in Nigeria today is unemployment. We have more unemployed people in Nigeria today than the combined population of the Republics of Benin and Togo multiplied by two. Two months ago, Nigeria overtook India as the world's headquarters for extreme poverty. Not poverty, mind you, but extreme poverty. That is the highest level of poverty. It is almost as if I was born for this challenge. You may even say that the challenge is tailor-made for the unique abilities that God has given me. Atiku means Jobs.
On his plans for Education
I pledge that if I am chosen by my party, the Peoples Democratic Party, to be its presidential candidate, and if I am subsequently elected as the President by Nigerians, I will go above and beyond the United Nations' recommendations and ensure that a minimum of 21 per cent of the federal budget is devoted to education. Beyond that, I will reserve 10 per cent of that amount to further and continuous education for our public school teachers. Nigeria's education sector must progress from creating job seekers. We must train our teachers to train our children to be job creators as well.
The bulk of the 21 per cent sectorial allocation will not go towards paying salaries, as is currently the case. Almost half will go towards infrastructure and capacity building. I will set up a fund for the compulsory training and continuous education of all Nigerian teachers. I will issue an Executive Order mandating that all Nigerian schools must be WiFi-equipped at federal government expense. We will work with the private sector to take in students as interns so that they can learn on the job during their holidays and the federal government will be responsible for paying these students a learning bursary.
Our research and development agencies will be retooled. They must deliver. How could the Buhari administration be considering importing grass from Brazil when we have research agencies like the Federal Institute of Industrial Research, Oshodi, and the non-government owned International Institute of Tropical Agriculture, Ibadan? I would order our research agencies to work with fully Nigerian-owned businesses, like Innoson Motors. Because of the immense successes we have had at the American University of Nigeria, Yola, I know that Nigeria as a whole can have similar successes.
On concerns over his age (He's 71)
How old am I versus the incumbent? I know when I was born. This is my exact age. I do not have a football age. But the issue is even beyond age. It is about fitness. I am fit. I am ready to publish my medical records and I challenge all those who are running, including the incumbent, to give that same assurance. As to the cult-like following, yes, you are right, I am not a cultist, nor will I ever be.
The history of the human race has shown that personality cults do more harm than good. But if this cult is so powerful, how come it could not help elect Muhammadu Buhari in 2003, 2007 and 2011? How come Nasir el-Rufai, my former protégé, said on October 4, 2010 that Buhari is 'perpetually unelectable'?
The truth, which you and I know, is that without the support of Bola Tinubu, Buhari would not have been elected as the President, his cult followership notwithstanding.
On Restructuring
With all due respect, it is the refusal to even discuss restructuring that is parochial. Nigeria either restructures or it withers away. And the sad thing is that the man who made that comment does not even know the meaning of the word parochial. To be parochial is to have a limited mindset incapable of seeing reason with others. Now, who is parochial between him and those advocating restructuring?
Take something like insecurity. The other day there were killings in Plateau State and the President said the situation had got so bad there was nothing more he could do than pray. Even that statement itself is a cry for restructuring. The man is admitting that there is nothing he can do, within the current structure, other than to pray. That means the current structure, by his own admission, is not working.
Even in revenue generation, I came up with the idea of matching grants when I gave a speech at the Royal Institute of International Affairs, also known as Chatham House, on April 25, 2018. Matching grants would motivate our states to be less dependent on federal allocation and more dependent on internally generated revenue. Today, both the Federal Government and the states are broke. They depend on loans to even pay salaries and in the midst of that, someone is saying that we do not need restructuring. Reality departed from such a fellow a while ago!
How do I plan to restructure the country if elected? Restructuring is a process, not an event. However, I have said it that I would restructure Nigeria within six months of being elected. First of all, no state will get less than what they are currently getting from the federation account. In fact, they will get more. That is what my initiative of matching grant is all about. I only need a constitutional amendment if I want to take power and resources away. I do not need to amend the constitution to give power and resources away.
Read the rest of the interview on Thisday.