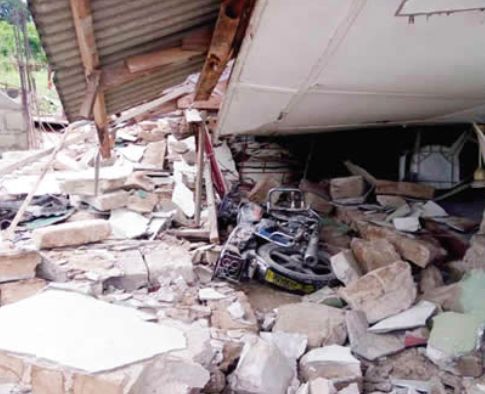 St. Paul Catholic Church in Adagbrasa-Ugolo community, in the Okpe Local Government Area of Delta State collapsed on Sunday leaving an 11-year old dead and at least 15 others injured.
According to Punch, an eyewitness Daniel Agiri, said the tragic incident occurred at about 7am when the priest was about to commence mass.
"We were about to commence mass when we noticed a crack on the wall of the building from the altar. The incident happened rapidly. We are happy that the seminarian, who was to conduct mass, had not started. The moment the building started falling, everyone ran to safety. We lost one person and 15 persons got injured," Agiri said
"We have recovered the deceased's body from the rubble. Jeffery Jackson was a primary four pupil. My son's leg was also broken. Some of the injured persons are in their 80s. A doctor told us that they were in stable condition," Agiri added.
The state Commissioner for Works, James Augoye, who led a government delegation to the scene of the collapse on Sunday, made cash donations to the victims and also assured them that the government will cover their medical bills.
Governor Ifeanyi Okowa also released a statement commiserating with victims of the tragedy. In a statement signed by his Chief Press Secretary, Charles Aniagwu, Okowa said:
The church is a 100-year-old building and, in an attempt to rebuild and expand the church, the old church building collapsed as a result of heavily soaked water occasioned by the weight of worshippers who leaned against the walls while the early morning mass was on.

While we pledge to pay the cost of treatment of the injured, people must ensure they seek necessary approvals before construction of buildings, particularly public structures, to avoid incidents like this.

On behalf of the government and people of Delta State, I commiserate with the family of the deceased; the injured; the Speaker of the Delta State House of Assembly; the Chairman of the Okpe Local Government Area, Chief Julius Scott; the Orodje of Okpe, HRM Orhue 1, Major Gen. Felix Mujakperuo (retd.); and the entire Ugolo community in Okpe Kingdom, on the unfortunate incident.

It is our prayer that the soul of the deceased will rest in peace, and that the injured will experience quick recovery. Our thoughts and prayers will continue to be with the people of Ugolo in Okpe Kingdom over this tragedy.
Photo Credit: Theophilus Onojeghen/Punch