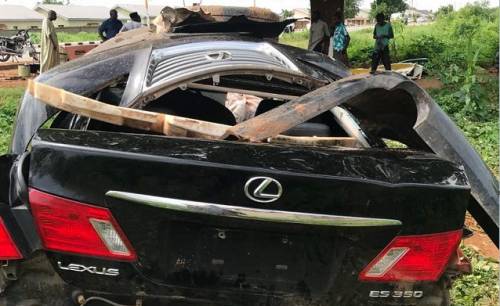 The son of the Sultan of Sokoto has according to Sahara Reporters been involved in a car crash.
Usman Sa'ad Abubakar, son of the sultan, was reportedly driving at a very high speed in his Lexus within Sokoto Airport Road when the crash happened.
Two friends of his, Khalifa Maccido and an unnamed girl, were said to have been in the car with him when the crash occured.
Sahara Reporters claims that witnesses report that Usman, popularly called Amir, was drunk during the time of the crash, and a bottle of codeine syrup was found in his car.
Officials of the Sultanate Council were also reportedly spotted removing the Sultanate council plate number from the car after the crash.
Faruku Ladan Ddaji, Secretary of the Sultanate, was unable to confirm the news as he was out of town.
Photo Credit: Sahara Reporters