Every month since the year began, Diamond Bank has rewarded its DiamondXtra customers successively. You may know that customers have won amazing rewards like A brand new car, Salary4Life- (₦100,000 every month for 20 years), Education Allowance for 5 years (N100,000 every month for 5 years), Rent of ₦1,000,000 and lots more. However, what you may not know is that a quarterly draw will be taking place in a few days and you may be one of the upcoming winners!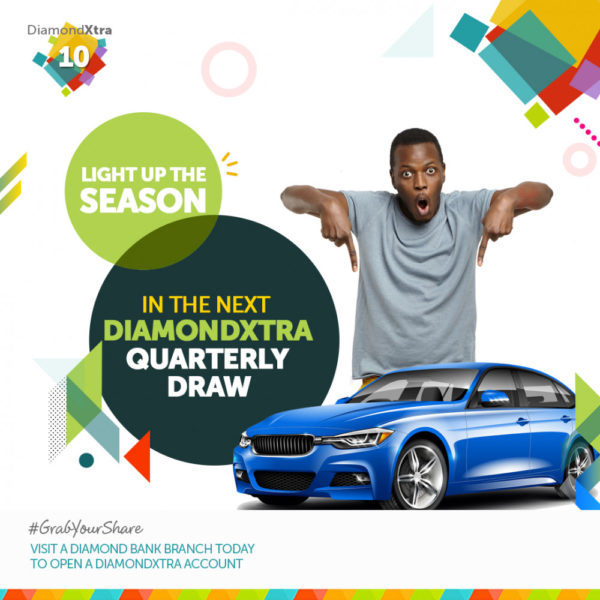 Earlier in the year, it was in the news that DiamondXtra Season 10 will reward over 4950 customers, to be awarded every month and in every quarter.
The last monthly draw recorded winners going home with millions of Naira and Salary4Life. This month, the bank has announced that the 3rd quarterly draw of season 10 where 1,016 customers will be rewarded with over 59 million Naira in cash and prizes, will hold soon.
Head, Consumer Banking Diamond Bank Plc, Karimot Tukur confirmed that the bank is making a relentless effort in carrying out its part in nation building and wealth creation, causing customers to actively participate in the rewards programme. In her words: "We are proud of the number of lives that have been impacted this season, so far over 3500 people have been rewarded with millions, salary4life, Brand New Car, House rent for a year, education allowance amongst others, it's the smile we bring to our customers that matters the most to us."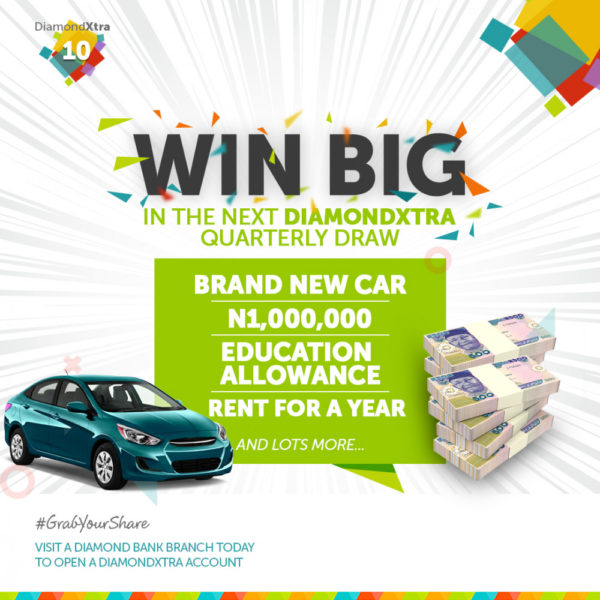 DiamondXtra Season 10 stands as the best so far, with its long list of rewards which comes as solutions to the most essential needs of Nigerians.
Rewards in the coming Quarterly draw include:
Brand new Car
Education allowance for 5 years (N100,000 every month for 5 years)
Rent 4 a Year (₦1,000,000)
₦1,000,000 x 6
₦500,000 x 15
Gem points (₦20,000) x 45
₦100,000 x 45
₦50,000 x 300
₦20,000 x 300
₦10,000 x 300
The DiamondXtra Reward Scheme is real, don't miss out on this opportunity to add more value to yourself. To participate; open a DiamondXtra account, save in multiples of ₦5,000 and you stand the chance to win amazing prices in the draws.
Every ₦5,000 in your account gives you 1 ticket in the draws, you can also save multiples of ₦5,000 thereby increasing your chances of winning. Visit the nearest Diamond Bank branch or click here: goo.gl/9Y3UyP to open an account now. #GrabYourShare.
—————————————————————————————————————————————–
Sponsored Content