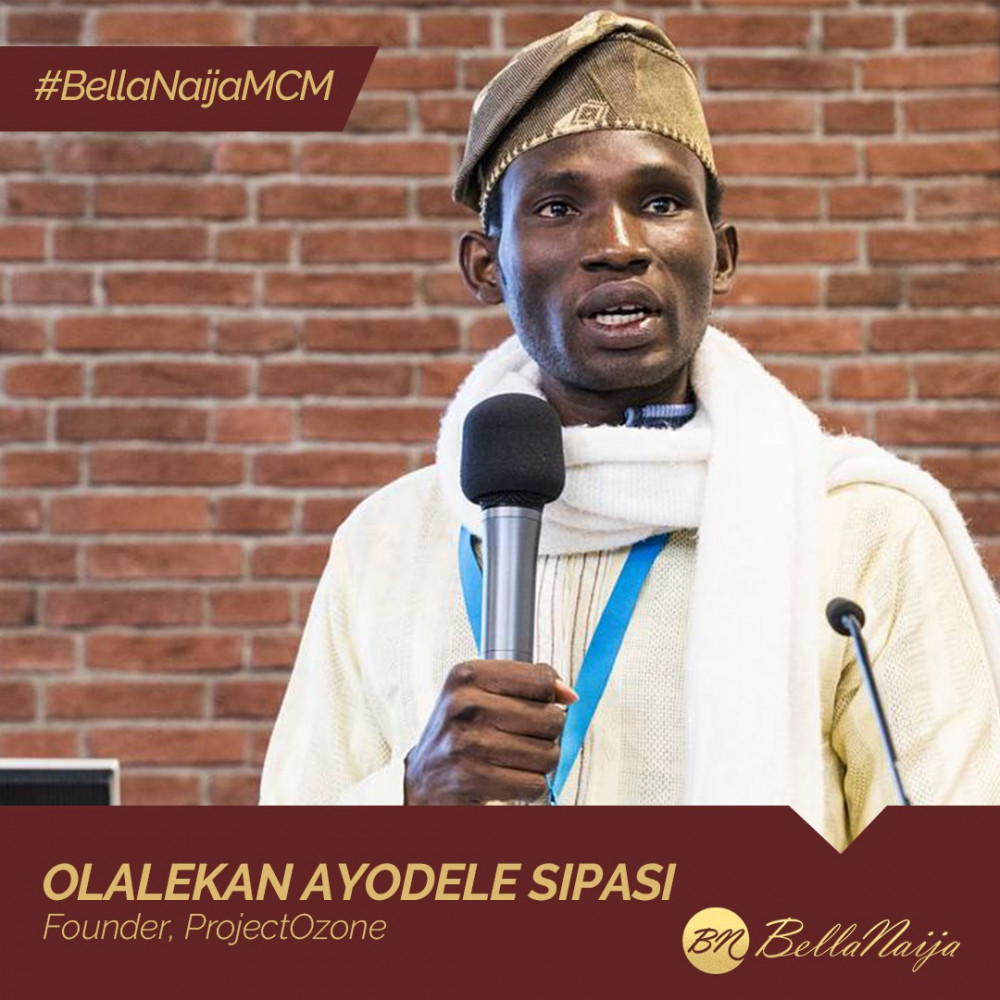 Our #BellaNaijaMCM this week Olalekan Ayodele Sipasi is using technology in agriculture to ensure environmental sustainability, facilitate economic empowerment, and touching the lives of the indigent population.
Olalekan and Olayanju Folasayo founded Protect Ozone which mobilises citizens to combat climate change through distribution of tree-seeds and training people on sustainable agricultural practices.
Olalekan's L'Afrika Integrated Farms was invited by the federal government to participate in an agricultural education programme tagged Project4 for Fulani and Hausa Herdsmen on modern agricultural best practices which lead to healthier flock and herders.
Olalekan was one of the 23 fellows of Carrington Youth Fellowship Initiative where he was selected to be part of the Economic Empowerment Team of the fellowship to train 23 indigent Youths in Lagos on Sustainable Best Agricultural Practice (Agribusiness, Poultry and Vegetable Production).
In 2017, Olalekan, alongside 30 African changemakers in the agricultural sector who grew from rural communities, was invited to join 90 other G20 youths in Germany to develop and amend the Berlin Charter on "Creating Opportunities with the Young Generation in the Rural world".
The B.Tech (Animal Production & Health) graduate from Federal University of Technology (FUTA), is passionate about the protection and establishment of urban farms. As the urban population increases, Olalekan is pushing for more food security in these areas by advocating for creation of farms in homes which also helps to take care of the environment and facilitate healthy living in these areas.
Olalekan holds a masters degree (Animal Science) from University of Ibadan and holds a certificate in Business Administration from African Management Institute, Nairobi, Kenya and Enterprise Development Centre of the Pan-African University, Lagos.
He describes himself as "a dynamic young adult that combined community development work with academics and was successful, a dogged entrepreneur driven with passion and enthusiasm in community development through sustainable agricultural processes, innovations and appropriate technology.
"He sees opportunities in turning waste/marginalised agricultural and industrial by-products into economic viable tool to fight hunger, alleviate poverty and increase the socio-economic standard of the communities."
Olalekan is a 2017 ONE Champion, a Fellow of Thinking School Africa, and the 2016 Winner of the African Youth Award in Agriculture.