Here's how United Purpose celebrated the 'Clean Hands for All' Campaign on Global Handwashing Day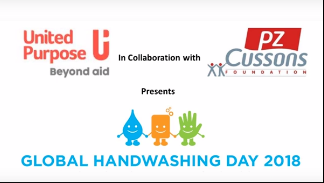 Global Handwashing Day (October 15th), is a global advocacy day set aside to create awareness on the importance of handwashing with soap. It brings attention to one of the most basic issues that to our shame still accounts for two million child deaths a year. Every day about 2,000 children die before reaching their fifth birthday due to diarrheal diseases, the vast majority caused by poor sanitation and hygiene. Diarrhea alone accounts for the death of around 124,000 young children in Nigeria.
We know that handwashing with soap is the most effective and inexpensive way to prevent diarrheal diseases; reducing incidence by up to 47% and combined with improved sanitation, this is boosted to 68%. We know that in countries with the highest child mortality rates, as few as 1% of people wash their hands effectively and that the global average is only 19%. Most frustratingly, effective tools and participatory methods are readily available and it is estimated that interventions that promote handwashing could save close to a million lives. So why is hygiene promotion not a focus of most development projects?
Still, how do you make sure just one day of symbolic action, media attention and advocacy, notwithstanding their importance, translates into sustainable behavior change? This is why Global Handwashing Day (GHD) on October 15th is not just 'another global day' for United Purpose.
Each year, we embark on a month-long media and activity-based campaign to advocate for and raise awareness on handwashing with soap. The relative lack of attention in both development and media circles on handwashing with soap is why we need days such as GHD, as they remind us how simple and cheap the solution to serious hygiene-related diseases can be.
United Purpose brought together famous musicians, communities and the private sector to empower thousands of school children as hygiene promoters throughout the month of October. In this way, we use the month of October to make handwashing a mantra and ensure that the message resounds in the minds of the people, far beyond October 15th. After all, with more frequent exposure to a certain message, the adoption of certain health behaviors becomes more likely.
Handwashing is only effective if carried out with the use of soap. This is why United Purpose partners with a soap making company, PZ Cussons, thereby providing the complete recipe for effective handwashing.
This year, over 3000 school children from over 200 schools were engaged through activities targeted at schools across 10 Local Government Areas (LGA) in Benue and Cross River states and the Federal Capital of Nigeria. The events in Cross River and Benue states were held in LGAs already committed to improving their sanitation practices under the Rural Sanitation and Hygiene Promotion in Nigeria (RUSHPIN) funded by the Global Sanitation Fund of Water Supply and Sanitation Collaborative Council (WSSCC) executed by United Purpose.
At the events, the theme of the 2019 Global Handwashing Day, 'Clean Hands for All' was highlighted which reminds us that everyone, everywhere needs access to soap & water to wash their hands. We thus want to ensure no one is left behind. Children were engaged in fun handwashing themed activities. This included quizzes and debates on handwashing, singing and dancing competitions to Sunny Neji's campaign anthem 'Wash Your Hands O', and games such as the glitter ball experiment, where children experience directly how using soap is necessary to remove 'sticky' germs (the glitter) and the critical times when one should not forget to wash hands. Over 2000 kids became Hygiene Heroes who were equipped to take the handwashing message back to their various schools and communities.
In the run-up to October 15th, the most enthusiastic children and their teachers took the lead in organizing a mass handwashing activity on the 15th. They constructed group handwashing stations, gave talks on the importance of handwashing and taught their peers the steps to effective handwashing.
On top of this, because we know kids learn quickly from their peers, selected Hygiene Heroes were empowered to take the handwashing message to neighboring schools that were unable to participate in the GHD celebration at their various LGAs. Using a peer-to-peer learning approach, the Hygiene Heroes inspired other schoolchildren and demonstrated how to construct group handwashing stations using locally available materials.
To amplify the effect of this year's advocacy campaign on handwashing, a breakfast meeting was held with the first ladies of Cross River and Benue states where they made a commitment to ensuring cleans hands for all in their respective states. The main celebration event on October 15th was taken to the Federal Capital (Abuja) where United Purpose and PZ Cussons collaborated with the Federal Ministry of Water Resources' National Task Group on Sanitation (NTGS) to ensure that key government officials were in attendance.
Through media, millions of other people in Nigeria and globally are being reached through jingles aired on radio, TV interviews, use of explainer video on handwashing and the #WashYourHandsO social media campaign.
—————————————————————————————————————————————–
This content has been published for free as part of BellaNaija.com's commitment to youth, education, healthcare and community development as part of our corporate social responsibility programme.