Noble Ezeala shares his Opinion on Anticipated Movie 'Living In Bondage – Breaking Free'
By now, you've probably heard all the buzz around the sequel of Nollywood's iconic, Living in Bondage movie. Last weekend, on November 2nd, I got the chance to attend the premiere of the movie and without giving away any spoilers, here are my thoughts.
First, let me start by giving you some context. The original film's premise was simple: Andy Okeke (Kenneth Okonkwo), a hardworking young man down on his luck, sacrifices his loving wife Merit (Nnenna Nwabueze) for unimaginable wealth. The catch is that her spirit haunts him and he never really gets to enjoy that wealth; hence, he is "living in bondage".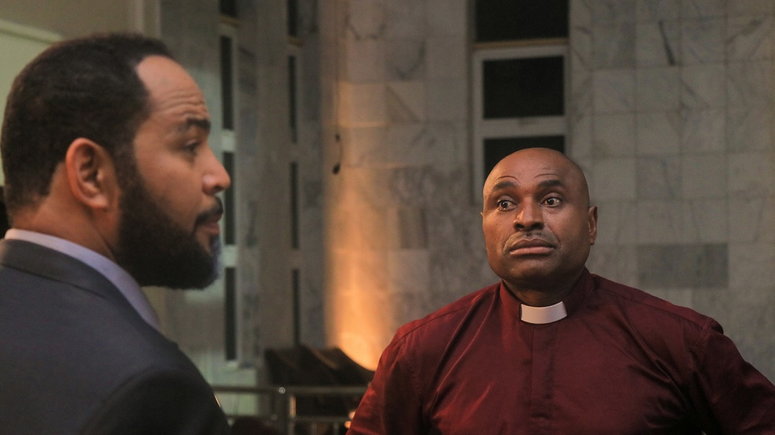 It's one of those movies that you almost don't want anyone to touch. It was a perfect story and held so much nostalgia, you can't help but feel anyone who attempts to re-create it, will ruin your childhood memory. And then a few years ago, I heard Charles Okpaleke (the Executive Producer) and Ramsey Nouah, announce they have acquired the rights to the film. My skepticism radar went up but having watched it now, all I can say is boy, did they deliver!
Living in Bondage: Breaking Free tells the story of Nnamdi Okeke (Swanky JKA), Andy's estranged son. Equally down on his luck, circumstances lead him to take the same path as his father (though he is a bit more naïve about it). Eventually, he realizes a little too late that the path he is on can only lead to damnation. In his debut leading role, Swanky delivers a laudable and believable performance as a relatable young man with big dreams who falls into the laulau lifestyle trap many young people today find themselves in. His character is lured in with opportunities, not just the money, and he soon is not able to separate himself from the reality of what he becomes a part of. His relationship with Andy was interesting to watch seeing as he was never mentioned in the original story. The relation is a great way of connecting the original with the sequel by showing how the characters were still so relevant to how we got to this sequel.
A very fascinating character in the story is Kelly (Munachi Abii). As Nnamdi's love interest, I could not help but compare her to Merit, Andy's doting wife from the first Living in Bondage. Merit was an angel in life and an angel of vengeance in death. Never sullied, always perfect. She cares for Andy deeply and rebuffs advances from wealthy men for her faith in this love. She trusts Andy so much till the trust leads her to an early grave. Kelly, on the other hand, is no angel. At least not like Merit. She's a sharp babe who knows better and it was enjoyable to watch how she navigates the craziness that becomes Nnamdi's life. Her character is a bit more complex and you never get to feel a sense of pity for her all through the movie because she is neither helpless nor naïve.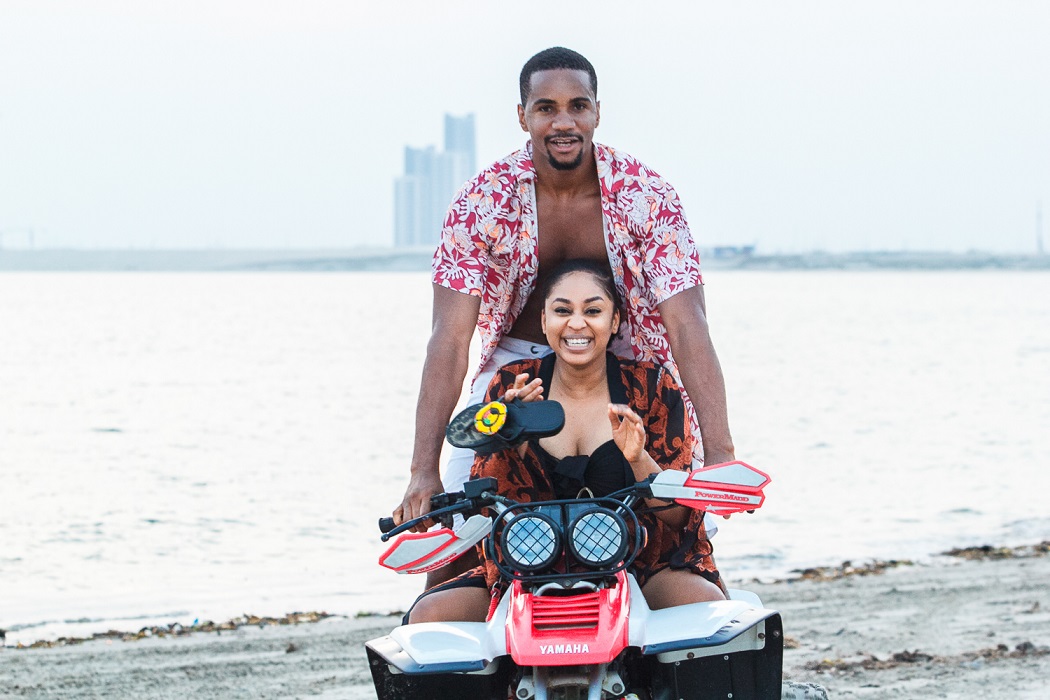 Another character central to the success of Breaking Free is that of Richard Williams (Ramsey Nouah) who is the leader of the occult group; The Six. In his celebrated career, Nouah has played everything from the rambunctious child who disobeys his parents to different versions of the heartthrob who goes after the girl and (usually) wins. Not since Dangerous Twins, however, have we gotten to see him play such a deliciously evil character. Richard Williams commands attention with his charm and his presence. The way the character is portrayed is not cliché in the slightest.
After years of telling stories that involve secret cults, Nollywood directors seemed to settle on the presentation of cult leaders as obviously maniacal characters. Richard Williams, however, embodies the kind of charisma that I imagine a man who runs a devil cult would need to recruit more members. Perhaps as it was his debut directorial role, Nouah was able to present the character true to his vision and, as such, created a Nollywood villain worthy of 2019. He was understated, but you always felt a sense of unease when he was on screen. Even down to how his powers were used; there was no cartoonish thunder coming from his fingers, but you could tell exactly what was happening. There is a scene where he has a battle with Andy, and it is so well-executed that it reminded me of season 4 of True Blood (the season with the witch). In all, he was a well-thought-out and executed character from start to finish.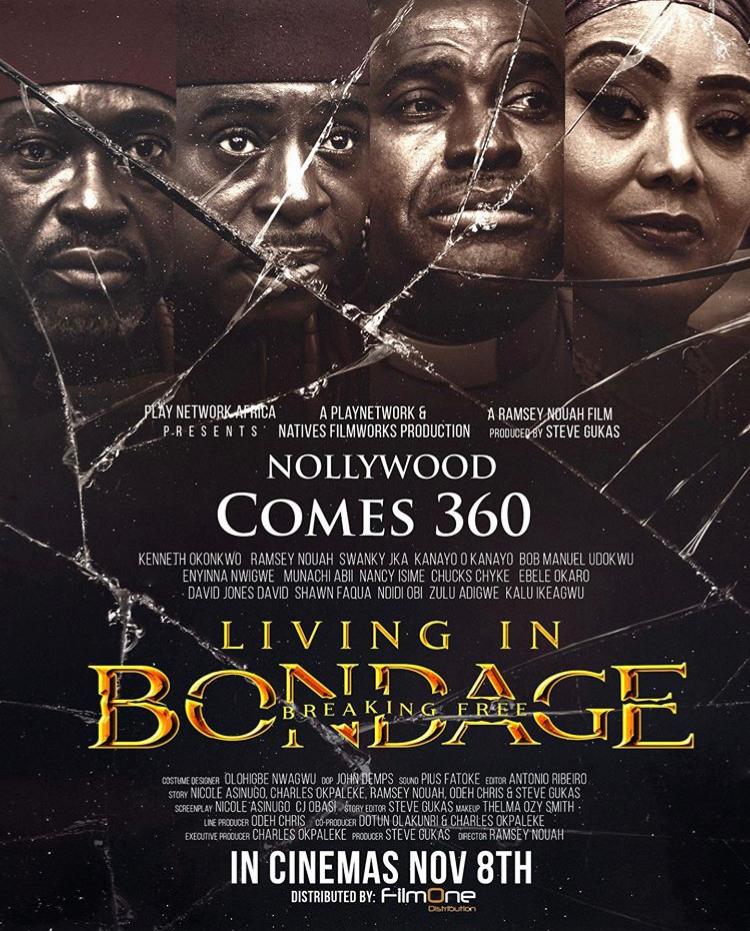 A small yet noticeable setback with the Living in Bondage sequel was that it felt as though the older characters from the first movie were a bit under-utilized. After 27 years, it is incredible that Kenneth Okonkwo, Kanayo O. Kanayo (Chief Omego) and Bob-Manuel Udokwu (Mike) were able to reprise their famous roles once again. However, it would have been great to see their characters develop a bit more in this new story. At the end of the first Living in Bondage, Andy goes mad and is eventually healed after confessing to Merit's murder and repenting. In Breaking Free, he continues this arc as a Pastor fighting to keep his son from committing the sins of his father. Chief Omego's character remains a scary cultist who brings his son, Obinna (Eyinna Nwigwe) into the family trade and whose name rings fear in the hearts of those in the know. Mike's character, however, feels like he was only inserted in the movie for nostalgia value as he does not add much to the story other than his presence.
Part of what made the first Living in Bondage so iconic was the fear factor derived from its special effects. As one could expect from a movie about the occult from that period, the special effects ended at appearing and disappearing ghost Merit and a lot of ominous music. Breaking Free brought these special effects into 2019 with flawlessly used technology. The ghost in the movie was reminiscent of the '92 title, as she appeared most unexpectedly and haunts her father, Obinna Omego, by simply standing there. There was also a very well-done scene in the cult where the deity they worship enveloped a woman in a cloud of smoke that came out of a hole in the ground. There was no cheesy-ness to these scenes, and it added so much in making the story even more compelling. This modernity spread into the videography and cinematography as the movie has stunning scenes from all around Lagos (not just Lekki-Ikoyi Link Bridge) and Dubai where Nnamdi is taken to be further seduced into the lifestyle.
It was interesting to compare this to the way Andy is wooed in the first Living in Bondage as it shows how times and perceptions of a "wealthy lifestyle" have changed over the last 27 years. Rather than lavish house parties with highlife kings blowing praises at us, we now enjoy trips on private planes to exotic locations where we party on boats with gorgeous women.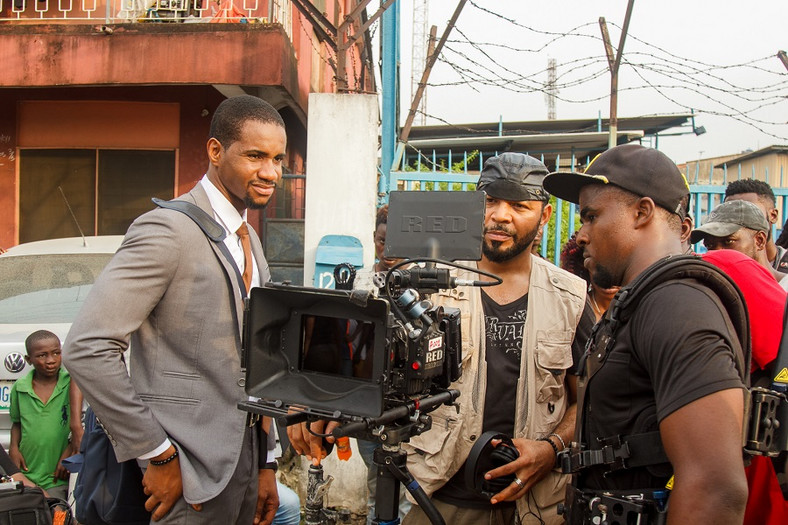 From the plot alone, it would seem like Breaking Free is a basic rehashing of the old tale. However, that is simply not true as the screenplay, written by Nicole Asinugo and edited by C.J. Obasi, moves into a 2019 narrative by creating more complex characters, who are not just good or just evil, and focusing on how ill-gotten wealth traps you. Nnamdi is quintessentially a good guy who loves his family and wants to make something of himself. He does not set out to follow the path he does, but eventually finds himself in it and is almost helpless to the consequences. In a world where people are going temporarily mad in public, eating "Ghana burger," and doing all sorts of evil things to attain wealth, it is still such a relevant story that needs to be told again and again.
As far as sequels go, Breaking Free is a triumph for Nollywood. For one, it is the first major sequel made of a Nollywood movie. In the past, sequels have been presented in Nollywood as the continuation of the movie which could not all fit on one tape/disc. With this new path, we may be seeing Nollywood follow in Hollywood's footsteps by bringing back other classics. I would personally enjoy seeing the 'Mami Wata' movies of the '90s, like Nneka the Pretty Serpent and Karashika, retold for 2019 by compelling writers and directors who can make them relevant for today's audience. It is a welcome move away from the ten million wedding-themed movies that followed The Wedding Party and a foray into more explorative storytelling.
Living in Bondage: Breaking Free hits cinemas tomorrow, November 8. Make sure you go see it!
Writer's bio – Noble Ezeala is a trained Lawyer and is the former Editor of The Luxe Digest. In his spare time, he holds a spot on Accelerate TV's Shade Corner and enjoys watching old Nollywood flicks.
—————————————————————————————————————————————–
Sponsored Content