A Toast to a Renewed Collaboration with the Launch of Martell X Davido Exclusive Blend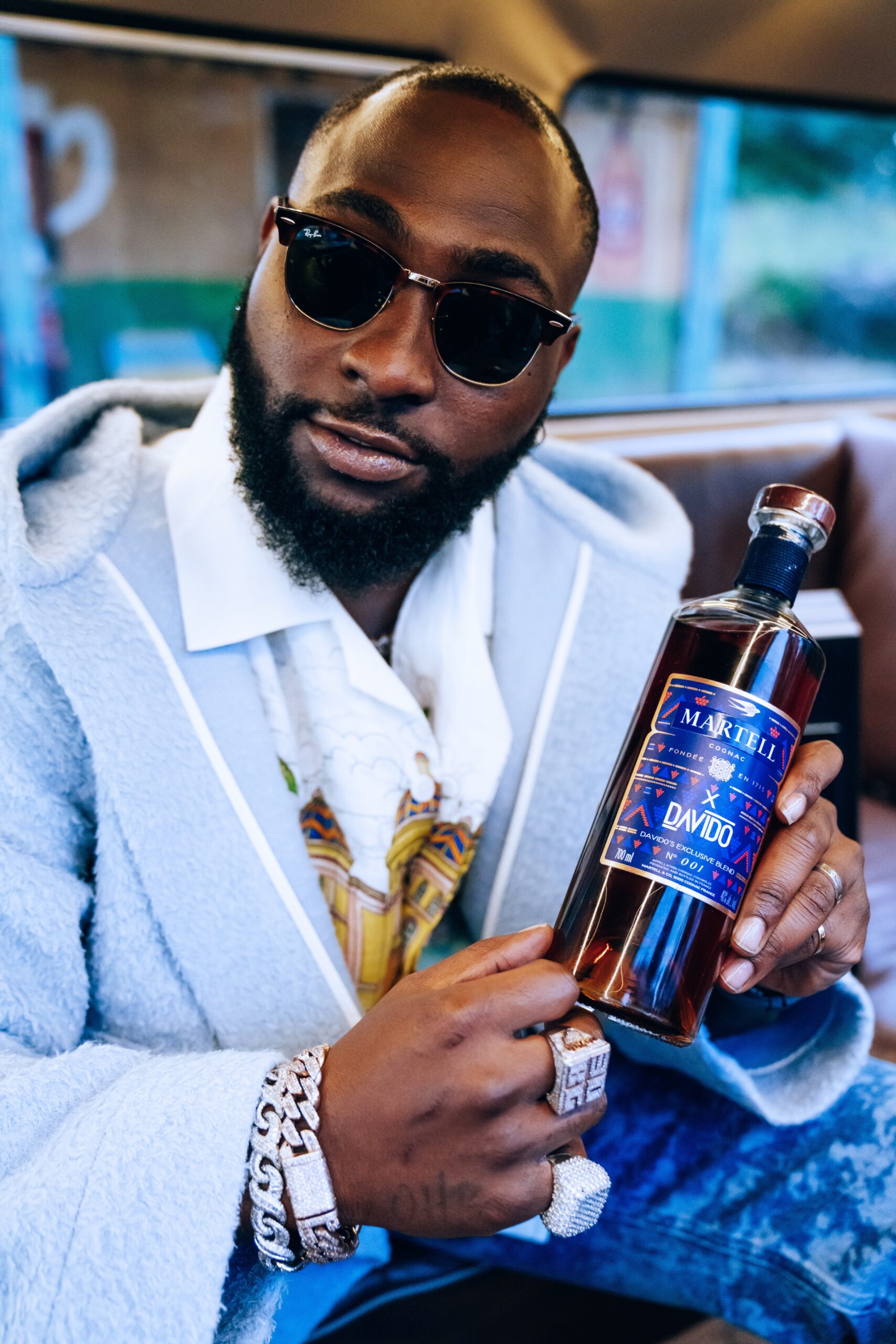 Maison Martell and Davido are toasting their long-standing friendship with the release of an Exclusive Blend, a prestigious, bespoke cognac created for Davido by Martell Cellar Master Christophe Valtaud, to celebrate the continuation of their partnership.
Martell is delighted to announce the continuation of the partnership with singer-songwriter and record producer, Davido, as an international ambassador of the House. This partnership started in April 2021, the successful collaboration is based on shared values. Davido and Maison Martell are pursuing the same goal: opening the way for future generations and encouraging each other within our own creative fields.
Maison Martell and Davido are toasting their renewed collaboration with a Martell x Davido Exclusive Blend, a one-of-a-kind cognac incorporating eaux-de-vie from 1992, the year Davido was born. This timeless blend reflects Davido's vibrant, generous personality with its strikingly round, smooth sensation on the palate and distinctive aromas of honey and cocoa, balanced by ripe fruit and tobacco. Its deliciously long finish is marked by notes of candied orange, sweet spices, and rancio.
Created in extremely limited quantities by Christophe Valtaud, Maison Martell's Cellar Master, this exceptional cognac is not for sale. Davido will share this symbolic moment of his life by gifting it to his close friends.
This exciting creation further cement Maison Martell's close ties with Davido, whose inspiring success and vibrant personality epitomise the house's spirit of daring and freedom.
We are thrilled to continue the partnership with Davido. It has been such a successful collaboration so far, but we still have so much to do. We can't wait to write the rest of the story. We are very grateful to Davido for sharing the same passion for the cognac and for being fired by the same creative energy as Maison Martell, says Cesar Giron, CEO of Martell Cognac.

I am so excited to continue this incredible adventure with Martell. It has been an amazing two year adventure, discovering more about the house and the cognac. I feel so honoured that Christophe Valtaud created this exclusive blend for me. We rise by lifting others; this is a key value both Martell and I share. The best is yet to come, Davido said.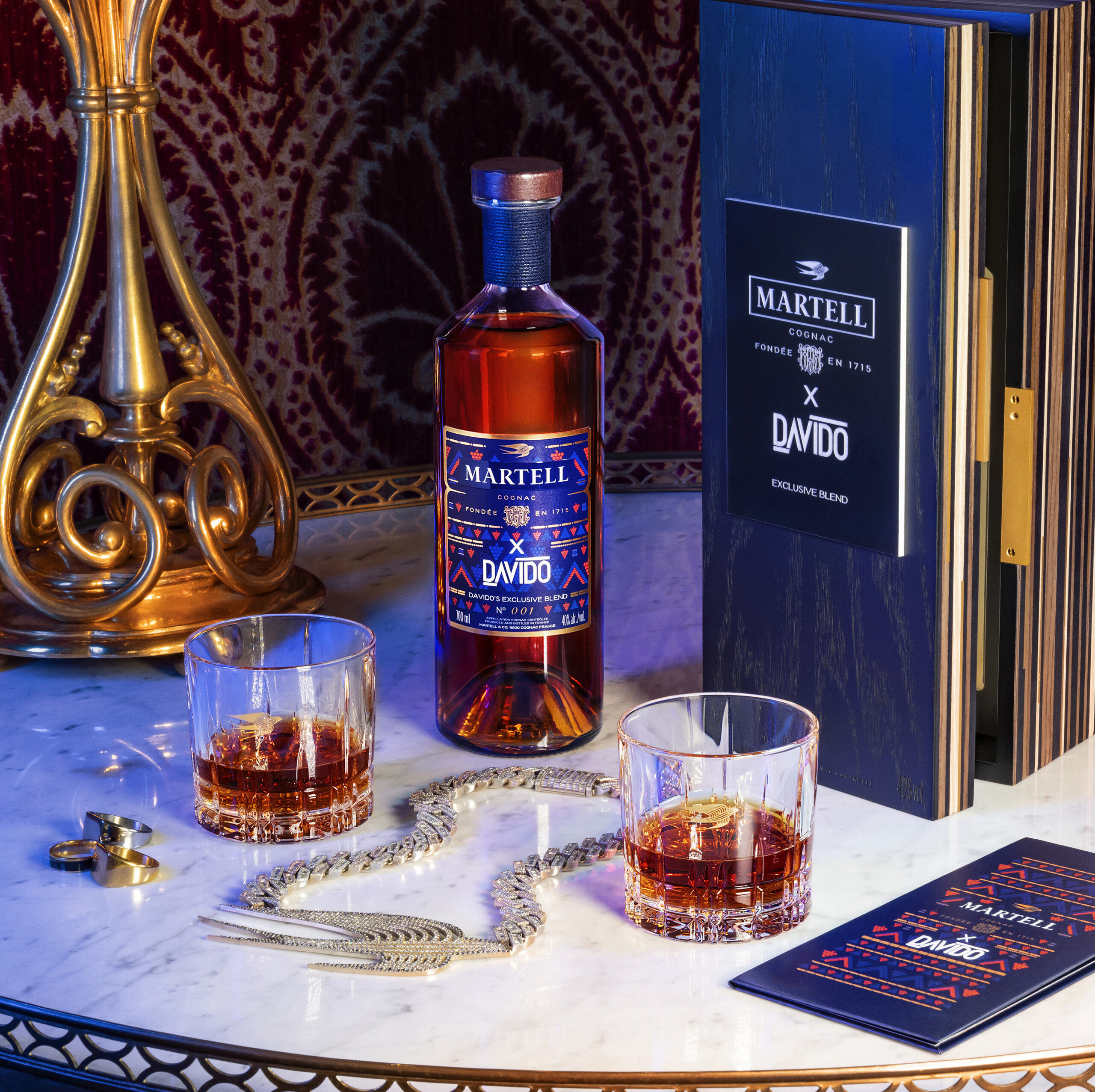 The oldest of the great cognac houses, founded by Jean Martell in 1715, Maison Martell is renowned throughout the world for the finesse and elegance of its cognacs, the result of a legacy of savoir-faire handed down through nine generations. Together with a passion for its craft and a profound attachment to the terroir, Maison Martell is defined by the audacity with which it has challenged convention to create new expressions of cognac, including the iconic Martell Cordon Bleu in 1912. The free spirit of the House is symbolised by its historic emblem: the swift.
Davido (born David Adedeji Adeleke) has cemented his position as a global force within music. The American born, Nigerian raised Afrobeats icon, Davido has amassed over 2 billion streams and over 1 billion video views across his 11-year career. The most followed Afrobeats artist across social media, Davido has been a forerunner in connecting the world to Afrobeats and vice versa. Breaking records in 2019 with hit singles "If", "Fall", "FIA", the tracks marked the beginning of the adoption of Afrobeats Stateside, and saw the artist pick up awards and nominations accordingly.
In 2023, Davido released his fourth studio album, Timeless, continuing to break global records for an African artist, streaming over +133M in its first week. The Nigerian superstar's "Timeless" had the most first-day streams ever for an African album on Apple Music. Timeless became Davido's highest charting project debuting at #2 on Billboards World Music chart and immediately produced three top charting singles from the project; the + 23M TikTok smash, 'Unavailable' which debuted at #8 on Billboard's Afrobeats chart and 'Over Dem' which debuted at #10 and following closely behind 'Feel' at #11.
In 2022, global superstar Davido was handpicked by FIFA to lead their 2022 World Cup Soundtrack "Hayya Hayya (Better Together)". Career milestones have also included two sold out shows at London's O2 Arena, headlining AfroNation around the globe and closing the 2022 World Cup with a performance seen by over 250 million viewers. His third studio album, 2020's A Better Time, was the critically acclaimed follow up to his 1.2 billion streaming 2019 release, A Good Time.
With a discography attesting to over a billion global streams and 500 million video views, the Afrobeats forerunner has very much established himself as a force to be reckoned with.
Pernod Ricard is currently a co-leader in the premium spirit industry, with a global presence in 70 countries, including South Africa. We have offices in Johannesburg and Cape Town, and our global brands include Absolut Vodka, Chivas Regal Whisky, Malibu Rum, Mumm Champagne, Jameson Irish Whisky, Pernod, and Ricard.
---
Sponsored Content