It's Finally Here! P-Square, Bez, Ice Prince, Praiz, Wizkid Top the Nominees List of The Headies 2012 – See Who Else Made the Coveted List Now!
Posted on Tuesday, August 28th, 2012 at 2:39 PM
By Damilare Aiki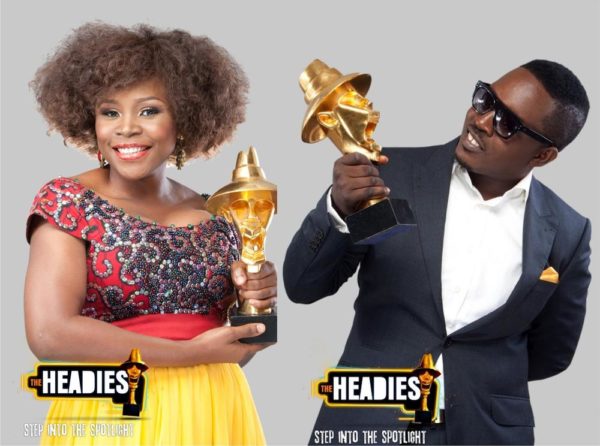 It's here!
The coveted list of one of Africa's biggest and most prestigious award music shows – The Headies (Hip Hop World Awards) has just been released. A few weeks ago, the organizers of the show announced Omawumi and MI as hosts of the show slated to take place on Saturday 20th October 2012 at Exhibition Center, Eko Hotel & Suites, Victoria Island, Lagos.
Pop sensations, P-Square and alternative singer Bez have emerged artistes with the highest nominations for this year's Haedies, both being nominated in 6 different categories. P-Square and Bez are closely followed by Ice Prince, Praiz, Davido and Wizkid,  who have 4 nods each. See for yourself which of your favorite entertainers made the list.
The Full 2012 Headies Nomination List
Album of the Year
Everybody Loves Ice Prince (E.L.I) – Ice Prince
The Invasion – P-Square
Superstar – Wizkid
Super C Season – Naeto C
Artiste of the Year
P-Square
Wizkid
Ice Prince
Naeto C
D'banj
Song of the Year
Chop My Money – P-Square Featuring Akon & May D
Dami Duro – Davido
Oliver Twist – D'banj
Gaga Crazy – Chuddy K
Kukere – Iyanya
Recording of the Year
Stupid Song  - Bez Featuring Praiz
Private Trips - Wande Coal
Ara – Brymo
Praiz – I Love You
Producer of the Year
Cobhams – Stupid Song by Bez Featuring Praiz
Tee-Y Mix – Super C Season by Naeto C
Shizzy – Dami Duro by Davido
Jay Sleek – Private Trips by Wande Coal
Best Music Video (Video Director)
5 & 6 (Naeto C) – Clarence Peters
Chop My Money Remix (P-Square) – Jude Okoye
Ara (Brymo) – Ajeh
Kosorombe (Dipp Featuring Da Grin) – Mex
Best R&B Single
Private Trips – Wande Coal
Stupid Song – Bez
Nawti – Olu Maintain
Soundtrack – May D
Love Me (3X) – Tiwa Savage
Best Pop Single
Dami Duro – Davido
Oliver Twist – D'Banj
Gaga Crazy – Chuddy K
Chop My Money – P-Square
Kukere – Iyanya
Best R&B/Pop Album
Superstar – Wizkid
Super Sun – Bez
Versus – 9ice
The Invasion – P-Square
Best Rap Single
Too Much Money – Iceberg Slim
Shutdown – Phyno
Angeli – Vector ft. 9ice
Oh My Gosh – Yung6ix
Young Erikina – Olamide
Best Rap Album
Everybody Loves Ice Prince (E.L.I) – Ice Prince
The Dreamer Project – Show Dem Camp
Rapsodi – Olamide
Super C Season – Naeto C
Lyricist on the Roll
Vector – Angeli
Yung6ix – Oh My Gosh
Iceberg Slim – Too Much Money
Phyno – Shutdown
Erigga – Mo Street Gan
Best Collabo
Chop My Money Remix – P-Square Featuring Akon & May-D
Angeli – Vector Featuring 9ice
Carolina – Sauce Kid Featuring Davido
Stupid Song – Bez Featuring Praiz
Orobo – Sound Sultan Featuring Excel & Flavour
Best Vocal Performance (Male)
Wande Coal – Private Trips
Banky W – Low Key
Praiz – I Love You
Brymo – Ara
Bez – Stupid Song
Best Vocal Performance (Female)
Tiwa Savage – Love Me, Love, Love Me
Chidinma – Kedike
Ijeoma – Oloomi
Waje – Na The Way
African Artist of the Year (Non- Nigerian Category)
Sarkodie (Ghana) – Azonto
Camp Mulla (Kenya) – Feel No Pain
D-Black (Ghana) – Get On The Dance Floor
Zahara (South Africa)- Loliwe
Best Street Hop
Kako Bi Chicken – Reminisce
Gaga Crazy – Chuddy K
Akpako – Terry G
Roll – Rayce
Mo Street Gan – Erigga
Next Rated
Davido
Eva Alordiah
Praiz
Hip Hop World Revelation of the Year
Wizkid
Ice Prince
Bez
Timi Dakolo
Olamide
Headies Hall of Fame
Special recognition for excellence and outstanding impact to the entertainment industry – Femi Kuti
Nominees and Nominations
| | | |
| --- | --- | --- |
| S/N | Nominee | Nominations |
| 1 | P-Square | 6 |
| 2 | Bez | 6 |
| 3 | Ice Prince | 4 |
| 4 | Praiz | 4 |
| 5 | Wizkid | 4 |
| 6 | Davido | 4 |
| 7 | Naeto C | 3 |
| 8 | D'banj | 3 |
| 9 | Wande Coal | 3 |
| 10 | Vector | 3 |
| 11 | Olamide | 3 |
| 12 | Chuddy K | 2 |
| 13 | Erigga | 2 |
| 14 | Yung6ix | 2 |
| 15 | 9ice | 2 |
| 16 | Iceberg Slim | 2 |
| 17 | Phyno | 2 |
| 18 | Brymo | 2 |
| 19 | Iyanya | 2 |
| 20 | Tiwa Savage | 2 |
| 21 | Clarence Peters | 1 |
| 22 | Jay Sleek | 1 |
| 23 | Jesse Jagz | 1 |
| 24 | Shizzy | 1 |
| 25 | Tee-Y Mix | 1 |
| 26 | Cobhams | 1 |
| 27 | Eva Alordiah | 1 |
| 28 | Jude Okoye | 1 |
| 29 | Aje Filmworks | 1 |
| 30 | Timi Dakolo | 1 |
| 31 | Mex | 1 |
| 32 | Olu Maintain | 1 |
| 33 | May D | 1 |
| 34 | Sauce Kid (Sinzu) | 1 |
| 35 | Sound Sultan | 1 |
| 36 | Banky W | 1 |
| 37 | Chidinma | 1 |
| 38 | Ijeoma | 1 |
| 39 | Waje | 1 |
| 40 | Reminisce | 1 |
| 41 | Terry G | 1 |
| 42 | Rayce | 1 |
| 43 | Flavour | 1 |
| 44 | Show Dem Camp | 1 |
| 45 | Excel | 1 |
| 46 | Zahara | 1 |
| 47 | D Black | 1 |
| 48 | Sarkodie | 1 |
| 49 | Camp Mulla | 1 |
Tags: 5&6, 9ice, Ajeh, akon, Ara, Bez, Brymo, camp Mulla, Chop My Money, Chuddy K, Clarence Peters, Cobhmas, D-Black, Da Grin, Dami Duro, Davido, dbanj, Dipp, Erigga, Everybody Loves Ice Prince, femi kuti, Gaga Crazy, Ice Prince, Iceberg Slim, Ijeoma, Iyanya, Jay Sleek, jude okoye, kukere, May D, Mex, MI, Naeto C, NAWti, Olamide, oliver twist, olu maintain, omawumi, p-square, phyno, private trips, Rapsodi, Reminisce, sarkodie, sauce kid, Shizzy, Show Dem Camp, Sinzu, Soundtrack, Stupid Song, Super C Season, Superstar, tee-y mix, terry g, The Headies, The Invasion, Tiwa Savage, Vector, wande coal, Wizkid, Yung6ix, Zahara
Custom Search